Ken Roczen cruised to his second straight round victory while Ryan Dungey walked away with back to back class titles.
 By Hayden Gregory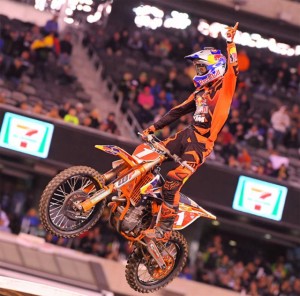 RCH Soaring Eagle/Jimmy John's/Suzuki rider Ken Roczen claimed his third holeshot award for the season on route to a dominating victory in East Rutherford. As Roczen settled into the lead Cole Seely, Justin Brayton and Chad Reed found themselves battling for the remaining podium positions.
Championship leader Dungey found himself just out of the lead before making a move on Reed to place fourth after two laps. Dungey then began to apply pressure on Brayton for third but the BTO Sports/WPS/KTM rider would not give in easy, forcing many unsuccessful attempts to pass. The move finally stuck for Dungey on lap seven as Roczen continued to stretch away out in front.
Once again Dungey moved forward to challenge Seely for second but could not land the killer blow. The pair battled side by side for a number of laps allowing a speedy Eli Tomac to also enter contention. The Kawasaki rider had climbed all the way from seventh making easy work of the track before overtaking a frustrated Dungey to move into third position. The following lap Tomac was able to pass for second leaving Dungey to once again fight it out with Seely over the closing stages.
After a few more unsuccessful attempts to pass, Dungey had to settle for fourth ending his record streak of 31 consecutive premier class podiums.
Roczen was the obvious winner of the round devastating his opponents to take the chequered flag by 20 seconds over second placed Eli Tomac.
"We did exactly what we wanted to do [tonight]. We got the holeshot and put in 20 solid laps. The track was in great condition," said Roczen. "We did what we have to do and we'll look ahead to try and get another one next weekend." 
A fourth place result for Dungey was enough for him to wrap up the championship title a few weeks early. It has been an outstanding season for the KTM rider who wins his third career crown and his second in as many years.
"It's a bummer [to have the podium streak come to an end], but the real goal this year was to back up the title [from last season]. It was a tough challenge and we had to bring it every single weekend," said Dungey. "[My competitors] were tough and they brought it, but we kept fighting and here we are, back where we wanted to be.
"I couldn't have done this without the support of my entire team and family. There's definitely no I in team and this could have never happened without their commitment."
In the Eastern Regional 250SX main event Dakota Alix scored his second consecutive SupercrossLive.com Holeshot Award before Husqvarna's Martin Davalos moved into the early race lead.
Championship leader Malcolm Stewart had a difficult start but manoeuvred his way into third on the opening lap. Tyler Bowers positioned in second place but was also overtaken by Mookie moments later.
One lap later Stewart made a leading pass on Davalos, using his momentum to open up a gap on the field. From that point on Stewart kicked on to remain unchallenged for his second victory of the season and third of his career.
"It's a lot of hard work [during the week] coming into these races. It's starting to pay off now," said Stewart. "[My] strategy is to not even focus on the points lead. That's what I did tonight. Win or lose, I put it all out there [on the track]. It's definitely better to go [to the last race] with a 14-point lead instead of a one-point lead, but anything can happen."
The victory extends Stewart's lead in the championship to 14 points over second placed Aaron Plessinger who was only able to finish fifth after a horrid start way back in 15th.
Martin Davalos held onto second place while Jeremy Martin would overtake Bowers for third.
With the Vegas finale set for next weekend, Stewart, Plessinger and Martin all have a mathematical shot at the title in what will be a thrilling night of supercross racing.
450SX Class Results
1. Ken Roczen, Clermont, Fla., Suzuki
2. Eli Tomac, Cortez, Colo., Kawasaki
3. Cole Seely, Sherman Oaks, Calif., Honda
4. Ryan Dungey, Belle Plaine, Minn., KTM
5. Justin Brayton, Mint Hill, N.C., KTM
6. Jason Anderson, Rio Rancho, N.M., Husqvarna
7. Marvin Musquin, Corona, Calif., KTM
8. Trey Canard, Edmond, Okla., Honda
9. Chad Reed, Dade City, Fla., Yamaha
10. Justin Bogle, Cushing, Okla., Honda
450SX Class Championship Standings
1. Ryan Dungey, Belle Plaine, Minn., KTM – 366 Pts
2. Ken Roczen, Clermont, Fla., Suzuki – 330 Pts
3. Jason Anderson, Rio Rancho, N.M., Husqvarna – 293 Pts
4. Eli Tomac, Cortez, Colo., Kawasaki – 270 Pts
5. Chad Reed, Dade City, Fla., Yamaha – 232 Pts
6. Marvin Musquin, Corona, Calif., KTM – 213 Pts
7. Cole Seely, Sherman Oaks, Calif., Honda – 207 Pts
8. Justin Brayton, Mint Hill, N.C., KTM – 186 Pts
9. Trey Canard, Edmond, Okla., Honda – 183 Pts
10. Weston Peick, Menifee, Calif., Yamaha – 125 Pts
Eastern Regional 250SX Class Results
1. Malcolm Stewart, Haines City, Fla., Honda
2. Martin Davalos, Clermont, Fla., Husqvarna
3. Jeremy Martin, Millville, Minn., Yamaha
4. Shane McElrath, Canton, N.C., KTM
5. Aaron Plessinger, Hamilton, Ohio, Yamaha
6. Tyler Bowers, Corona, Calif., Kawasaki
7. Gannon Audette, Tallahassee, Fla., Kawasaki
8. Dakota Alix, Jay, Vt., KTM
9. Luke Renzland, Hewitt, N.J., Yamaha
10. Cedric Soubeyras, France, Kawasaki
Eastern Regional 250SX Class Championship Standings
1. Malcolm Stewart, Haines City, Fla., Honda – 160 Pts
2. Aaron Plessinger, Hamilton, Ohio, Yamaha – 146 Pts
3. Jeremy Martin, Millville, Minn., Yamaha – 141 Pts
4. Martin Davalos, Clermont, Fla., Husqvarna – 130 Pts
5. Shane McElrath, Canton, N.C., KTM – 109 Pts
6. Tyler Bowers, Corona, Calif., Kawasaki – 108 Pts
7. Gannon Audette, Tallahassee, Fla., Kawasaki – 105 Pts
8. RJ Hampshire, Brooksville, Fla., Honda – 99 Pts
9. Anthony Rodriguez, Cairo, Ga., Kawasaki – 78 Pts
10. Matt Bisceglia, Weatherford, Texas, Suzuki – 68 Pts