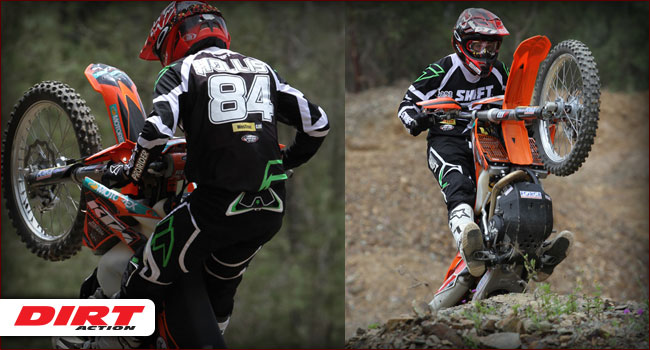 WORDS AND PHOTOGRAPHY BY ADAM RIEMANN

Enduro-X is growing fast, bringing the sport of Enduro to the public arena and delivering bar-bangin' action similar to what you'll see in supercross or motocross. With the recent success of the Melbourne Enduro-X in February 2012, we're going to feed you a few simple extreme enduro techniques to get you primed for the second running of the Melbourne Enduro-X in 2013. And who better to do this than Chris Hollis, who, despite leading the Pro class final at last year's event, was pipped at the post by team mate Toby Price.
THREE KEY ELEMENTS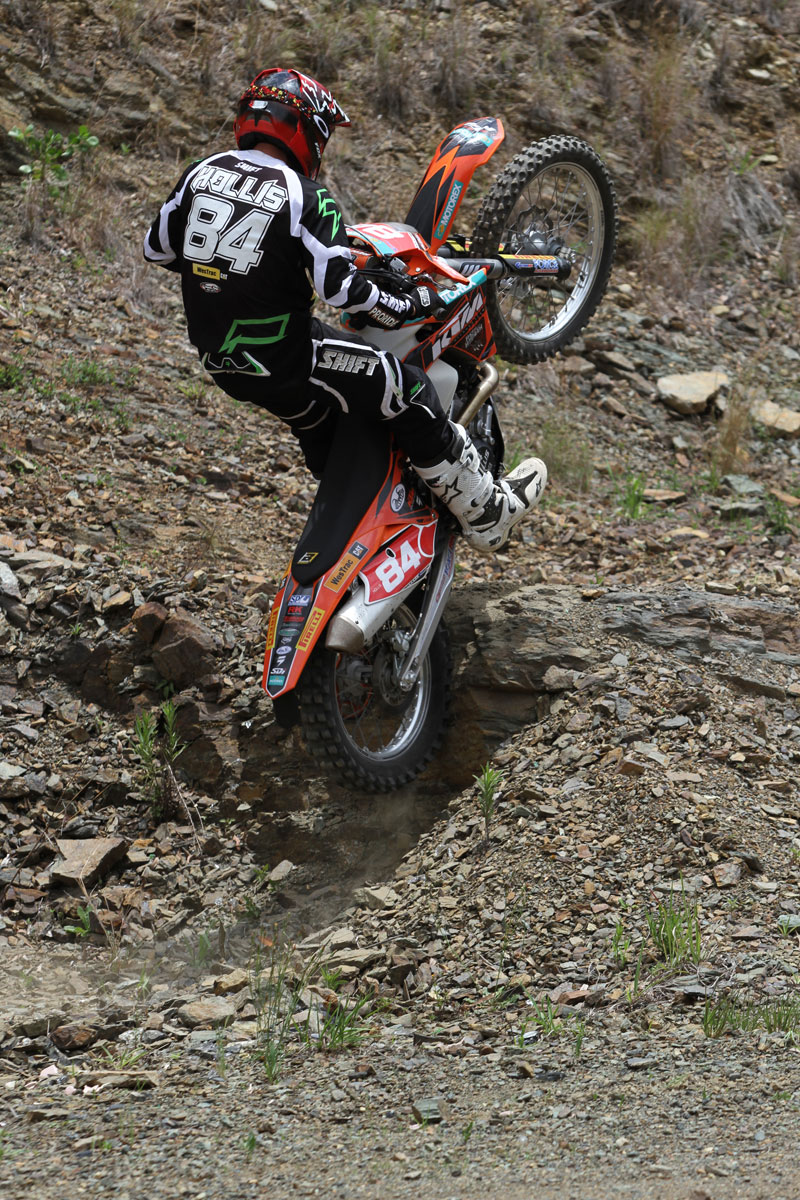 TRACTION
Given the low-speed, technical nature of Enduro-X, traction is more critical here than in most other dirt bike disciplines, simply because you can end up wheel-spinning on the spot, going nowhere behind an obstacle. With that in mind, you'll have a better chance if you're on a bike that is suited to this type of riding. No point rocking up on a peaky mx-weapon that wants to spin rubber and deflect off every obstacle. That said, with mapping, gearing and suspension mods these days, you can easily set up a motocross bike to race Enduro-X. Basically you want an engine with strong bottom-end, which has plenty of feel in the clutch and is geared to crawl at low speed without having to cook the clutch. On top of that you want firm but fast-acting suspension. If it's too soft, you'll case out on everything and get stuck on small obstacles. With good throttle control, clutch control and pliable suspension, a well-setup Enduro X bike will drive off obstacles instead of anchoring the bike into them. As you can see here, Hollis' KTM450EXC is driving up a vertical rock face without wheelspin or deflection. There's obviously a lot of technique involved, but the bike is ultimately allowing him to do this with ease.
WEIGHTING
The difference between a rider who will struggle and one who makes it look easy is the rider who can weight the bike according to the obstacle. In this instance, you can see Hollis is pulling his weight over the bars to keep his momentum moving forward, despite the bike driving into the vertical position. This is obviously all part of practising how to climb a rock ledge, but if he were to hang back in the seat and drive up the rock face, the bike would be more inclined to flip backwards off the rock face. If you're practising in the seated position, you need to start with smaller ledges or you'll find you'll only case the frame rails on the top of the ledge and lose momentum, get wheelspin and screw it up. Advancing to higher ledges, you need to preload before the ledge as if you're pulling a stand-up wheelie, but time it so the front wheel rides into the top face of the ledge as it's rising up. It's at that contact point that you gas it and let the rear wheel drive into the rock ledge and boost the bike up. You'll know when you're perfecting the technique because you won't even slam the frame rails despite the ledge being higher than the front wheel. Also note: don't expect to just wheelie into these things and have the bike go up it… you'll just bounce back off it like a swapper.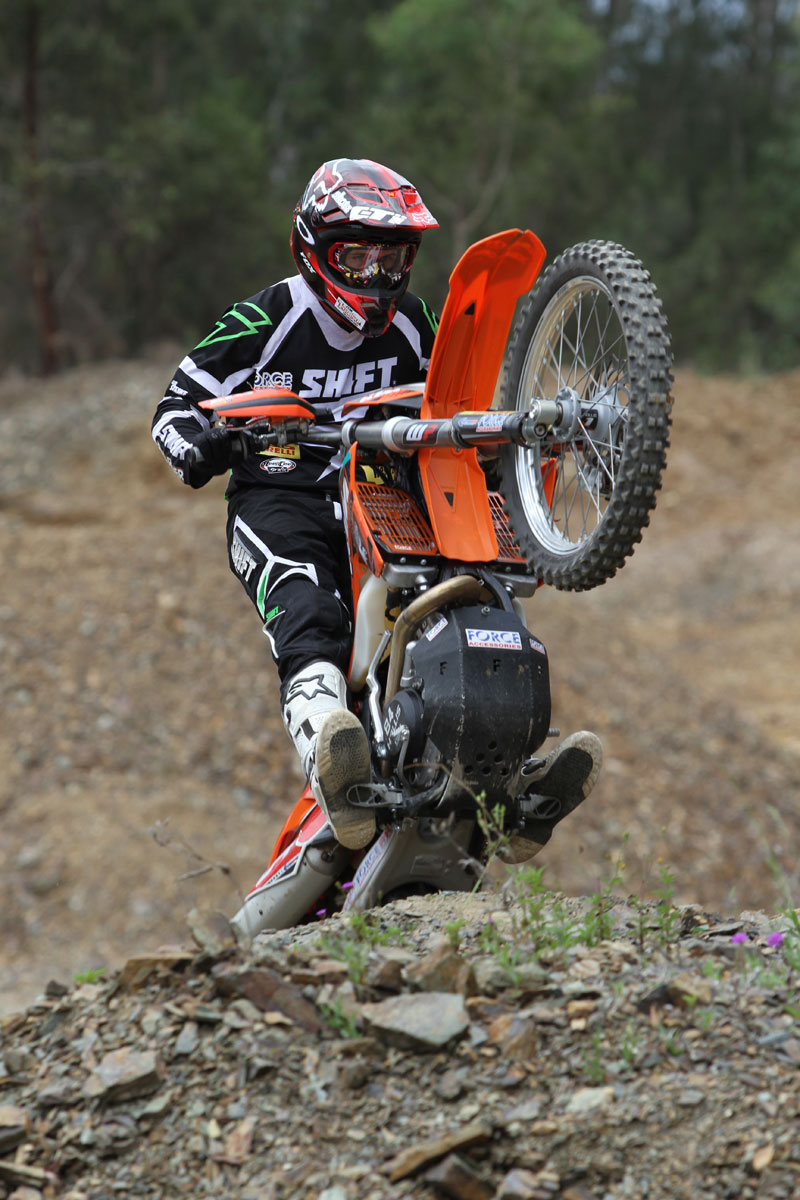 BALANCE
The third and final element is without a doubt the most important. Staying balanced in the lead up to an obstacle, during execution and exit, is the key to riding Enduro-X. The whole course is designed to put the rider off balance, which is where the real skill of the Pro riders stands out. The first step to staying balanced is knowing where to look. Once you've picked your line and are driving into the face of an obstacle, you need to raise your vision beyond the obstacle itself. This not only keeps your momentum going for line selection into the next corner or obstacle, but helps keep you balanced while your bike is bucking and kicking over the existing obstacle. It's common to see punters paddling through a rock pile with both feet down and staring at the rocks hitting their front wheel, which is the best way to lose your balance. You can see in this pic, Hollis is staring straight through his front guard toward the horizon as the bike does its thing beneath him.