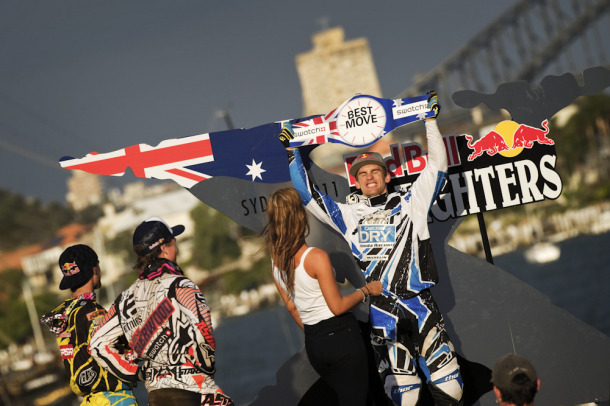 Aussie takes win at Red Bull X-Fighters in front of home crowd.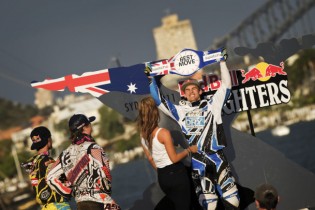 Australian Josh Sheehan took his first-ever winning podium in front of a sell-out 11,000 strong crowd at the sixth and final stop of the 2011 Red Bull X-Fighters World Tour in Sydney (Australia). The event also saw the crowning of Spaniard Dany Torres as the 2011 champion of the globe's most prestigious freestyle motocross competition tour.
SYDNEY (AUS) – The Sydney event has been heralded as the most spectacular ever in the 11-year-history of the Red Bull X-Fighters with the winner Josh Sheehan as well as his compatriot Cameron Sinclair acing a total of three double backflips on ordinary motocross bikes.
"I was confident I could do it and just went out and did it," said Sheehan, who defeated New Zealand's Levi Sherwood in the final head-to-head battle to determine the winner of the Sydney stop. "It was what won it for me."
For Sheehan, victory was not easy, coming up against ultimate series title-holder Torres in the semi final. As the crowd cheered on for Sheehan, Torres missed a couple of tricks during his run, sending the West Australian through to the final against Levi Sherwood.
While both Sheehan and Sherwood put in amazing runs packed with a range of technical tricks, Sheehan ultimately won the judging panel's favour and took out the event, the first time an Australian has stood on the Red Bull X-Fighters first place podium in over a year. Sheehan had placed third in the Madrid and Rome stops in what was his first full year on the Tour as one of the newest bright lights to emerge in the sport. He finished the series in overall fourth place, meaning he will receive automatic qualification for 2012.
Sheehan spoke of his win: "It's awesome! The most amazing feeling ever. It's the first time ever that Red Bull X-Fighters has been in Australia, it's my first win on the circuit, the first time my family has seen me ride at such a bigevent and the first time I've done a double backflip in a competition run! I really can't tell you just how pumped I am."
For Dany Torres getting third place was enough to clinch the overall title from Nate Adams (USA) who had taken top honours in 2009 and 2010. Torres had to at least record a fourth place or better to snap up the title, determined in a nail-biting head-to-head with Todd Potter (USA).
"I've dreamed of this since I was a kid," said Dany. "It's everything I've wanted. I'm so happy."
The Sydney stop was the end of a tour that took riders to Dubai, Brazil, Spain, Italy and Poland.
Finalresults Sydney (AUS) 2011: 1. Josh Sheehan (AUS), 2. Levi Sherwood (NZL), 3.Dany Torres (ESP), 4. Mike Mason (USA), 5. Rob Adelberg (AUS), 6. Adam Jones (USA); 11. Nate Adams (USA), 12. Eigo Sato (JPN)
Final World Tour standings (after 6 of 6 events): 1. Dany Torres (ESP) 390 points, 2. Nate Adams (USA) 375, 3. Andre Villa (NOR) 270, 4. Josh Sheehan (AUS) 230, 5. Blake Williams (AUS), 6. Eigo Sato (JPN), 7. Levi Sherwood (NZL), 8. Adam Jones (USA), 9. Robbie Maddison (AUS), 10. Maikel Melero (ESP)