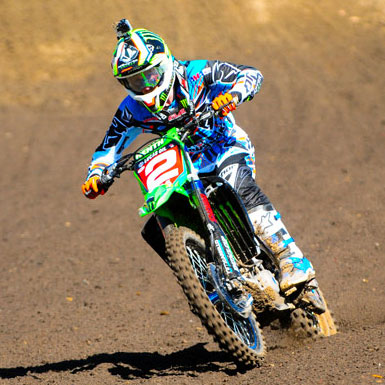 Ryan Villopoto and Eli Tomac Prevail at Thunder Valley
The picturesque Thunder Valley Motocross Park hosted Round 2 of the Lucas Oil Pro Motocross Championship, sanctioned by AMA Pro Racing, on Saturday for the ninth running of the Rockwell Watches Thunder Valley National. Taking place in Lakewood, Colo., this event is notorious for its mile-high altitude, which demands the utmost preparation from both man and machine. The 450 and 250 Classes each saw first-ever winners at Thunder Valley as Monster Energy Kawasaki's Ryan Villopoto swept the day with a (1-1) score in the 450 division and Colorado's very own Eli Tomac went (2-1) to secure his first victory of the season in the 250 Class.
Villopoto picked up right where he left off at the opening round last weekend, throwing down the fastest lap time of the day in qualifying before sweeping both 450 Class motos at Thunder Valley. In Moto 1, it was Team Honda Muscle Milk's Justin Barcia who got off to the early lead after grabbing the Motorcycle-Superstore.com Holeshot. Reigning 450 Class Champion Ryan Dungey contested the leader right away, while Villopoto rode close behind.
Barcia led the pack until the mid-way point when Red Bull KTM's Dungey made a pass for the lead. From there, Barcia and Villopoto kept the pressure on Dungey and it wasn't long before Villopoto took over the lead.
Yoshimura Suzuki's James Stewart, third a week ago at the series' opener, ran into some issues in Moto 1 when a downed rider caused the Florida native to crash early in the race. Stewart recovered from his fall, making his way back to fifteenth in the opening moto.
Meanwhile, Team Honda Muscle Milk's Trey Canard and FIM World Championship contender Clement Desalle had a race of their own in Moto 1. Canard was able to hold the Belgian rider off for fourth place in the opening moto, as Desalle followed closely in fifth.
In the 250 Class, GEICO Honda's Zach Osborne made it to the first corner ahead of the pack, grabbing the Motorcycle Superstore Holeshot, but it was Red Bull KTM's Ken Roczen who jumped to the lead right away. The GEICO Honda teammates of Osborne and Eli Tomac were side by side on the opening lap, with Osborne just ahead. However, while battling with his teammate, Osborne went down and lost a few positions in the process. Rockstar Energy Racing's Jason Anderson capitalized on Osborne's mistake, taking over the third place position early on.
Red Bull KTM's Marvin Musquin and MyPlash Star Yamaha/Metal Mulisha's Cooper Webb had a quick pace set from the start. The duo made their way up to podium contention, where Musquin made the pass on Anderson for third. That's when the rookie Webb made his charge toward the front, passing Anderson and Musquin to secure his first career podium finish in Moto 1.
Tomac made a valiant charge on the leader Roczen as the two went head-to-head on the final lap of Moto 1. As Tomac neared the rear wheel of Roczen, he ended up tipping over in the corner and Roczen grabbed his third consecutive moto win of the season.
In Moto 2 of the 450 Class, Barcia once again grabbed the Motorcycle Superstore Holeshot and his Team Honda Muscle Milk Honda teammate Canard latched on as the two got ahead of the pack early on. Smartop/MotoConcepts Mike Alessi also injected himself into the lead battle, and not far behind was Moto 1 winner Villopoto, followed closely by Dungey, James Stewart and Desalle.
Villopoto made quick work of his competition, taking over the lead in the early portion of the second moto. From there, Dungey battled his way to second place as Barcia followed close behind. James Stewart made up a lot of ground in Moto 2 as he started off well outside the top five and battled up to a podium position. His first moto score (15) held him to seventh overall for the day.
"We got a pair of wins today and we're really going to try to keep it rolling. With the way the racing is this year and the guys that are in the class, just to be up front means you're riding well," said 450 Class overall winner Villopoto.
Dungey, a three-time winner at the Thunder Valley National, finished second overall with a (2-2) score, marking the first time the defending champion hasn't won this event since joining the 450 class in 2010. Barcia scored (3-4) to secure third overall in his second round as a full-time 450 Class competitor, while his teammate Canard went (4-5) for fourth overall. Alessi rounded out the top five overall with a pair of sixth place finishes.
In Moto 2 of the 250 Class, MyPlash Yamaha/Metal Mulisha's Jeremy Martin grabbed his first-ever Motorcycle Superstore Holeshot in front of a stacked field of riders. Osborne spent a short time in the lead early on but Tomac eventually took control of what would soon become a personal milestone for the Colorado native.
Coming into the second moto with a win under his belt, Roczen had his sights set on a clean sweep for the day but Tomac set a pace early on that just couldn't be matched by the former World Champion in Moto 2. Roczen looked content in second, but Osborne kicked it into gear on the final lap of the second moto as he also made his way past Roczen to take over the second place position.
Tomac's score of (2-1) was enough to give the Colorado native his first-ever win in his home state, as well as the first moto win of the season.
"It feels good to get the win today, I feel like I've kind of let Colorado down the past few years. I actually haven't been close to leading a race here [at Thunder Valley] at all, so to finally make it happen today was sweet," said 250 Class winner Eli Tomac.
Roczen ended his three-race win streak with a third place finish in Moto 2 and the current points leader took home second overall for the day with a (1-3) score. Osborne, a Virginia native, was third overall, his highest overall finish ever in Lucas Oil Pro Motocross.
Red Bull KTM's Marvin Musquin was a top contender in both motos, taking home a pair of fourth place finishes for fourth overall. Reigning 250 Class Champion Blake Baggett struggled with starts and crashes all day, but the Monster Energy/Pro Circuit/Kawasaki rider ended his day with a (9-5) score to round out the top five overall.
Round 3 of the Lucas Oil Pro Motocross Championship heads to Bristol, Tenn. for the Built Ford Tough Tennessee National next weekend, June 1.
For tickets and additional information, LIKE the Pro Motocross Facebook page and follow @ProMotocross onTwitter and Instagram for exclusive content and additional information on the latest Lucas Oil Pro Motocross Championship news.
Lucas Oil Pro Motocross Championship
Rockwell Watches Thunder Valley National
Thunder Valley MX Park – Lakewood, Colo.
May 25, 2013
Round 2 of 12
450 Class (Moto Finish)
1. Ryan Villopoto, Poulsbo, Wash., Kawasaki (1-1)
2. Ryan Dungey, Belle Plaine, Minn., KTM (2-2)
3. Justin Barcia, Monroe, N.Y., Honda (3-4)
4. Trey Canard, Oklahoma City, Okla., Honda (4-5)
5. Mike Alessi, Victorville, Calif., Suzuki (6-6)
6. Clement Desalle, Belgium, Suzuki (5-7)
7. James Stewart, Haines City, Fla., Suzuki (15-3)
8. Tyla Rattray, Durban, South Africa, Kawasaki (7-10)
9. Kevin Strijbos, Belgium, Suzuki (10-8)
10. Dean Wilson, Glasgow, Scotland, Kawasaki (11-9)
450 Class Championship Standings
1. Ryan Villopoto, Seattle, Wash., Kawasaki, 100
2. Ryan Dungey, Belle Plaine, Minn., KTM, 88
3. Justin Barcia, Pinetta, Fla., Honda, 70
4. Trey Canard, Oklahoma City, Okla., Honda, 70
5. James Stewart, Haines City, Fla., Suzuki, 66
6. Mike Alessi, Victorville, Calif., Suzuki, 54
7. Tyla Rattray, Wildomar, Calif., Kawasaki, 49
8. Ryan Sipes, Elizabethtown, Ky., Suzuki, 37
9. Weston Peick, Wildomar, Calif., Suzuki, 36
10. Andrew Short, Smithville, Texas, KTM, 34
250 Class (Moto Finish)
1. Eli Tomac, Cortez, Colo., Honda (2-1)
2. Ken Roczen, Apolda, Germany, KTM (1-3)
3. Zach Osborne, Abingdon, Va., Honda (6-2)
4. Marvin Musquin, La Reole, France, KTM (4-4)
5. Blake Baggett, Grand Terrace, Calif., Kawasaki (9-5)
6. Jeremy Martin, Millville, Minn., Yamaha (8-6)
7. Martin Davalos, Ecquador, Kawasaki (7-10)
8. Jason Anderson, Edgewood, N.M., Suzuki (5-12)
9. Cooper Webb, Morehead City, N.C., Yamaha (3-17)
10. Justin Bogle, Cushing, Okla., Honda (13-7)
250 Class Championship Standings
1. Ken Roczen, Apolda, Germany, KTM, 95
2. Eli Tomac, Cortez, Colo., Honda, 89
3. Marvin Musquin, Corona, Calif., KTM, 72
4. Blake Baggett, Grand Terrace, Calif., Kawasaki, 70
5. Zach Osborne, Abingdon, Va., Honda, 65
6. Jeremy Martin, Millville, Minn., Yamaha, 50
7. Jason Anderson, Edgewood, N.M., Suzuki, 49
8. Cooper Webb, Morehead City, N.C., Yamaha, 43
9. Kyle Cunningham, Aledo, Texas, Yamaha, 39
10. Justin Hill, Yoncalla, Ore., Kawasaki, 39