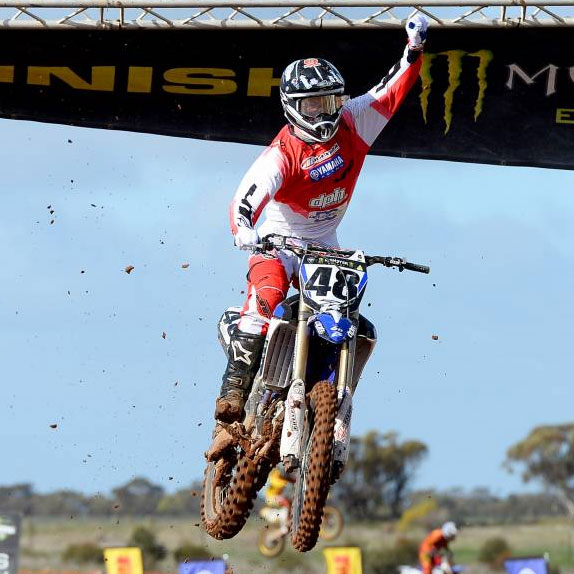 DPH Motorsport rider Kade Mosig has had a fairytale weekend at the sixth round of the Monster Energy MX Nationals, topping off his first Open race win by taking the overall round honours at Swan Hill.
After he comprehensively won the opening race of the day, Mosig held his nerve in the second moto to finish in third position, and take the overall win ahead of KTM Motocross Race Team's Kirk Gibbs and Team Motul Pirelli Suzuki's Matt Moss. Another huge crowd turned out to witness the best racing in Australia, with the ice-cold temperature off the track tempered by the hot action that took place on it.
In the opening moto of the day, it was Mosig who took the holeshot ahead of CDR Yamaha's Billy Mackenzie and Matt Moss. It wasn't such a great start for CDR Yamaha's Jay Marmont who came down at the first corner and was playing catch-up from that point on, while Moss' closest championship rival Gibbs settled into seventh position. Jake Moss (National Pump Monster Energy Kawasaki) had worked his way into fourth position, and as Mosig streamed clear of the field it was all eyes on the battle for minor placings. Matt Moss managed to pass Mackenzie into second spot on the 11th lap – a position he didn't relinquish throughout the remainder of the race.
Brother Jake had a less memorable 11th lap, laying his bike down and falling back to seventh. As he tried to push to make up the lost time, he came down again a lap later and had to settle for 11th overall. Mackenzie had issues of his own towards the end of the moto, and had to settle for sixth place while Gibbs managed to gain significant ground throughout the race – moving from the slow start off the line to finish the race in third. Adam Monea (National Pump Monster Energy Kawasaki) and Rhys Carter (Team Motul Suzuki) finished the race in fourth and fifth places respectively. But out in front, it was Mosig who turned heads with a wonderful ride – the Victorian streeting the field to record a hard-fought, well-earned, memorable race win. It was not only his first ever win in the Open class, but the first win of the season claimed by a rider not aligned to a major race team.
In the second race, it was Mackenzie's turn to take the holeshot and skip to a decent lead ahead of Matt Moss, Gibbs, Mosig and Jake Moss. On the second lap of the race, Mackenzie stalled his bike, and the CDR pilot had to settle for sixth place when the chequered flag was raised. Matt Moss held the lead from that point until lap seven, when brother Jake pulled two impressive moves – first passing Gibbs into second and then Matt to move into first. From that point he was never challenged, and he held on for an impressive race win.
On lap 13 Matt Moss stalled his bike and dropped back to fourth, and a couple of laps later got into further trouble which saw him fall back to fifth. It was a patient Mosig who was the beneficiary of Moss' misfortune – having been fourth for most of the race he slipped into third handing him his debut round win.  In the overall championship standings, Matt Moss had his lead cut back by three, to be 19 points ahead of Gibbs and a further 26 points ahead of brother Jake.
The series now heads to Conondale in Queensland for round seven, which takes place on 13 July.
For a full list of results, visit www.mxnationals.com.au.
MX1 CLASS:
MX1 Superpole:
1) Jake Moss 1:40.159 (5 points)
2) Jacob Wright 1:40.234 (4 points)
3) Adam Monea 1:40.692 (3 points)
4) Billy Mackenzie 1:41.073 (2 points)
5) Matt Moss 1:41.640 (1 point)
Round Results:
1) Kade Mosig 65 (35, 30)
2) Kirk Gibbs 62 (30, 32)
3) Matt Moss 58 (32, 26)
4) Jake Moss 55 (20, 35)
5) Adam Monea 52 (28, 24)
6) Billy Mackenzie 50 (25, 25)
7) Jacob Wright 46 (18, 28)
8) Broc Winston 45 (24, 21)
9) Lewis Woods 43 (21, 22)
10) Sam Martin 43 (23, 20)
Overall Championship Standings:
1) Matt Moss 448
2) Kirk Gibbs 429
3) Jake Moss 403
4) Adam Monea 396
5) Billy Mackenzie 390
6) Kade Mosig 330
7) Jacob Wright 304
8) Hayden Mellross 294
9)Jay Marmont 290
10) Sam Martin 287