MEDIA RELEASE
For Immediate Release: Sunday, 10 July 2011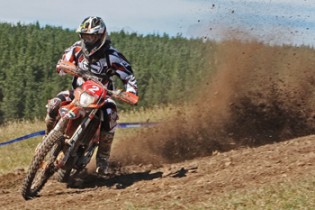 Motorex KTM Off Road Racing's Toby Price has captured a second consecutive Australian Four Day Enduro (A4DE) victory in Mackay, Queensland, today.
 
The 23-year-old from Singleton in New South Wales dominated proceedings aboard his 2012-specification KTM 350 EXC-F, leading from the outset and sealing victory both Outright and in the E2 Championship category.

Price got off to an early lead on Thursday by just under two seconds, stretching his advantage to 21 seconds on Friday and then asserting himself as favourite with a 56-second buffer following Saturday's penultimate day.
A motocross event wrapped up proceedings on Sunday, with Price sealing the titles with another victory on the day in his race, a dream result after winning the Hattah Desert Race in Victoria just days before the A4DE commenced. Price won by over a minute at the conclusion of the four days.
"It's been a great week after backing up from Hattah and that definitely made it a bit harder this year," Price commented. "I can't fault the KTM 350 EXC-F one bit, it's just an awesome bike and it proved how good it was on all four days of the event.

"I'm stoked to be able to hold onto that number one plate for another year. I've already been thinking of a third win here at the A4DE, even though it only just finished today."
Price's teammate Jarrod Bewley finished second in the E3 class on his 300 EXC two-stroke, which was enough to seal eighth Outright for the 2011 running of the A4DE.
"I always like to win, but I tried my best on the two-stroke on a track that definitely seemed to suit the four-strokes a lot more," Bewley reflected. "I can't complain about the bike though, it didn't miss a beat and I'll be back next year gunning for the class win and a better Outright position."


Regular Motorex KTM Off Road Racing team manager Brad Williscroft raced to a hard-fought second place in the Veteran's class, racing back into contention after losing time on the opening day. He was pleased with both the team and his personal performance during the week.
"It was a great event with awesome weather and I'm very happy with how it all went," Williscroft said. "It was an awesome result for Toby and the 350 EXC-F, even though his ribs were sore from Hattah. Both Toby and the bike proved the best out there all week long.
"I was also pleased to see Jarrod on the podium in his class, plus it was good for me to finish on the podium in my class too. I was on the brand new 500 EXC, which was just an awesome bike to ride – I really enjoyed riding it in the special test and on all of the trails during the event."


Motorex KTM Off Road Racing will now turn its attention to the fifth and sixth rounds of the Australian Off Road Championship, which is scheduled to take place at Callington in South Australia on 27-28 August.

Visit www.ktm.com.au on the web for further information on the Motorex KTM Off Road Racing team, as well as KTM's full model line-up of off-road and road motorcycles available for 2011.