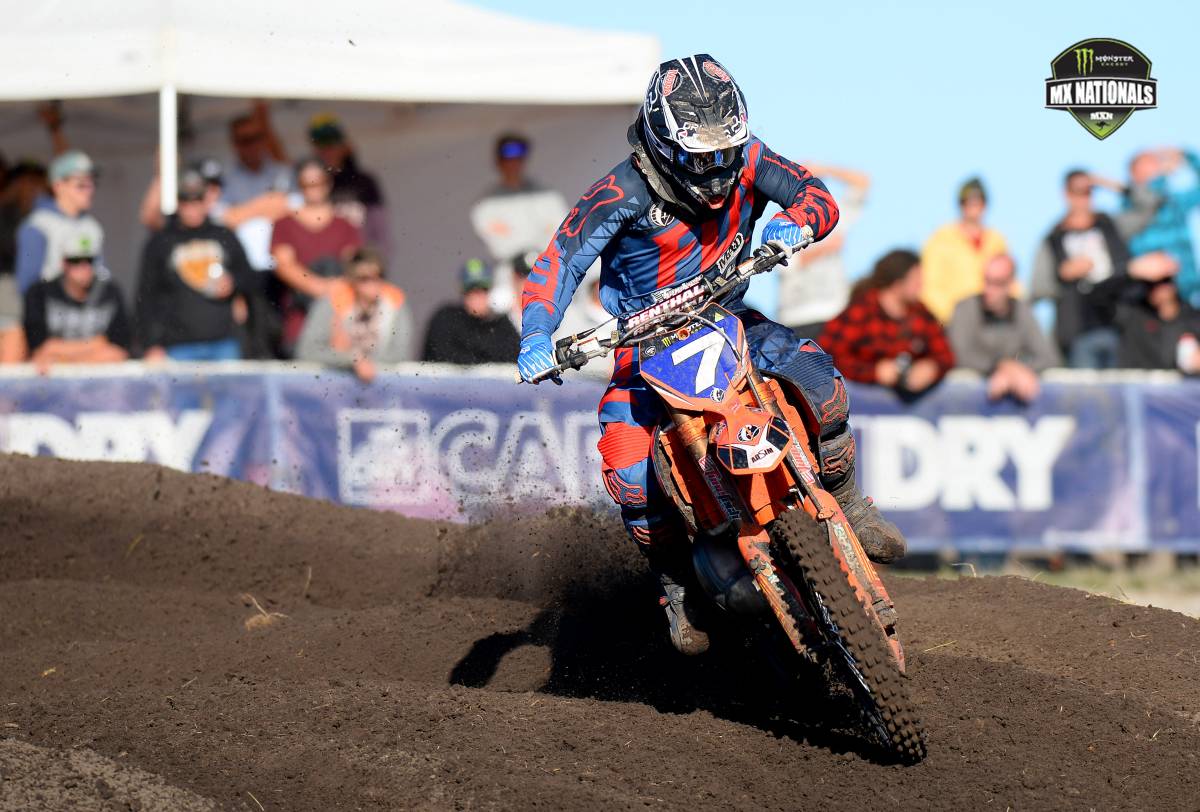 Four points separate top three riders in Pirelli MXD class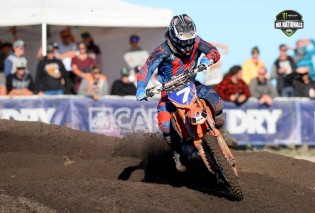 Bolton KTM Motorcycles rider Jack Simpson has claimed third round honours and taken the overall championship lead in the Pirelli MXD class of the 2014 Monster Energy MX Nationals.
A hard fought day of action at Wonthaggi saw Simpson (first and second from his two races) take a seven point round win from GYTR Yamaha's Jed Beaton (sixth and first) and Husqvarna Australia's Egan Mastin (second and fourth).
In the first MXD race of the day, GYTR Yamaha rider Wilson Todd shot out to a handy lead claiming the holeshot, before going down midway through the opening lap. That left title contenders Simpson, Beaton and Mastin to vie for the lead, with all three riders keen to earn maximum points. Just one lap later, Beaton suffered the same fate as his GYTR teammate and he came unstuck in the whoops in what looked to be a serious crash. However Beaton got back on the bike, and put in a stunning performance throughout the remainder of the race to save face by finishing in sixth position.
Up the front of the field, Simpson and Mastin were having a hard fought battle, with Mastin claiming the race lead on lap five. It was a tight struggle between the pair for most of the race – the duo treating the crowd to a great display of tough, tight racing. On the last lap with only three corners to go, Mastin had a momentary lapse of concentration and ran off the track, allowing Simpson to fly past and take the race win. Mastin finished in second place with Wayde Carter (Motorex KTM) ending the race in third, Todd finishing in fourth and Yamaha rider Kyle Webster in fifth.
In the second race, Beaton cruised into an early lead from Todd, Webster and Simpson – but despite all efforts from the rest of the field, the local hero cruised to an easy moto win. Simpson worked hard to get into second place on lap five – a position he never surrendered, and it was enough to give him round honours. Wayde Carter was trying hard to add to his third place from the opening moto however he cut a section of the track in the second race and the KTM rider incurred a 10-second penalty which dropped him back into sixth. It was Webster who rounded out the podium in moto two, with Mastin finishing in fourth and Nathan Crawford (Husqvarna) finishing in fifth.
Only four points separates the top three riders in the overall standings of the MXD class, with Simpson three points ahead of Beaton and Mastin one point further behind.
MXD CLASS:
Round Results:
1) Jack Simpson 67 (35, 32)
2) Jed Beaton 60 (25, 35)
3) Egan Mastin 60 (32, 28)
4) Kyle Webster 56 (26, 30)
5) Wayde Carter 55 (30, 25)
6) Nathan Crawford 50 (24, 26)
7) Jayden Rykers 47 (23, 24)
8) Wilson Todd 45 (28, 17)
9) Dylan Wilson 43 (21, 22)
10) Robert Lovett 42 (22, 20)
Overall Championship Standings:
1) Jack Simpson 219
2) Jed Beaton 216
3) Egan Mastin 215
4) Nathan Crawford 195
5) Wilson Todd 170
6) Jayden Rykers 153
7) Kyle Webster 146
8) Brock McLeary 138
9) Wayde Carter 132
10) Jesse McNally 128