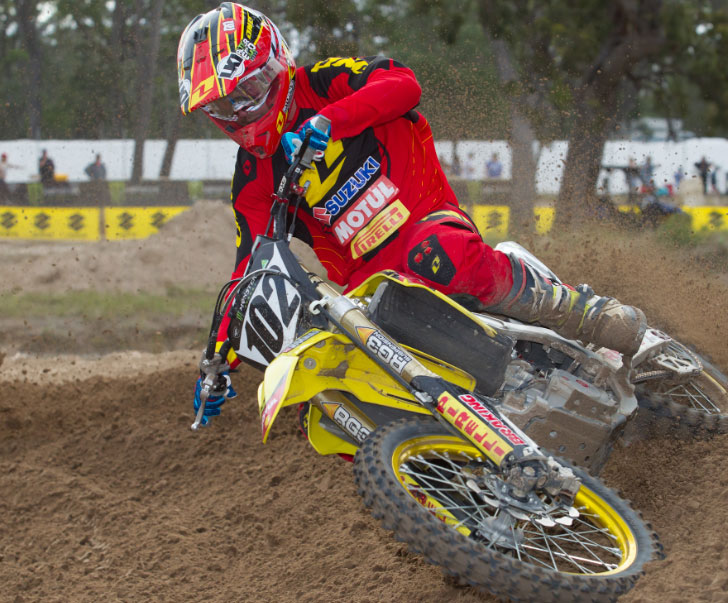 Motul Pirelli Suzuki's Matt Moss has seized the lead in the 2013 MX Nationals, Australian Motocross Championship, after placing second overall at Hervey Bay in Queensland on Sunday, 28 July.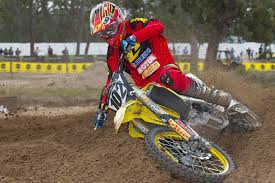 In his return to the premier MX1 category and the Suzuki RM-Z450, Moss now holds a two-point advantage in the MX Nationals championship standings following seven of 10 rounds contested to date this season.
Hervey Bay saw Moss battle to sixth in the opening moto, before he rebounded to score a dominant moto two victory in the second 30-minute race of the round. Combined with his four points scored in the Super Pole qualifying session, Moss claimed second overall.
"In the second race we changed suspension and tyres to suit the sandy surface and my bike felt so good, it was completely different," Moss reflected. "I'm just happy to get a moto win and to get the red plate.
"I've been working towards it for seven rounds now and there's only the three to go. I'm looking forward to the challenge and what lies ahead, I think me and Todd [Waters] will be battling to the end."
Teammate Cody Cooper finished fifth overall for the weekend on the second of the RM-Z450s, maintaining fourth in the championship with three rounds remaining.
Cooper was in the running for the victory throughout much of moto one before slipping to fifth, and then in moto two he circulated to the sixth position on what was one of the most brutally challenging circuits of the season.
"It was frustrating, because in moto one I was right there but just wasn't quite able to make it happen when I needed to," Cooper commented. "It was a consistent round, but not where I was hoping to be if we are to race for a top three in the championship again."
It was another positive weekend for Motul Pirelli Suzuki team manager Jay Foreman, proud to see Moss earn the red plates as new championship leader, in what was a technical weekend for the team.
"It's a nice reward to see Matt get the red plates that we've all been working very hard, but of course the real race for the title is just beginning," Foreman commented. "Every race in these final three rounds will be vital and we are really pleased with Matt and Cody's form so far throughout the series."
The MX Nationals, Australian Motocross Championship, will continue on Sunday, 11 August, when the series makes its anticipated debut at Swan Hill in Victoria.
2013 MX Nationals, Australian Motocross Championship
Round seven – Hervey Bay, QLD
MX1 round Results:
1. Billy Mackenzie 65
2. Matt Moss (Motul Pirelli Suzuki) 64
3. Jake Moss (Campbell Mining Suzuki) 64
4. Gareth Swanepoel 61
5. Todd Waters 58
6. Cody Cooper (Motul Pirelli Suzuki) 51
7. Kirk Gibbs 50
8. Lawson Bopping 45
9. Jay Marmont 45
10. Cody Mackie 42
MX1 Championship Standings (after seven of 10 rounds):
1. Matt Moss (Motul Pirelli Suzuki) 436
2. Todd Waters 434
3. Billy Mackenzie 405
4. Cody Cooper (Motul Pirelli Suzuki) 382
5. Lawson Bopping 365
6. Jake Moss (Campbell Mining Suzuki) 343
7. Kirk Gibbs 343
8. Adam Monea 323
9. Jay Marmont 286
10. Tye Simmonds 273