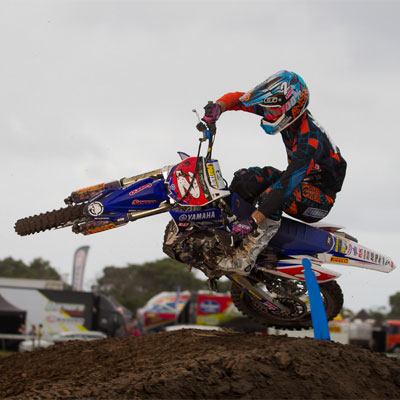 Serco Yamaha continue to ride the wave of momentum flowing over them with another sensational result at round three of the MX Nationals held at the Wonthaggi circuit in Victoria.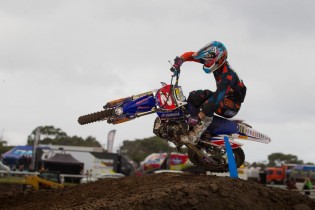 The pairing of Luke Styke and Luke Clout in the MX2 division has proven to be a stroke of genius for the Serco Yamaha team as the pair racked up their second consecutive 1-2 round result in the championship.
Luke Styke returned to the winners circle, taking the round win with 1-2 results in the two motos raced. In the six races contested so far in the season, Styke has had four race wins and two second places in a consistent and well thought-out championship so far.
Styke took control of moto one just after the 10 minute mark and then managed to keep his team mate Clout at arm's length to win the race. Moto two had Styke in second place early but he struggled to find the smooth lines to realise his full race pace and finished the race in second place.
"I wasn't able to ride at all this week after my crash last week at Murray Bridge so it was good to be able to come away with a win despite not getting a full week of training in," Styke explains.
"Race one was good and my teammate kept the pressure on the whole race which was great for the team, then race two wasn't quite as good as I didn't change my lines on the track from moto one and as a result, couldn't generate the speed I needed to win the race.
Luke Clout continues to impress with his speed and fitness. Each and every round ran so far has seen Clout edge closer to the lead and his fitness is right there with the best in class. Clout took a second in moto one and a third in moto two, both times shadowing his more experienced team mate.
With round overalls of 4-1-2, Clout consolidates his second place in the championship and has been the revelation of the 2013 season so far.
"I'm pretty happy with how things went today. I might not have won, but I felt that I rode as good as I could and put in two good motos. My speed has been pretty good, my fitness is there and my consistency is improving so it's all heading in the right direction," Clout said.
The Serco Yamaha team now sit 1-2 in the MX2 championship and continue to prove the YZ250F is a great race bike. The team will now focus their attention towards round four of the championship to be held at Broadford in Victoria on May 19.
To follow the Serco Yamaha team on Facebook; www.facebook.com/sercoyamaha or on Instagram; @sercoyamaha
For a full list of results or more information on the MX Nationals; www.mxnationals.com.au
Round Three Results – Wonthaggi
MX2
1st Luke Styke – 67 (Serco Yamaha)
2nd Luke Clout – 62 (Serco Yamaha)
3rd Kale Makeham – 58
4th Josh Cachia – 57
5th Brock Winston – 51
6th Matt Ryan – 47
7th Rhys Carter – 46
8th Kayne Lamont – 44
9th Dylan Long – 43
10th Geran Stapleton – 41
MX2 championship standings – After Round Three
1st Luke Styke – 202 (Serco Yamaha)
2nd Luke Clout – 184 (Serco Yamaha)
3rd Kale Makeham -170
4th Brock Winston – 160
5th Josh Cachia – 145
6th Matt Ryan – 137
7th Kayne Lamont – 134
8th Geran Stapleton – 131
9th Takeshi Katsuya – 120
10th Rhys Carter – 111