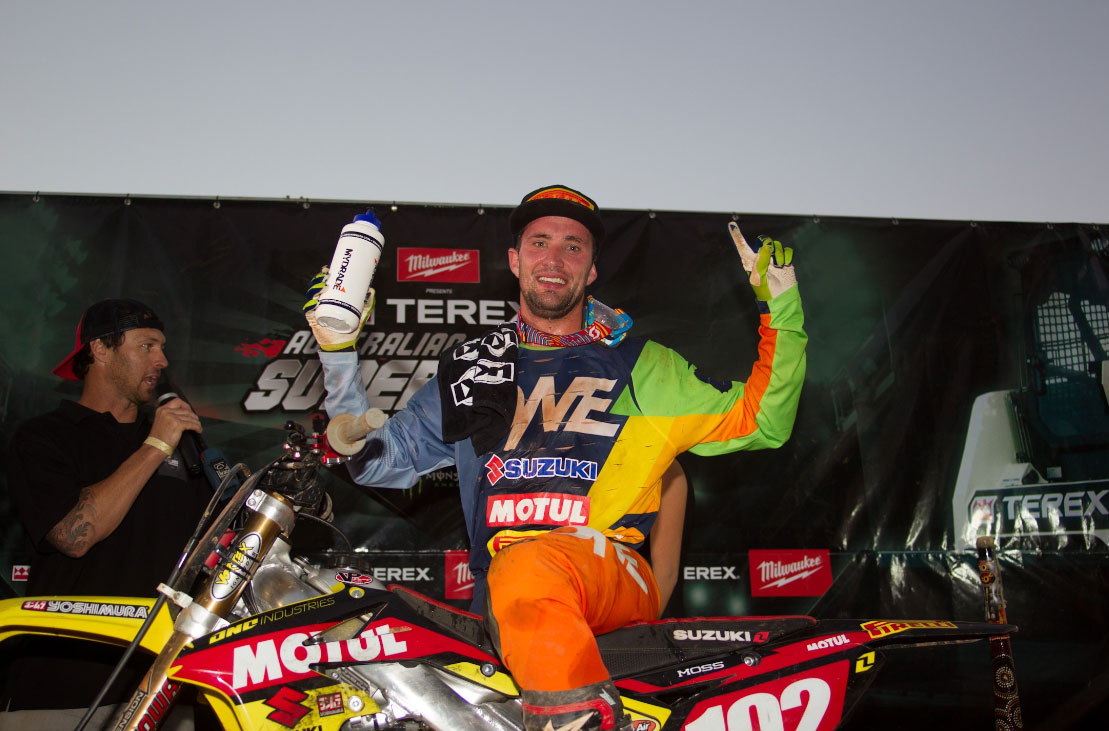 Motul Pirelli Suzuki's recently crowned MX Nationals champion Matt Moss won rounds one and two of the 2013 Australian Supercross Championships at Darwin's Hidden Valley Raceway in the Northern Territory on 14-15 September.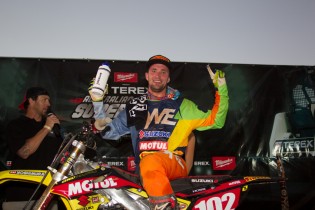 Moss and the Suzuki RM-Z450 were flawless under the hot and humid Top End sunshine, qualifying fastest on Saturday, winning the second heat race of the afternoon and then topping the 15-lap main event with an assertive 4.676-second advantage.
"It feels good," Moss said. "We've got Dan Reardon training us off the bike, my dad coaching us and a great team behind us – the 2014 Suzuki RM-Z450 is the best machine out there. I got my brother Jake to come down from Queensland to ride with me and it's definitely paying off.
"I'm really happy for the guys at Motul Pirelli Suzuki, we're a one rider team this year so there's a lot of pressure on me, but I thank Jay Foreman, Jess, Nathan and the truck driver – this is a real team effort. It's been a tough race in this heat and not being used to it."
Sunday saw a repeat performance from the triple Australian Supercross Lites champion, again leading qualifying, winning his heat race and battling through for the main event victory.
Moss worked his way forward from third in the early laps, remaining composed before taking charge at the front on lap 10 of the 15. From there he accelerated to a comfortable 5.520-second winning margin.
"I saw them tussling a bit, I sort of knew [Kirk] Gibbs was going to make a couple of mistakes, and then [Weston] Peick was pulling away a little bit but I kept my cool," Moss said. "I saw the opening, tried to pass him on the triple and I think that rattled him wondering where I was. Then I pounced to the inside.
"I'd like to thank Motul Pirelli Suzuki, all of our supporters and the Darwin fans for coming out. As I said yesterday, we're a one-man team and we're doing fine. I learnt a lot during Motocross and carried my race craft into Supercross. I'm really happy with this win."
Moss now has a perfect score of 50 points following two of six rounds, eight ahead of Suzuki-mounted twin brother Jake, who finished second on Saturday and third on Sunday.
The Australian Supercross Championships will continue at Mount Gambier in South Australia on Saturday, 12 October.
2013 Australian Supercross Championships
Rounds One and Two – Darwin, NT
SX-Open Round One Results:
1. Matt MOSS (Motul Pirelli Suzuki)        
2. Jake MOSS (Campbell Mining Suzuki)                  
3. Jay MARMONT                  
4. Josh HILL (HartingandHuntington Insuremyride Suzuki)                  
5. Lawson BOPPING                  
6. Daniel McCOY                  
7. Weston PEICK                  
8. Kirk GIBBS                  
9. Kade MOSIG                  
10. Sam MARTIN (DPH Motorsport)                  
SX-Open Round Two Results:
1. Matt MOSS (Motul Pirelli Suzuki)  
2. Weston PEICK
3. Jake MOSS (Campbell Mining Suzuki)
4. Kirk GIBBS
5. Daniel McCOY
6. Jay MARMONT
7. Kade MOSIG
8. Josh HILL (Hart and Huntington Insuremyride Suzuki)          
9. Lawson BOPPING
10. Tim VARE
SX-Open championship standings (after two of six rounds):
1. Matt MOSS (Motul Pirelli Suzuki) 50
2. Jake MOSS (Campbell Mining Suzuki) 42
3. Weston PEICK 36
4. Jay MARMONT 35
5. Kirk GIBBS 31
6. Daniel McCOY 31
7. Josh HILL 31(Hart and Huntington Insuremyride Suzuki)          
8. Lawson BOPPING 28
9. Kade MOSIG 26
10. Tim VARE 20
Photo credit: Shayne Rice