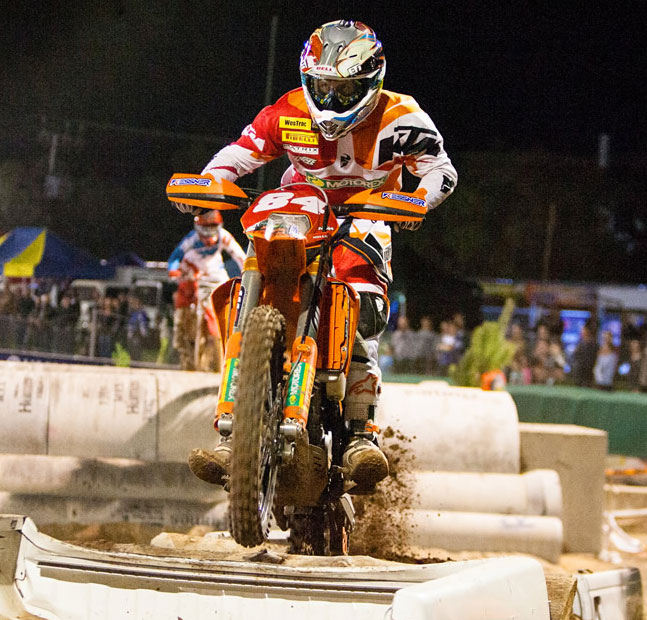 Two-time AORC champ and Motorex KTM Off-Road Team rider Chris Hollis showed speed and versatility in equal quantities at the weekend as he won the Yamaha King of the Enduro-X event at Gillman Speedway, Adelaide.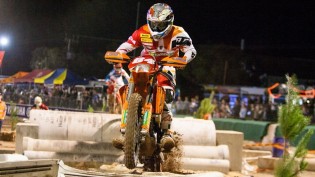 Several of the top names in Australian off-road racing joined Hollis and the fastest riders in the region to vie for a slice of the $10000 prize money on a course designed to test the broadest skill set.
The one-minute track incorporated a plethora of man-made obstacles including concrete pipes, tyre pits and cars as well as the obligatory big logs and rocks.
"It was a pretty demanding course physically," said Hollis, "you spent most of your time going over obstacles so there really wasn't much time to rest. And when you throw in 20 bikes off the motocross start gates it made a good start extremely important.
"But what a good event, they'd put a huge effort into the track and it was well managed with the watering to keep the dust down for the spectators – they even bounced ideas off the riders as we went and everyone seemed happy."
A large crowd enjoyed the spectacle of riders facing off over five-lap heats, before the top pros, leading clubmen and experts were combined to whittle the last 16 down to a final six which raced for the title of King of the Enduro-X.
Surviving the elimination with Hollis were Yamaha's Daniel Milner and Stefan Granquist, Husqvarna ace Glenn Kearney, Brent Dean and Honda's Peter Boyle.
As the final showdown began Hollis gained the crucial start and put together a near perfect run to win by four seconds ahead of Boyle, Milner, Granquist, Kearney and Dean.
"It was great to get the win when it isn't easy." Said Hollis, "Enduro-cross is always about being smooth and making no mistakes. You need a good start because it's hard to pass and people crash in front of you all the time – keeping yourself and your bike intact is key because when you're racing in big rocks it's easy to put a hole in your cases and end your night.
"I really want to thank the guys from Kessner's Motorcycles who looked after me really well at the track and played a big part in my win."
For more information on KTM motorcycles visit www.ktm.com.au orwww.facebook.com.KTMAustralia
King of the Enduro-X, Gillman SA
1. CHRIS HOLLIS Motorex KTM Offroad Team      4:02.588
2. PETER BOYLE Carlton Dry Honda 4:06.813
3. DANIEL MILNER CDR Yamaha 4:09.015
4. STEFAN GRANQUIST Yamaha 4:23.066
5. GLENN KEARNEY Husqvarna Racing Team 4:43.107
6. BRENT DEAN Macarthur MCC (retired)