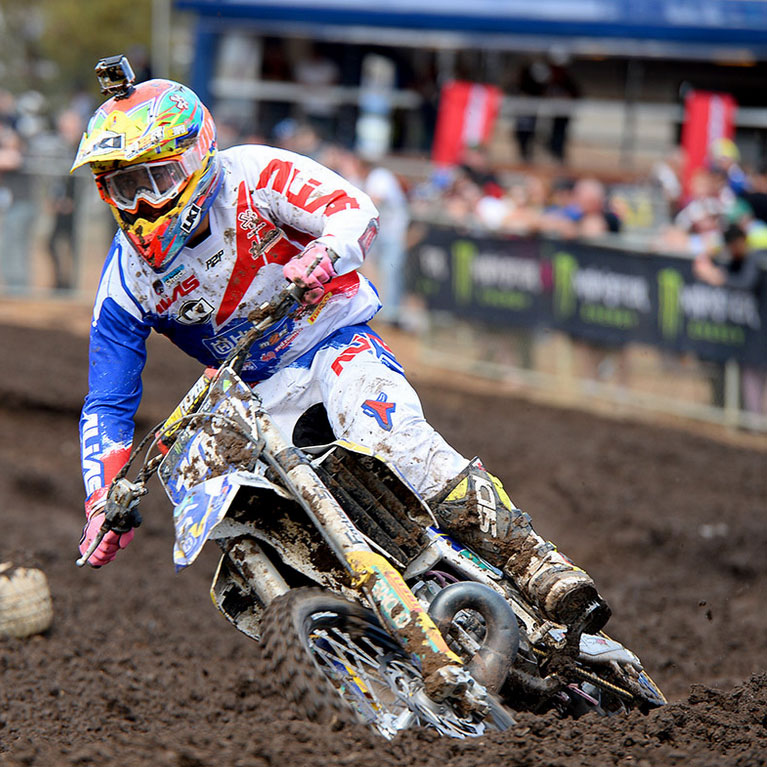 The domestic factory and factory supported riders of Husqvarna gave The Pioneers Of Motocross a spectacular re-entry to national level motocross racing at today's Monster Energy MX Nationals opener, with a win and two more podiums from the three major classes.
Kiwi Kayne Lamont (Husqvarna TC 250) leapt out of the gates both figuratively and literally to get his MX2 campaign off to a scintillating start, logging 1-2-1 results across the three Motos.
Lamont was one of very few riders to execute three fast starts and three consistent rides and the reward was a 20 point lead in the championship over KTM's Brendan Harrison and Hamish Harwood.
Husqvarna Motocross Racing Team rider Egan Mastin had a senior debut to remember, finishing second to Jed Beaton in the MXD class on his Husqvarna TC 250.
With consistent 2-2-3 finishes, Mastin was unlucky to miss the win by just two points, while similarly mounted Husqvarna Factory Support rider Nathan Crawford – another senior debutant – finished just three points behind on 91 points.
Brock Winston carried the 'crowned H logo' in MX1 and rode his Husqvarna FC 450 to 11th overall, while a flat tyre in the first and a crash in the second halted MX2 competitor Nick Sutherland's ambitions for the day.
Craig Anderson: "There were a few struggles today but overall we did okay.
Brock was just outside the top 10 today and his speed was probably a little better than his results showed, but we'll keep working and we'll get better as we go.
Nick rode most of the first race with a flat front tyre and deserves credit for that, then crashed in the second so it was only in the third that he got to show what he could do.
Egan made a fantastic start to senior racing and handled everything really well. He got slowed up in the lappers which probably cost him in the first and the last race, but he did a good job. Being young it's easy to stuff up after you've had some success by just trying to overdo things, but we just kept him calm and focused and he did well."
Brock Winston MX1- R.1: 11th,R.2 13th, R.3: 9th  = 11th: "I feel terrible, that round really wasn't the best for me. The competitiveness of MX1 wasn't unexpected – no one's making silly mistakes and everyone in there has got a lot of experience. It's just been a bit of a rush leading up to the first round and I still have a little bit of work to do with my setup.  I've been racing long enough to know that if my set up isn't perfect my confidence won't be either. In saying that, we aren't a long way off on what was a pretty tough track both physically and technically, and one that changed every race. We'll be back, we've just got to hop into it and get it happening."
Nathan Crawford MXD R.1: 1st, R.2: 7th, R.3: 2nd  = O/A 3rd  "It was a pretty good day for me, maybe I could have won if I had not have run into the Turn Two pileup in the second and had to come back from 39th place. That first win was great, I started in about fourth and just chipped away pacing myself so I would have fuel in the tank for the end of the race. I passed Egan Mastin for the lead with about three laps to go and won by about eight seconds. The bike felt pretty good, we made minor changes to suit because it was a gnarly track, but to come out at the first round and put it on the box is a good way to start."
For more information on Husqvarna motorcycles visit www.husqvarna-motorcycles.com
MX Nationals MX1 class after Rd.1 of 10:
1. Matt Moss 97
2. Adam Monea 95
3. Kirk Gibbs 86
4. Kade Mosig 76
5. Billy Mackenzie 75
6. Rhys Carter 74
7. Jake Moss 67
8. Brad Groombridge 67
9. Jay Marmont 66
10. Hayden Mellross 65
11. Brock Winston 60
MX Nationals MX2 class after Rd.1 of 10:
1. Kayne Lamont 102
2. Brenden Harrison 82
3. Hamish Harwood 81
4. Luke Clout 81
5. Nick Scott 72
6. Wade Hunter 69
7. Ryan Marmont 63
8. Kale Makeham 57
9. Caleb Ward 55
10. Errol Willis 51
21. Nick Sutherland 37
MX Nationals U19 class after Rd.1 of 10:
1. Jed Beaton 96
2. Egan Mastin 94
3. Nathan Crawford 91
4. Jack Simpson 85
5. Wayde Carter 77
6. Jayden Rykers 72
7. Wilson Todd 71
8. Brock McLeary 68
9. Jarrod Kelly 67
10. Daniel Price 52

Caption: Kayne Lamont (above) and his Husqvarna TC 250 hold the lead in the MX Nationals MX2 title. Brock Winston (2nd pic) made an honest job of his MX1 debut on the FC 450. Egan Mastin #45 and Nathan Crawford (bottom) were pacesetters in MXD. Pics: Jeff Crow – Sport the Library – MX Nationals