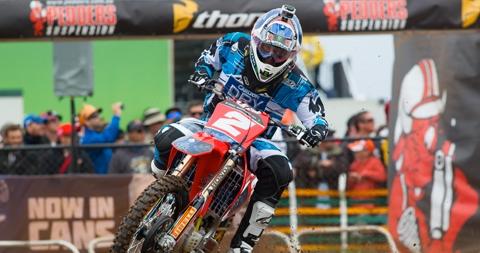 Factory Honda riders Gavin Faith and Hayden Mellross have dominated their respective categories at this weekends second round of the 2012 Terex Australian Supercross Championships.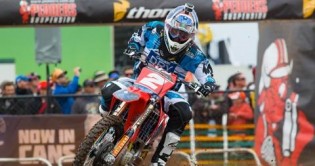 For the first time in history, Supercross ran alongside a MotoGP event, with the Air Asia Australian Motorcycle Grand Prix at Phillip Island playing host to two days of Australian Supercross Championship racing.
Faith won his second straight Pro Lites final, the Carlton Dry Honda Thor Racing rider took the holeshot and led from start to finish.
Avoiding a massive first turn pileup that took down seven riders, Faith controlled the 15-lap race to take the chequered flag 3.1 seconds ahead of Geran Stapleton and Ryan Marmont.
"It was an awesome weekend," Faith said. "To be running on the same program as Moto GP was a real buzz and the atmosphere over the weekend, was incredible.
"I actually didn't feel great through practice but we made some changes and I felt much more comfortable on the bike in the heats.
"I won the first heat and finished my second heat race second. It was such a tight track I knew I had to get out front, straight up in the final.
"There were a couple of close calls, I almost went down a few times so it was a very satisfying win," Faith explained.
Faith holds a 13-point lead over Geran Stapleton in the Pro Lites Championship standings.
Teammate Ben Townley was buoyed by a positive weekend. The former World Champion finished second and fourth in his heat races before racing to a solid eighth in the final.
"This was a definite improvement on the previous round," Townley said. "Race-by-race I am making gains and that is all I can ask for.
"I have to think of the big picture and use these events to build a foundation for 2013.
"It is hard to sit on the start-line with that approach but to come back from an injury like that, is a steady re-building process.
"Overall I was stoked to be part of this weekends event. Huge props to all involved it can only benefit our sport," Townley concluded
Honda Thor Racing pilot, Hayden Mellross continues to head the Under 19's championship standing's with a maximum point tally.
Mellross won both his heat race and the 12-lap final and now sits 12 points ahead of Jay Wilson in the championship standings.
"It feels great to get back-to-back wins," Mellross said.
"I was happy with how I rode and the bike was awesome. I have been doing a lot of riding and training and it is really paying off."
Completing an extremely busy weekend for the Honda team, Peter Boyle finished an impressive third in the E1 Championship and seventh outright at the Australian 4 Day Enduro held in Warragul over the weekend.
The Carlton Dry Honda Thor Racing team will enjoy a weekend off before heading to Toowoomba Showground for the penultimate round of the Terex Australian Supercross Championship on Saturday November 10.
2012 Terex Australian Supercross Pro Lites Championship Standings (after Rd 2 of 4)
1. Gavin Faith, 50pts
2. Geran Stapleton, 37pts
3. Ryan Marmont, 36pts
4. Steven Clarke, 36pts
5. Kade Mosig, 33pts
6. Scott Coloumb, 28pts
7. Luke Clout, 23pts
8. Nicholas Sutherland, 22pts
9. Luke Styke, 20 pts
10. James Booth Elliott, 18pts
2012 Terex Australian Supercross Pro Open Championship Standings (after Rd 2 of 4)
1. Jay Marmont, 57pts
2. Daniel McCoy, 42pts
3. Lawson Bopping, 36pts
4. Jake Moss, 36pts
5. Todd Waters, 30pts
6. Tye Simmonds, 30pts
7. Chad Reed, 25pts
8. Cheyne Boyd, 25pts
9. Billy McKenzie, 25 pts
10. Jacob Wright, 22pts
2012 Terex Australian Supercross U19's Championship Standings (after Rd 2 of 4)
1. Hayden Mellross, 50pts
2. Jay Wilson, 38pts
3. Kale Makeham, 38pts
4. Ben George, 36pts
5. Corey James, 32pts
6. Nick Scott, 29pts
7. Sam Martin, 28pts
8. Dylan Long, 22pts
9. Joel Evans, 19 pts
10. Daniel Banks, 19pts