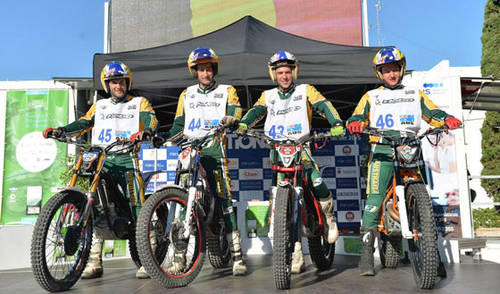 The Australian men's team finished 3rd in the International Trophy Group at this year's Trial des Nations in L'Hospitalet de I'Infant, Spain.
Press – Motorcycling Australia 22/9/2015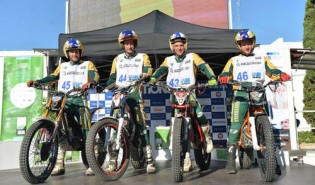 An elated Australian team recorded their first podium finish since 2008. The team comprising of Chris Bayles – Gas Gas, Tim Coleman – Beta, Kyle Middleton – Gas Gas and Colin Zarczynki – Scorpa made their trip to Spain very worthwhile as they took third spot by three marks.
"We've got the best riders in Australia at the moment, they're all on their game and the dry conditions suit the Aussie Team" said Tim Coleman about the 2015 team.
Colin Zarczynski who is a veteran in the Trials des Nations International Trophy group ran his 11th TdN campaign and makes his 6th podium finish for Australia. 2015 Australian Trials Champion Kyle Middleton making his 5th TdN appearance shared his excitement on Facebook "We did it! First podium in 7 years!! What a team we were this week! Huge effort from everyone, not just us riders… Woohoo!!"

The victory of the Spanish team comprising the top 4 World Trial riders was never in question. The local team of Toni Bou – Repsol Honda, Adam Raga – TRS, Jeroni Fajardo – Beta and Albert Cabestany – Sherco recorded their twelfth straight win in the Trial des Nations World Class.

World Trophy
Spain – 20
France – 109
Japan – 128 (76 cleans)
Britain – 128 (74 cleans)
Italy – 132
Norway – 224
International Trophy
Czech Republic – 3
Germany -10
Australia – 17
Sweden – 20
United States of America – 24
Ireland – 38
Austria – 74
Belgium – 79
Switzerland – 124
Latvia – 174
Denmark – 189
Portugal – 238
Andorra – 243
Luxembourg – 289
Slovenia – 409