KTM Enduro Racing Team rider Daniel Milner and his KTM450 EXC-F are rapidly becoming established as the benchmark in the Australian Off-Road Championship after the Victorian held a masterclass at the championship's third and fourth round at Miva in Queensland.
In the face of hot competition, Milner stretched when he needed to and conserved when he didn't, to craft another brilliant back-to-back victory in perfect conditions.
On Saturday, he fended off the challenge of Josh Green and KTM's Jack Simpson, who kept his little KTM 250 XC-F singing all day long to earn the fifth AORC podium of his young career, while Sunday's victory came ahead of Green and Lachlan Stanford.
The performance extends Milner's lead in both the Outright and E2 categories.
Milner's team mate, teenager Lyndon Snodgrass finished the weekend with 6, 4 outright scores, and took part in a mighty tussle with seasoned campaigner Lachlan Stanford for E3 class supremacy, putting the KTM 300 EXC into second place on both days.
In the E1 category, 21-year-old defending Champion and Peter Stevens Motorcycles rider Jack Simpson looked set for a repeat performance today, but in his efforts to eclipse Milner, cut the course and was penalised five minutes for the infraction, which dropped him to third in class and 15th outright.
Factory support racer Tom Mason rounded out KTM's podium haul, when he powered his Bolton's Motorcycles KTM 500 EXC-F to two more podium finishes in the E3 category.
For more information on KTM motorcycles visit www.ktm.com.au or www.facebook.com/KTMAustralia.
Glenn Kearney – KTM Enduro Racing Team Manager: "An excellent weekend. I've raced in Queensland countless times over the years and it's always been dusty so to get a perfect weekend of weather, the track was as good as it gets – we had three world-class tests and a ton of race time over the weekend. As a team, Milner was top-shelf all weekend and didn't lose a test all day. Got his lead out to around 30 seconds and held it there. Green got close in one of the tests there and he just countered and took eight seconds out of the next lap time. Really impressive. Lyndon was battling for fifth yesterday and for third today, with Lachy. He's still learning little things here and there, but he's got the speed, which is the hardest part to learn. Getting him to mature a little bit with his race craft and decision-making is the next thing, but he's a quick learner. Mick and Harry were working great on the bikes and the team is working well together."
Daniel Milner: "The first day was really good; it was nice and relaxing and easy, just making sure I could get every line right. And then today was a bit more motocross-friendly so the moto guys came out swinging. It's the first time this year I've been beaten in a test. Simmo and Greeny were on my hammer all day but I pushed as hard as I could and came away with the win.
I'm really hungry this year and really enjoying working with a new team. I put in a massive off season on and off the bike and I'm very excited with the start we've got. With the bike we had everything today; we had rooty, rocky, sandy, plenty of rocks and the rest of it. It was really technical and for my setup to swallow all of those conditions with ease, I've definitely got it to where I like it in a very short time."
Lyndon Snodgrass: "The tracks were awesome today so it was good to be tearing it up out there. With sixth yesterday and fourth today, it's been the best Queensland round I've ever had. Me and Lachy had another big battle again but he ended up getting me in the end. It was a little bit hard at the beginning of the day picking lines on the two stroke, but once I got it sorted I was really enjoying it. In the deep ruts and in and out of the trees, it was pretty awesome."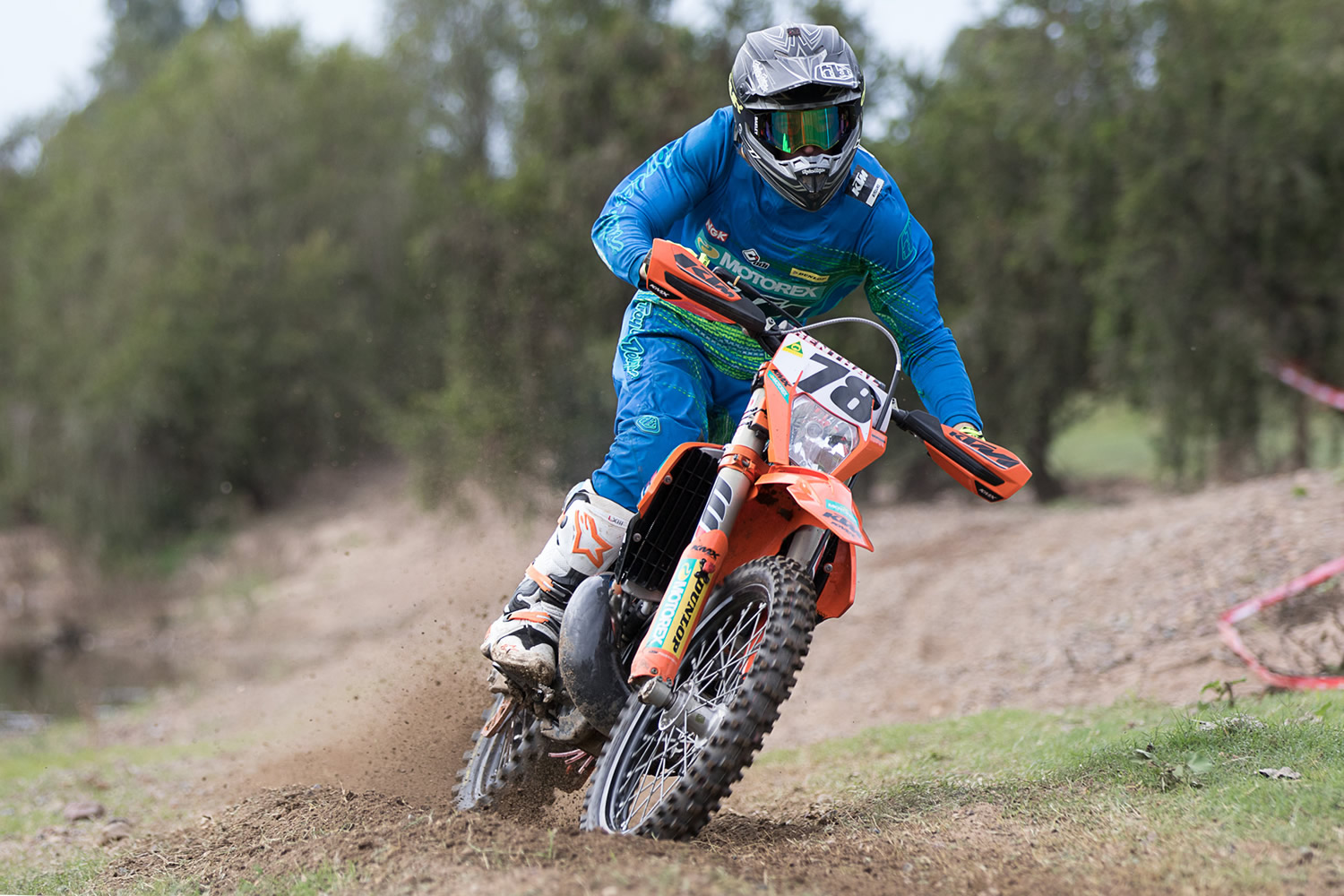 Jack Simpson: "Yesterday started off well, the track was not wet and sloppy for once, and I liked the layout so I just went out on my merry way and didn't change a thing all day. It started well and ended well with my fifth outright podium. Today I had my head down and arse up and in the very last sprint and there was a right hander where the bunting was down and there were six or seven lines that went through it. In an instant I thought, if it's down, go through it, because everyone else will be – like in the past when I've had people randomly beat me by 18 seconds. But I did the wrong thing and I admit that. I'm not brought up to be a cheater or anything like that, I'd rather stick to my own track. But I'll cop this on the chin and learn from it."