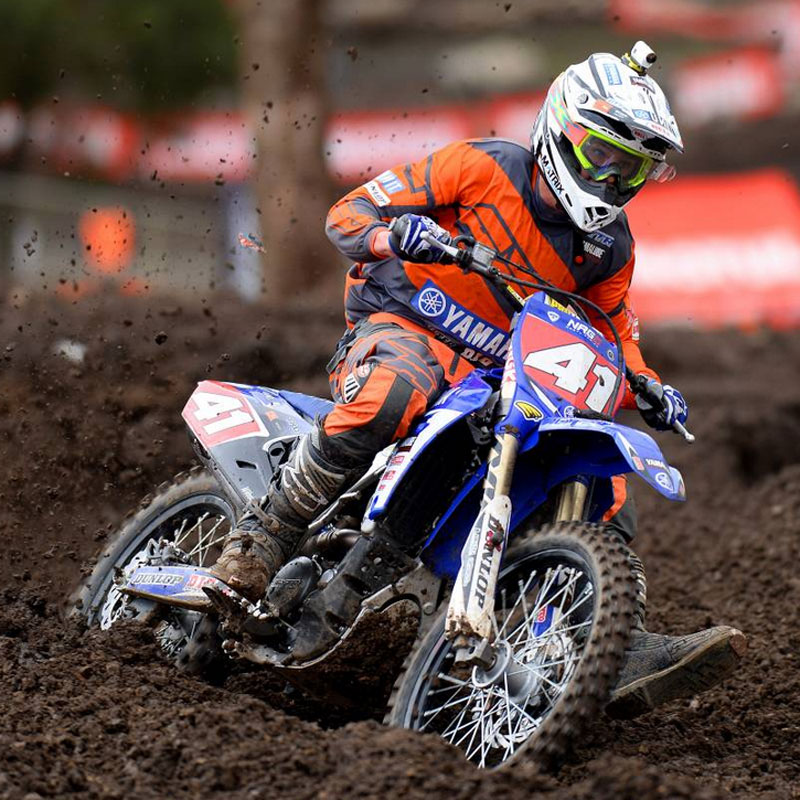 GYTR Yamaha's Wilson Todd continues to shine at Broadford
FOR IMMEDIATE RELEASE
26 April 2015: Broadford, Victoria
GYTR Yamaha rider Wilson Todd has claimed his second overall round win and continues to hold on to the MXD red plate, after a successful outing at Broadford today.
On one of the toughest tracks on the 2015 MX Nationals calendar Todd took the day in his stride, doing exactly what needed to be done in order to maintain his Pirelli MXD championship lead.
In moto one, the holeshot was taken by Raceline Pirelli Suzuki's newest addition Jesse Madden, with Todd following closely behind. However, two laps was all that was required for Todd to claim the race lead, eventually crossing the line first ahead of Madden, and Yamaha mounted Jonte Reynders.
GYTR's Mitch Evans who made his return to racing today after injury, made an early exit from the competition, crashing out of race one and failing to return to the track.
In moto two, Madden's Suzuki machine was once again first into turn one, this time ahead of KTM's Wade Carter and Kaleb Barham (KTM).
By the time the chequered flag flew on race two, Carter secured the second moto race win ahead of Jayden Rykers (KTM) and Todd who claimed third.
Thankfully third was all Todd required from the final moto in order to secure the round overall – the GYTR Yamaha rider finishing on the top step of the podium, ahead of Carter and Madden respectively.
Pirell MXD round three overall winner – Wilson Todd– GYTR Yamaha (1st, 3rd – 65 Points)
"The aim of today was to stay consistent and just build on the points championship every round," he said.
"Race wins are important but taking overalls is what I'm here for and I'm just continuing to work on the championship.
"We have a three week break now so I'm just going to put in some more laps, plenty of training and see what we can do at Murray Bridge."
To check out how the rest of the Pirelli MXD class went today, and to re-watch all of the action from every race at Broadford, tune in on Wednesday night via www.nrgtv.com.au for all of the racing on demand!
Pirelli MXD round three overall results:
1) Wilson Todd 65
2) Wayde Carter 61
3) Jesse Madden 58
4) Jayden Rykers 56
5) Kaleb Barham 56
6) Lachlan Davis 47
7) Connor Tierney 46
8) Jonte Reynders 46
9) Bailey Coxon 44
10) Toby Stevens 41
Pirelli MXD championship points:
1) Wilson Todd 158
2) Jesse Madden 132
3) Toby Stevens 123
4) Connor Tierney 122
5) Kaleb Barham 122
6) Wayde Carter 122
7) Bailey Coxon 118
8) Jonte Reynders 111
9) Jayden Rykers 111
10) Ryan Shadbolt 97
Image – Jeff Crow / Explorer Media
– ends –
Media Enquiries:


Misty Walton: 0448 725 229


misty@eskimomediagroup.com.au


www.eskimomediagroup.com.au