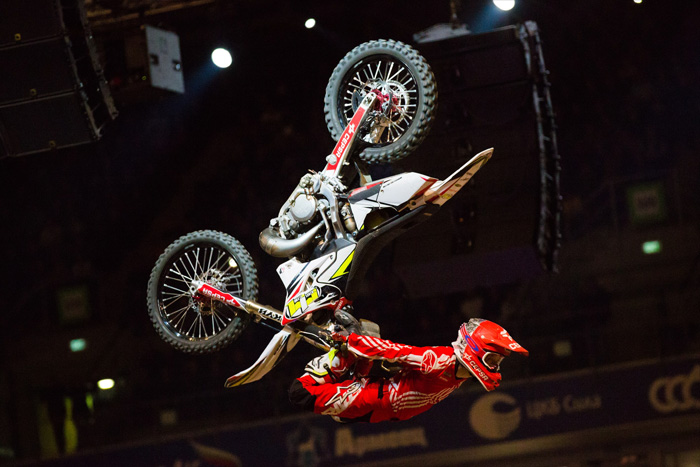 The Night of the Jumps World Championship went right down to the wire in Sofia.
By Hayden Gregory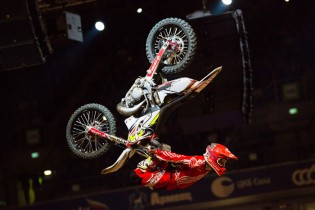 Heading into the final round of the Freestyle World Championship David Rinaldo from France and Maikel Melero of Spain were only separated by two points. The final night would provide a winner take all competition keeping the sold out crowd on the edge of their seats.
As expected the pair both qualified for the final, holding their nerves despite a world title on the line. Joining them in the final six was Australia's own Rob Adelberg, Brice Izzo, Remi Bizouard and Peter Pilat.
Sixth place qualifier Rob Adelberg stepped up on his final run, landing his first ever California Roll to No Hand Landing combination without a bar check. The trick was strong enough to place Adelberg on the podium aided by crashes to competitors Izzo and Bizouard.
With only two riders left to jump it was Rinaldo the Frenchman who would take off first needing to show off his best run to lay claim to the title. Landing a Volt paired with a California Roll Rinaldo looked well on track to a high score before nerves started to show. Unfortunately the rider failed to extend through his Cordova Flip and then struggled to execute his usually precise Clicker SuperFlip combo.
Despite recovering to finish with a Double Heart Attack Flip, Rinaldo was unable to outscore Adelberg leaving the door wide open for Melero to win the championship.
In a stunning ride the Spaniard landed a succession of jumps including the Cali-Roll, Double Grab Backflip and the Flair with Nac-Nac combo.
A first place finish handed Melero the World Freestyle Championship for the second year running. A spirited Rinaldo hung onto second place, while Aussie Adelberg rounded out the 2015 overall podium.