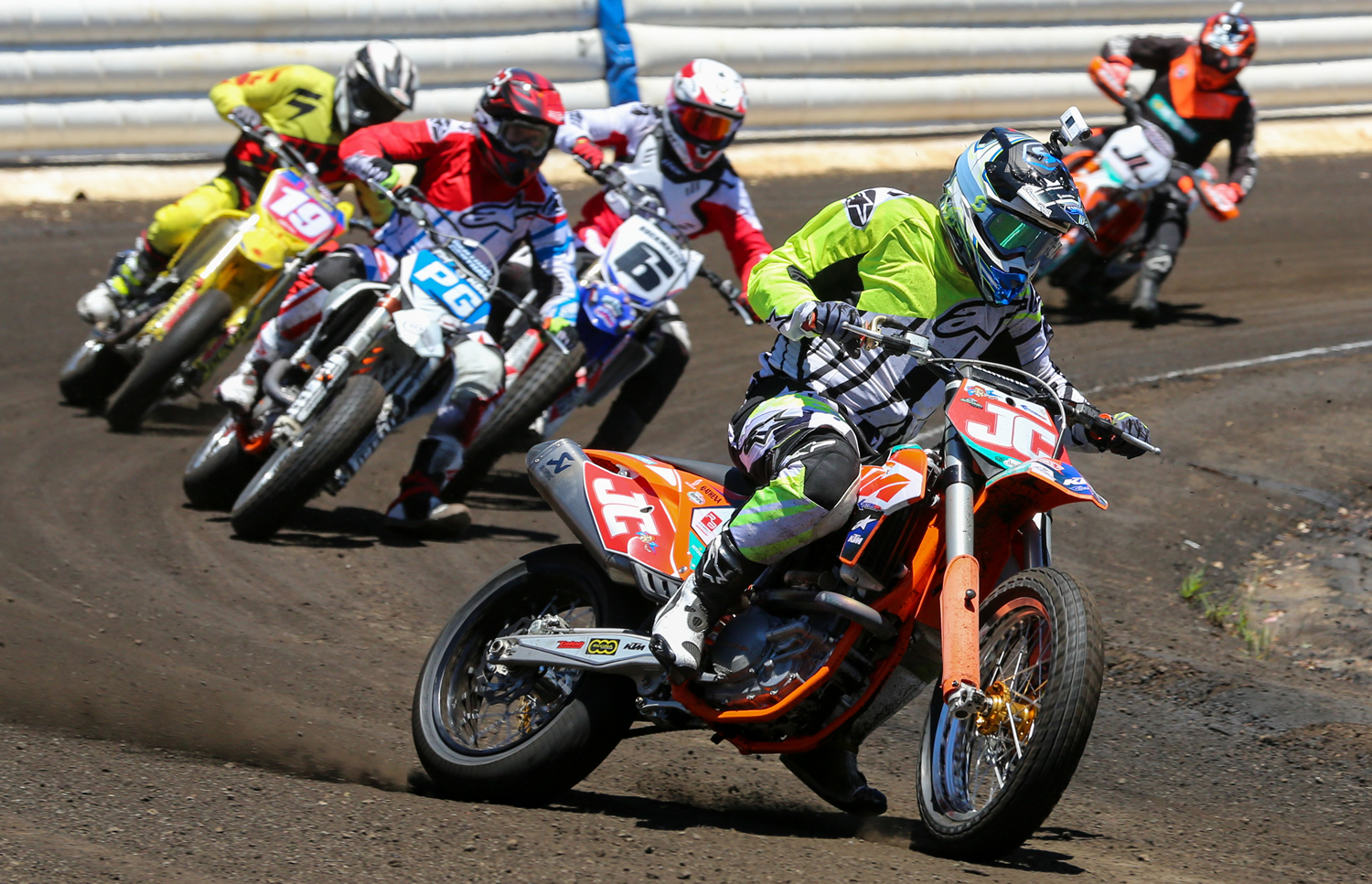 KTM Australia will be represented by a broad range of the sport's most respected names when the gates drop for this weekend's Troy Bayliss Classic at Taree, NSW.
KTM Press Release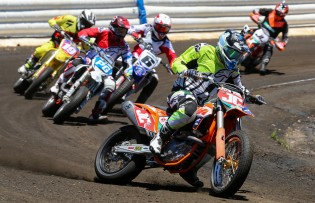 The annual event brings together enough legendary throttle jockeys to stuff a race transporter, for the purpose of doing battle on the common ground of dirt track, or more specifically, the oiled track of the Old Bar circuit where three-time World Superbike Champion Bayliss began as a junior.
Old Bar is one of the few remaining oil tracks – a surface which in the right conditions approximates the grip level of tar – and this year it will play host to an expanded number of quality international guests from Europe, the U.S. and Japan.
KTM's representation begins with the event host himself aboard a highly developed 2015 450 SX-F, and gunning for another victory in the race which has singlehandedly put dirt track in Australia back on the mainstream map.
One rider he'll have to watch is Jarrad Brook, the 17 year old from Gympie that Bayliss himself regards as one of the hottest new prospects in the sport.
The unassuming apprentice carpenter's unnatural talent on the loose surfaces is threatening to translate to the grippier tracks, and Bayliss won't be surprised if he goes well.
One of the most exciting showdowns will occur in the Legends category, where two KTM-mounted long-time rivals – Finnish four-time world long track speedway champion Joonas Kylmäkorpi will lock horns with KTM-mounted Aussie three-time world speedway champion Jason Crump.
Mister Motocross legend Anthony Gunter will renew acquaintances with old mates, including former enduro and desert racing champion and all-round character, 58-year-old Phil Lovett.
Bayliss' son Oli will also be a part of the action, competing in the 10-13 years class on a KTM 85 SX
Troy Bayliss: "There's been a heap going on down at the track with developments and all the grounds look fantastic. We've got US flat track series winner Jared Mees who won last year and just finished third behind Marquez at the Superprestigio, up against Brad Baker who won it, so basically whoever wins this weekend could be probably be called the fastest guy on the planet!
"There's 36 invited guys, and then 48 guys in the support 450 class who have a shot at progressing to the final. No one is guaranteed a spot in the final!
"My young fellow Ollie in the 85 class, he could have a win this weekend in the 10-13s.
I'm riding a '15 model SX-F, but it couldn't be bombed any further. It's pumping out like 68.4 at the back wheel which is pretty hot! It's the most we've seen on a KTM so far. I'm pretty confident for the weekend, so I'm hoping for a good result."
Jarrad Brook – "I'm pretty excited that I've been invited into the All-Stars class this time. This is the best that we've prepared for this. It's just an awesome event to be a part of with all the spectators and all the hype around it. It's nice to be riding with the Americans who are the best in the world at the moment. In the past I've always handled the looser surfaces better – with the grip of the oil you've got to change your riding style completely. You 'back it in' a little bit but mid-turn but on the exit you want to be as straight as possible. My 2016 KTM450SX-F is unreal. I've gelled with it really well and everything's going pretty good."
Jason Crump: "In all we've five of the best AMA flat track riders over here competing, and what Troy Bayliss Events is doing for flat track in Australia is just unbelievable. As for me, I've done a few speedway meetings just lately, so I'm probably riding better than I have for a few years, and I'll come up against Joonas, who I've raced against in Europe for years. The Legends class this year is going to be pretty bloody competitive and it won't surprise me if a couple of guys from the Legends actually make the big show."
Joonas Kylmäkorpi: "I've been here about a week, and when I left home it was -3 and there were snowstorms so sits pretty good to come over and spend some time in the sun! I've been looking forward to this race for a long time. I'm doing some flat track racing back home now and Troy actually invited me here two years ago but it wasn't possible. The event is getting big, you can read about it back in Europe even so it's massive and it's cool to be a part of it. I don't enjoy racing if I'm not trying to win, so I'll be trying to beat Crumpy and win the Legends category."
Anthony Gunter: "All these guys have won titles – some of them world titles – in their respective fields. It's always good to catch up with people and chew the fat. I've got my 2016 450SX-F, and I've just chucked a set of wheels on it in a way I go. That's my setup, and I've actually even ridden it on an oil track already! I went to Temora on January 2 to get a bit of a feel for it, so I'm not going in completely cold! It should be a great catch up."
Phil Lovett: "It's a good time, something a bit different, I just wish I could ride a bit better. I've got a new 450 SX-F this year, so we'll see if that helps me any. Last week I had my old bike, my van and all my riding gear knocked off, so this weekend I'm going to be the best dressed guy at the back of the field! It's a good reunion up there, a lot of nice older blokes and all the good up-and-comers. And it's good to know that they respect what you've done over the years. Gally takes it pretty seriously so off I can stick it up the inside of him I'll be pretty happy. Actually him, Watto (Chris Watson) or Jason Crump, if I can do a number on any of those it'll make my day!"