Defending MX1 champion Kirk Gibbs stood atop the podium whilst Caleb Ward relinquished his red leader's plate.
By Hayden Gregory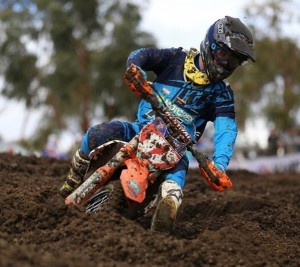 It was mixed results for the KTM team at round three of the Motul MX Nationals. With high expectations heading into the event no one could have predicted the eventual outcome.
In the MX1 Class everything seemed to go to plan. Kirk Gibbs proved he is one of the serious championship contenders taking out round victory with a pair of runner up finishes. The difficult track conditions proved difficult for most riders but Gibbs was more than up to the challenge,
"The track was pretty tough and though it wasn't too physical, it was pretty technical – you had to really be onto it." Gibbs reflected. "You also had to get good starts and put yourself in really good positions, and I felt like I did that.
"My second start wasn't quite as good, but I felt like I rode pretty solid and hit my marks. My first year in 2013, the track was pretty similar; it was just having that rain overnight. It got really one line-ish, which makes it really hard to pass.
"I'm glad to come away from there with relatively good results and points. I'm still chasing that first race win, but obviously I'll take an overall! I'm trying to be really consistent and battle with the top guys every weekend, because they are going to do the same, I just want to be there every moto, and I've been able to do that so far."
In the MX2 class, championship leader Caleb Ward looked to improve on his impressive display over the first two rounds. Unfortunately it wasn't to be as a mix of bad luck and mechanical issues struck the young rider.
In the first moto Ward was running sixth before mechanical failure forced a DNF. The second would prove not too dissimilar as a crash with another rider left Ward limping way back in 15th. The disappointing outing relegates Ward all the way back down to seventh in championship standings.
"Obviously it was a pretty horrible day," Ward said. "it always can be worse I guess, but I went from having a decent points lead to being 30 points down just due to weather conditions and the track, so obviously that sucks.
"Basically one bad start just wrecked my entire day because everything tumbled downhill from there, there wasn't a lot that I could do about it. In the first moto I stuffed up my jump out of the gate and I ended up a fair way back. I was making my way through, but because the track was so muddy, I ended up having a mechanical and DNFed. It was no-one's fault.
"In the second I had a horrible gate pick – I got a reasonable start but was too far to the inside and got pinched off. I was making my way through fairly good and was into sixth or seventh, when Rykers high-sided right in front of me when I was like in third year pinned. I hit his bike and went straight over the handlebars and head first into the ground, which was pretty much like concrete right there. So what should have been a day with two top-five finishes, became a DNF and a 15th. A horrible day, but I'm looking forward to the next few rounds and tracks where I've had a bit of success in the past."
KTM's Dylan Wills finished 6-6 for sixth overall in MX2 while Wade Kirkland landed third to move up to second in the MXD standings.
The KTM team will now begin preparation for round four of the MX Nationals being held in Murray Bridge, South Australia on Sunday May 22.