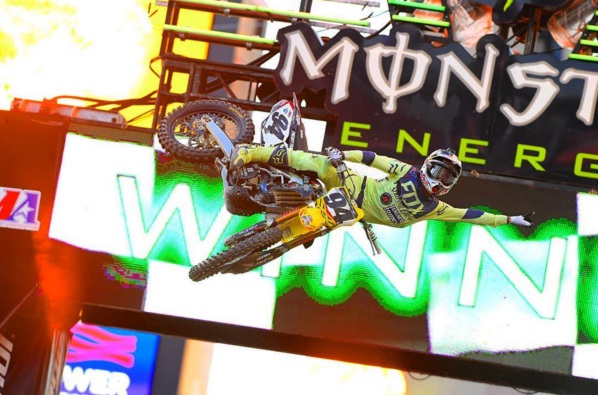 Roczen has kept his slim title hopes alive with a career best fourth win of the season.
By Hayden Gregory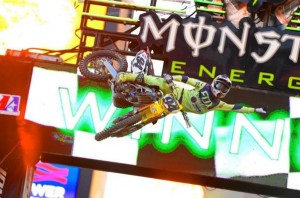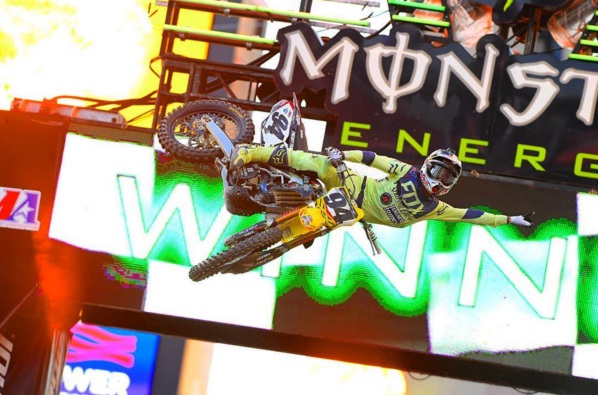 The stage was set for New England with championship leader Ryan Dungey needing just a two point advantage over Roczen to clinch the title a few rounds early. Starting in the best possible fashion Dungey secured his sixth holeshot of the season with Roczen emerging in second place to give immediate pressure.
By the end of the opening lap the Suzuki rider was able to make a pass on Dungey before solidifying his place in the lead. Eli Tomac mounted a chase in third place and was also able to pass Dungey, before setting his sights on Roczen.
The pair remained close for several laps before lappers began to separate the two, with Roczen stretching away to a dominating lead. In third place Dungey had lost touch with the leaders and was in danger of ending his 30 race podium streak.
Jason Anderson was the man looking to break the record, holding down third place before a mistake on lap 15 allowed Dungey to move back onto the podium.
Roczen easily won his fourth race of the season nine seconds ahead of an impressive Tomac while Dungey extended his podium streak to 31 in the 450SX class.
"[The race was] awesome. I loved this place [Gillette Stadium] from my first step on the property," said Roczen. "The track was really tricky and tough in some spots. We put our head down and got the victory. [The team] has put in a lot of work during the week and it's finally paying off." 
Victory to Roczen held off the inevitable by a week it seems with Dungey simply needing to end next weekend's race with a lead of 25 points to secure back to back premier class championships.
"I got up front early but couldn't hold the gap. I just struggled a little bit," said Dungey. "I just kept my head up and kept charging. We'll move ahead to next weekend and look to take care of business there. Nothing we can do but keep it rolling."

In the 250SX Eastern Regional class Martin Davalos stood atop the podium after a close battle with Jeremy Martin and Malcolm Stewart.
Racing got underway with a holeshot to KTM rider Dakota Alix before he crashed out of contention moments later. Stewart was the early race leader after passing Shane McElrath and Davalos was looking dangerous working through the pack.
Speed was definitely on show from all riders and Davalos had plenty as he passed McElrath and set his sights for Stewart. The top three all looked within striking distance as Jeremy Martin also joined the party in fourth.
On lap eight Davalos was able to make the leading pass while McElrath lost third place to Martin.
Stewart continued to slide and Martin soon found himself in second however that is as far as he would reach with Davalos pulling away  to take victory by four seconds.
"It's been a couple weeks since I've been able to ride like this," said Davalos, who claimed his fourth career victory. "Jeremy [Martin] was riding really good and Malcolm [Stewart] was leading there early on. I just had to focus on my laps. I knew the track would be rutted [after the rain in the morning], but it turned out to be a great day and I'm just really pumped."

A third place by Stewart was enough to extend his overall points lead in the championship to five over Aaron Plessinger who finished fifth. Martin sits third, 14 points off the lead with two races to run.
"I'm just happy to be up here [on the podium]," expressed Stewart. "Overall, the race didn't go as planned, but it was better than last week [when I crashed three times]. We'll keep plugging away and moving forward." 
Monster Energy Supercross will head to Metlife Stadium, New Jersey next weekend on Saturday, 30th April.