Ultimate Off Road Round Up: We test a bunch of bikes considered the best of the best in the trails including the big-bore Kawasaki KLX450R trailbike
Story Damien Ashenhurst | Photography iKapture/ Damien Ashenhurst/ Matt Bernard/ Shane Booth
As we've said many times, we think Kawasaki's KLX450R is the best big-bore trailbike on the market. It's a brilliant mix of compliant and versatile suspension and an engine that's manageable but not lacking or boring when applied to trail duties. It's not a race bike and that's something we think should be celebrated.
The KLX has proven to be reliable too, which is massive box to tick in the trailbike category, especially given the most sited competition comes from the legendary Suzuki DR-Z400E. This isn't to say it's a perfect bike; none of them are and the fact that you have to remove the header pipe to get to the oil filter is an example of where the KLX engineers clocked-off. But the ergos are good and there are a heap of different but fairly simple ways to bolt-on or modify bits and pieces to make it an even better bike.
The KLX is a carby-fed bike which we think is no drawback for an honest trailbike and it pumps out a very quiet, but still meaty, exhaust note which is a huge plus for the category.
It's a great big-bore to spend a full day on. It won't fatigue you like a race-based, straight enduro machine might, and it won't leave you wanting for a whole lot more either.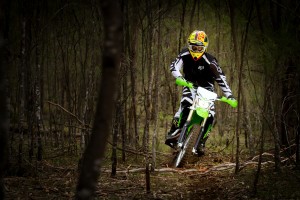 Opinion 1

I've thought this was a great bike from the time it was released. It's so relevant to what the average bloke needs or at least has the option to try because it's that mix of compliance and big-bore performance that is hard to find anywhere else. The brakes are good, the engine's great and the suspension is trail-spec all the way. I also like the fact that it's not hard to squeeze more out of the KLX if you want to push harder. – Damien Ashenhurst
Opinion 2
As a trailbike, this ticks pretty much all the boxes. It's comfortable to ride for a long period, has a usable and strong engine and a plush suspension. I have ridden the KLX quite a few times and I really enjoy it. I jump on and just have an absolute blast, and it doesn't tear out of your hands or become a handful after a long day in the saddle. Looking to purely trail ride? Make sure you check out the Kawasaki KLX450R next time you go shopping – it's not a race weapon or an extreme rock-hopper, nor is it designed to be. It's a trail bike through and through. – Matt Bernard
Three Top Tips
Add 20ml oil to each fork leg.
Fit a cable-tie to the choke (it's well-hidden).
Throw away the grips and replace with a softer compound.
The Competition
Honda CRF450X
The Honda CRF450X and the Kawasaki KLX450R sit in somewhat of a sub-category in the 450cc off-road market. They're more suited to the trail than the track and do what they're designed for well.
THiS INSURANCE QUOTE
$403.50
Can also be comprehensively insured THiS Road Bike Insurance as registrable bike
Price
$11,999 + ORC