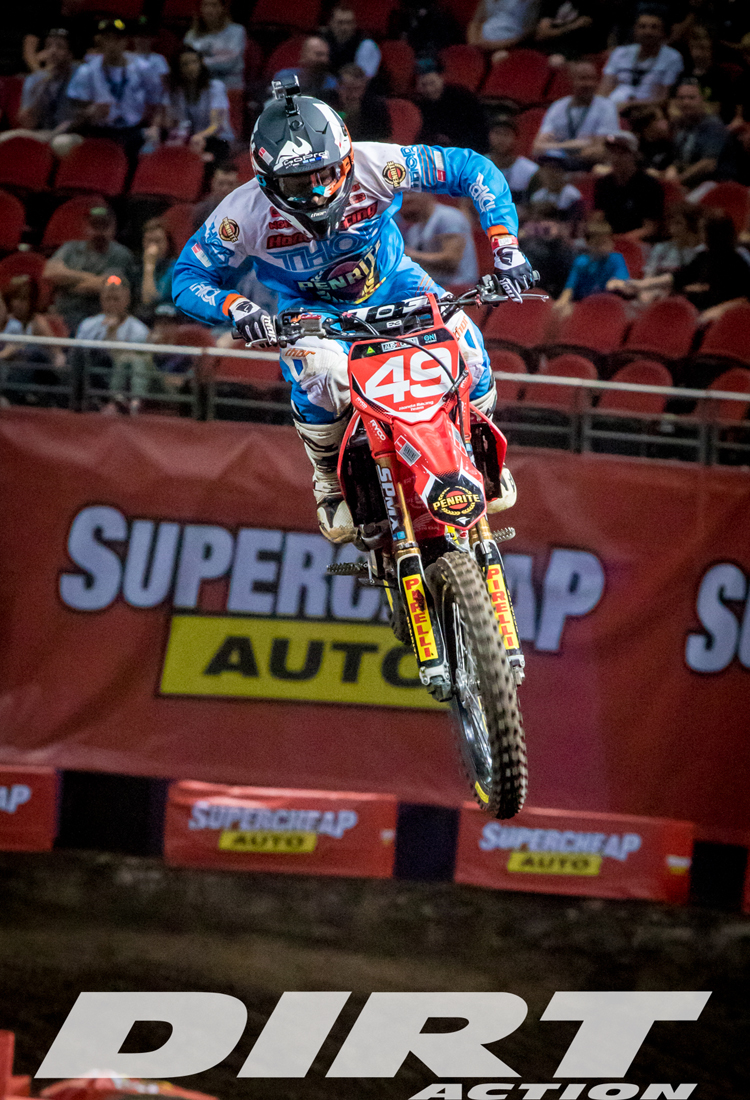 Decotis closes in on SX2 Penrite Australian Supercross Championship
Press Release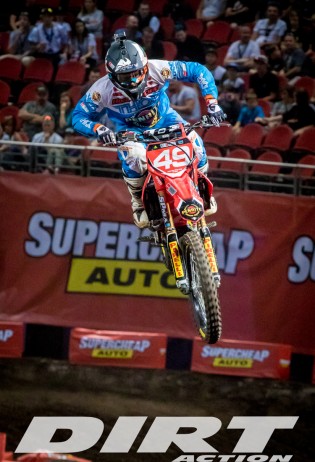 He came. He saw. And he is oh-so-close to conquering.
Jimmy Decotis, a pint-size powerpack of a pro dirt bike racer if ever there was one, is on the cusp of winding out his 2015 season in the best way possible, by clinching the SX2 title of the 2015 Penrite Oils Australian Supercross Championship.
The 24-year-old American from Peabody, Massachusetts, takes a sizeable 31 point lead into the Australian Championship grand final, after a two month blitz which has seen him notch up a stunning 1-1-1-2-1 score
card in the previous five rounds.
Riding the potent Honda CRF250R of the local Penrite Honda Racing team, and with direct backing from Honda Genuine Parts & Accessories, Decotis has been the class act of the SX2 Championship chase in what has been the first-ever tour-of-duty Down Under for this journeyman racer.
After recently signing a contract with the factory-backed Geico Honda team to race the 2016 AMA Supercross Series, Decotis has even more reason to smile on the eve of this weekend's finale.
ASX organisers caught up with Jimmy D for this interview this morning.
ASX: First of all, Jimmy, can you let everyone know how your Penrite Honda Racing team mate Gavin Faith is doing after that crash last weekend at the AUS-X Open event?
JD: Gavin is doing okay, but it's been tough, for sure. The good news is, it looks like he will be released from hospital today or tomorrow.  He has friends with him, and his mechanic, Blair, will be travelling up to Sydney to bring him back to Melbourne, because Gavin won't be flying for a while because of his injuries. But he will heal up and hopefully he can make his return for Arenacross when he gets back home to the States.
ASX: You never like to see anyone go down, let alone a team mate and a countryman.
JD: Definitely. It's hard to watch a friend go down like that. You get a little freaked out about the whole situation. It was bad luck, but it also could have been worse. We all just want to wish him the best and be there for him. He'll come back.
ASX: So how did your whole deal to come and race the 2015 Penrite Oils Australian Supercross Championship come about?
JD: The wheels started turning back in the middle of the year. Jackson Richardson and his dad were racing in the US and they said to me that I should come down to Australia and do some racing. They planted the seed with Yarrive Konsky from the Penrite Honda Racing team and it all went from there. I was keen to do it, for sure, but then I got a call from Geico Honda about a ride in 2016, so I had to see which way it was all going to pan out.
ASX: It seems like it panned out just fine, because you've been here racing in Australia AND you've got the Geico Honda ride next year.
JD: Well, yeah! But the Geico Honda deal has only been confirmed more recently. Back when I was getting ready to come to Australia, Geico  Honda hadn't been able to give me an answer for next year, but they
were good and said I should go to Australia if I wanted, they wouldn't  stop me. And as it's turned out, I am so happy I made the decision to come down here, because it has been a total blast. I now have seven rounds of racing under my belt and feel stronger going into the 2016 season back home, and I will be riding with Geico Honda. It's all worked out so well.
ASX: What were your expectations of Australia when you climbed on the plane for the long flight out here?
JD: Racing-wise, I hadn't done much testing before I left home, so I had the goal just to make some podiums and hopefully be there at the end of the Championship. It didn't matter how it got done, just so long as I got the job done. So on that account, the racing here has been awesome. As for the lifestyle and the people and being based in Australia for two months, it's been great. Everyone is so nice and so good to us. I've had my girlfriend Jamie with me, and everyone has looked after us so well. And the fans seem to really like me, so
everything about Australia and the trip has been so good.
ASX: From the very start you seem to have gelled so well with the Penrite Honda Racing team and their CRF250R. The team has won two out of the last four SX2 Australian Supercross Championships with Gavin,
so you had some shoes to fill.
JD: For sure, but they have done everything for me and delivered me a bike and a team package that has just allowed me to get out there and do the job. All the crew on the Penrite Honda team, and everyone at Honda, and all the sponsors and supporters, have just put it all together to make it happen, it's been great.
ASX: From the very first round of the Championship at Bathurst, you clearly marked your turf right up the front of the pack.
JD: You never know what to expect first time out with a new team, on a new bike, in a new country, but fortunately everything came together right from the get-go.
ASX: As it turned out, you made a habit of some come-from-behind rides to get those first three round wins on the trot. You always looked controlled and like you would get to the front each time.
JD: I think the big thing was my fitness. If you feel fit and strong, and actually are fit and strong, then you can go hard for the full 15 or 20 laps, whatever, and know you can make moves when you need to make moves and work your way forward. So much of those wins came down to my fitness and being able to charge the whole race, and believing in yourself to make passes and keep charging.
ASX: We all waited for the same thing to happen at the J2 round back at Jimboomba, but Lewis Woods was up to the challenge and never put a wheel wrong and took the win.
JD: Yeah, Lewis rode great that night. He really had that hard-pack track surface dialled and did what he needed to do and beat me straight  up in the Final, as did Wade Hunter in the Heat race. J2 was a track I
struggled with, so for me, a second there was good and fortunately I finished ahead of the other guys running up the front of the Championship, so I kept a good points lead.
ASX: And then after four big outdoor stadium events, last weekend the Championship moved indoors to the AUS-X Open event at Allphones Arena in Sydney.
JD: The Sydney event was great, the organisers did a really good job and the atmosphere was awesome with the huge crowd the first night, and then the live TV coverage the second night. I got two wins there, which was so good, although it was such a shame for Gavin to have that crash, after he rode so well the first night to finish second to Chad (Reed).
ASX: You have a tidy 31 point lead over Jackson Richardson and Geran Stapleton coming into this weekend's grand final round of the Championship in Melbourne, so what's the game plan?
JD: It's simple: I'm a racer, and I want to win! So I am going to go out there and try to win, but I am not going to make any dumb decisions and lose sight of the big picture. I won't be taking any crazy risks. But I'm a racer and I will just keep doing exactly what I  have been doing and go hard for the full 15 laps and hopefully be able
to take a Championship plate back home with me.
ASX: And it sounds like you and Jamie will be taking home a gear bag full of great memories too?
JD: For sure. Like I said, everyone has been looking after Jamie and I, and Gavin, so well. We've been staying with the van Slootens and they have just looked after us so well, that we just can't thank them enough.
ASX: And fans right around the world were rapt you managed to film one  of your trademark Jimmy the Rippa two-stroke video edits while you've  been here, with Jono Krusic down at Krusic's ride park. Pitching you
and a CR125R against giant-size Jono and his CR500R made for some great footage.
JD: Oh yeah, that day was a blast! The Krusics are another family that have looked after us so well and getting to cut loose on the two- banger again was a rippa! Check it out on YouTube if you haven't seen it already (search 'Rippin' with Jimmy Decotis and Jono Krusic' on Youtube).
ASX: Okay Jimmy, thanks for your time today and good luck at Knights Stadium this weekend and good luck next year back home in the USA.
JD: Thanks for that and I really hope I can give all the Aussie fans a great show this weekend in Melbourne and get this Championship won.