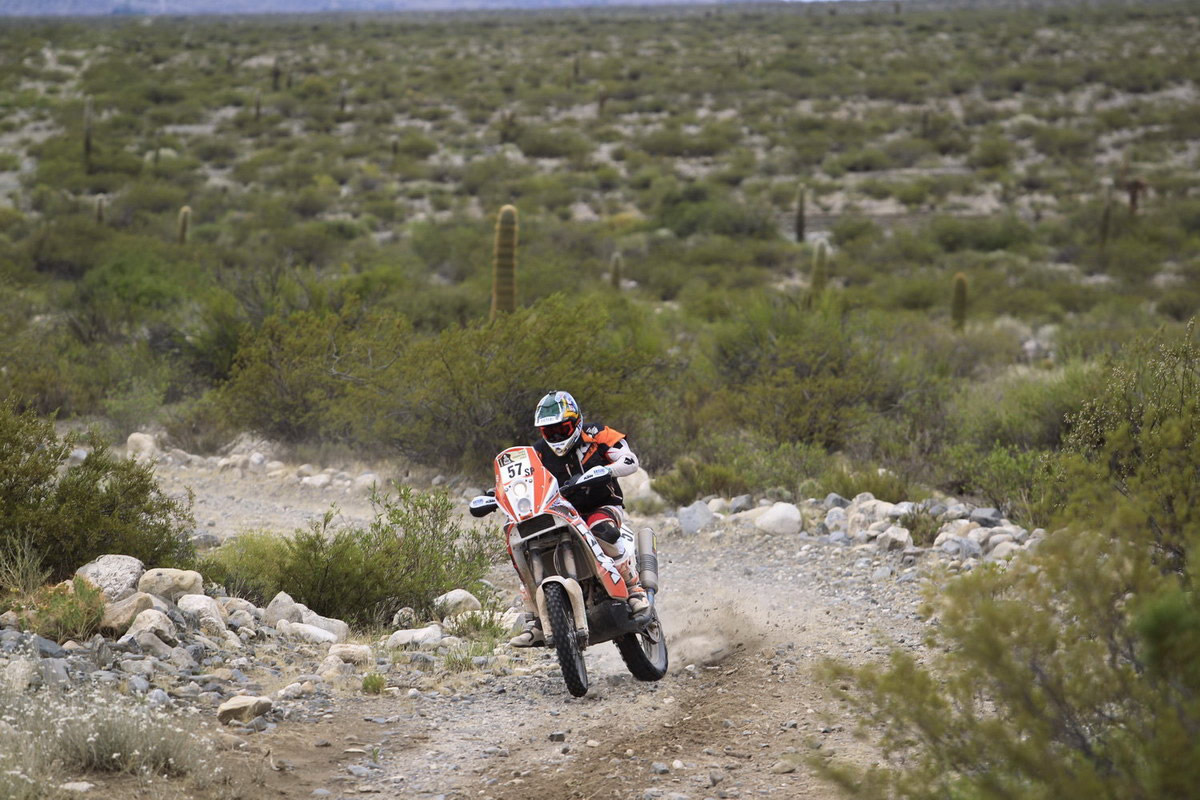 HSE Motorex KTM Desert Racing Team rider Ben Grabham can add the words 'Dakar Rally Finisher' to his racing resume after he today reached the chequered flag in the 2013 Dakar Rally in Santiago, Chile.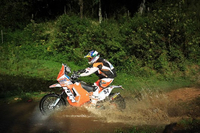 Grabham kept a firm hand in the tiller right to the end, his 16th in the final Special Stage earning the three-time Australasian Safari winner and four-time Finke Desert Race winner a 15th place overall finish in the world's toughest off-road race.
Stretching 8000-kilometres and spanning three countries, the 14-day odyssey is the pinnacle of Grabham's chosen profession and his completion of it marks the conclusion of an incredible journey of recovery, following spinal injuries and a punctured lung suffered in last year's Condoblin 750 race in April.
Grabham was justifiably relieved to finish; "To be honest the last day dragged out quite a bit with a short special and a couple of hundred kays down the freeway," said Grabbo, "and it was a big relief to finally cross the finish line. It's the type of race where in every kilometre there's something that could bring you undone fast and in a big way.
"To be honest I expected it to be more difficult physically than it was but everything I've done to prepare for it obviously helped. The hardest part was mentally day after day just all the maps and the navigation, the long hours and the harsh weather conditions and other elements.
"That first week was the hardest, I wasn't enjoying it a hell of a lot at first. Everything was so unfamiliar, we're reading off French maps – and we're not even in France – it was important not to let it get to you. Once you got the gist of the event and the conditions and the craziness on the roads you settled into a routine and got the hang of it.
"I really want to thank everyone who helped get me here and supported me all the way particularly KTM Australia and HSE Mining, and my mechanic Mikey for keeping me going and putting up with everything for two weeks. My Team Manager Garry also helped a lot through the year with the organisation of everything. We were pretty low key. The KTM factory team helped with a few bits and pieces along the way but we pretty much worked it out ourselves and did it on our own."
Grabham was particularly enthusiastic about the performance of his KTM450 Rally, which he felt made the race that much easier.
"The bike was unreal," enthused Grabham, "I used the 450 rally which was the same as the customers can buy, pretty much straight out of the box and the thing was unbelievable. The storage, the service access, everything is designed for the job and I'm pretty sure it made my first go really easy in so many areas."
And for the growing numbers of fans following who looked on from afar and wondered what the daily schedule of a Dakar rider might be like;
"Typically I'd be up at 3am to get food in and be on the bike by 4.30. I often don't see my support crew a lot during the day so I had to carry as much food and drink as possible – without going nuts because you're going to ending up lugging it all through the dunes at some point. Often we'd be done between 5.30 and 6pm, so as soon as I'd get in I'd try to get cleaned up, get the maps organised, try to get food in and rehydrate as best I can, ready to back it up the next day. I was lucky to be able to hand the bike over to Mikey so I was often in bed by 9. It wasn't too crazy. Some guys – some of the Aussies too – really struggled and I heard of some guys who got in at 4am and had to be going again at 5am! I never experienced that aspect of Dakar racing …and definitely didn't want to!"
Grabham will participate in a ceremonial ride across the finish line tomorrow.
The final day saw Ruben Faria win from Joan Barreda Bort, and Dakar veteran Helder Rodrigues. Faria's final lunge saw the Portuguese rider overtake Chilean Francisco Lopez for second overall, with the 2013 Dakar Rally won by Frenchman Cyril Despres (KTM).
For more information on KTM motorcycles visit www.ktm.com.au or www.facebook.com.KTMAustralia
Stage 14, La Serena>Santiago:
1. Ruben FARIA (PRT) KTM 01:43:06
2. Joan BARREDA BORT (ESP) HUSQVARNA     01:43:14     00:00:08
3. Helder RODRIGUES (PRT) HONDA    01:43:30     00:00:24
16. Ben GRABHAM (AUS) KTM 01:47:56     00:04:50
2013 Dakar Rally Overall:
1. Cyril DESPRES (FRA) KTM 43:24:22 00:15:00
2. Ruben FARIA (PRT) KTM 43:35:05 00:10:43
3. Francisco LOPEZ (CHL) KTM 43:43:10     00:18:48     00:15:00
15. Ben GRABHAM (AUS) KTM 46:09:36     02:45:14     00:15:00