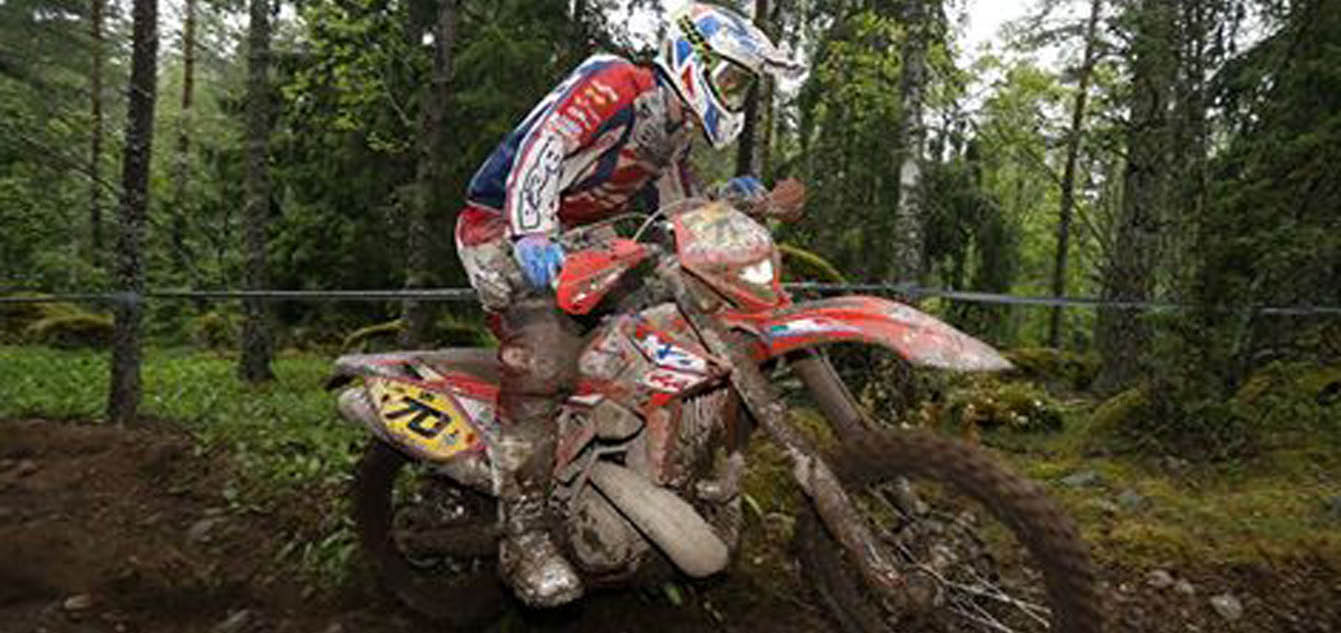 Steve Holcombe enjoyed wins on both days of competition at round five of the World Championship.
By Hayden Gregory
The English rider was the man to beat after day one and continued to run consistent results on day two. A crash in the third and last enduro tests however made racing a little closer with Matt Phillips and Johnny Aubert finishing less than five seconds behind Holcombe.
"The conditions were drier but every bit as difficult as they were on the first day with the ruts, tree roots, rocks and stones," explained Steve. "Everything was going great right up until the last enduro test. I pushed just a little but too hard and paid for it. I crashed once, picked myself up and then crashed again. So two fairly big crashes in one test. It all came down to the final motocross test then and I went for it. I did enough to get the win, and some very important championship points."
Aussie Matt Phillips finished runner up with Jonny Aubert in third. Nathan Watson finished in fourth place putting a halt to Eero Remes run of victories in the E1 class.
"Day two was hard work," explained Nathan. "But despite a pretty big crash in the log section in the enduro test I'm so pleased to get my first Enduro 1 class win. Winning has certainly made the tough weekend worthwhile."
Phillips comfortably won the E2 class, his seventh for the season. In doing so he also took control of the overall championship lead, now eight points clear of Remes in second.
"It was a long, tiring day today," admitted Phillips. "I have to say it was another great team effort from the CH Racing Sherco guys. It was also really cool to race to the end with Steve for the overall, with just a few seconds between us going into the final test. He got me for the overall but it was important to get another E2 class win.
The results give Phillips an eight point lead over Remes in the EnduroGP overall point standings.
Results EnduroGP Enkoping 2016
1. Steve Holcombe (GBR), Beta (1-1)
2. Matthew Phillips (AUS), Sherco (2-2)
3. Nathan Watson (GBR), KTM (4-4)
4. Eero Remes (FIN), TM (3-5)
5. Johnny Aubert (FRA), Beta (6-3)
EnduroGP Overall Point Standings
Phillips, 159 points
2. Remes, 151
3. Holcombe, 138
4. Watson, 114
5. Mathias Bellino 105