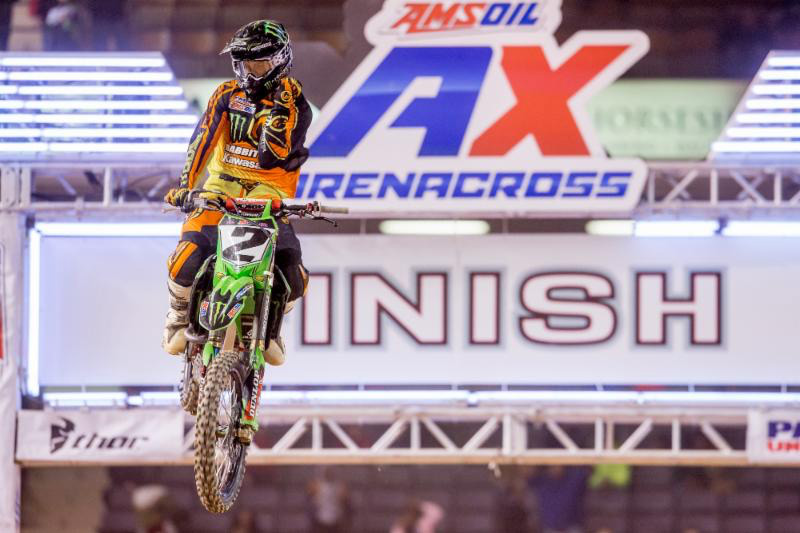 Jacob Hayes dominated the second night of racing in Baltimore capping off the AMSOIL Arenacross double header.
By Hayden Gregory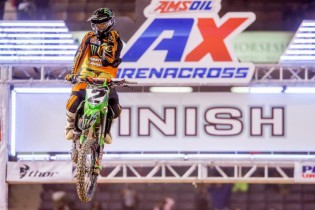 It has been a terrific start to the 2016 AMSOIL Arenacross series by Team Babbitt/Monster Energy/AMSOIL Kawasaki. Jacob Hayes made it three wins from three rounds for the team. The rider shone in the opening moto grabbing the holeshot and leading from start to finish.
A crash on lap nine by Austin Stroupe resulted in a red flag with riders forced to restart in single file. Hayes led out the second start ahead of Chris Blose and Travis Sewell. At the end of the 15 lap main, the top three remained unchanged with Hayes taking the points.
Choosing the inversion suitcase gave Hayes a lot of power and the number 0 case was selected.  The second main would not be inverted meaning Hayes had first gate pick. Despite his choice, a slower start left Hayes back in sixth with Regal scoring the holeshot. Gavin Faith was close in second while top riders Sewell and Blose were deep back in 12th and 14th respectively.
On lap six, Gavin Faith made the leading pass in the whoops while further behind him Hayes was pushing through the pack. The race one winner had made his way up to third on lap six before passing Regal into second on lap 12.
Heading into the final turn Faith had the race all but won before a dramatic turn of events saw him crash from his bike, allowing Hayes to steal the win. Faith was unable to recover fast enough as five riders passed him by, Regal taking second and Lamay in third.
A Hayes clean sweep scored him a five point win over Lamay (4-3) and Blose (2-5) who were tied for second. Ultimately Lamay was awarded second after scoring a podium finish in the second moto. The unfortunate Faith ended the night in sixth place (6-6).
In the Eastern Regional Arenacross Lites main event Daniel Herrlein, remained unchallenged after shooting into the lead on lap one. In a rather uneventful race the top three remained the same for the majority of the event with Jacob Williamson and Tyler McSwain finishing second and third.
Herrlein now moves to the top of the overall class standings, five points ahead of Staley.
The third round of the 2016 AMSOIL Arenacross series will take place next weekend in Pennsylvania.
Arenacross Class Overall Results (Main Event Results)
1. Jacob Hayes, Liberty, N.C., Kawasaki (1-1)
2. Ben Lamay, Forney, Texas, Honda (4-3)
3. Chris Blose, Phoenix, Kawasaki (2-5)
4. Kyle Regal, Lake Elsinore, Calif., Husqvarna (7-2)
5. Travis Sewell, Westville, Ind., KTM (3-7)
6. Gavin Faith, Duncombe, Iowa, Kawasaki (6-6)
7. Daniel Herrlein, Bethesda, Ohio, Honda (12-4)
8. Keith Tucker, Fuquay Varina, N.C., Yamaha (5-12)
9. Kyle Bitterman, West Pelzer, S.C., Husqvarna (10-8)
10. Cody VanBuskirk, Harvard, Ill., KTM (9-10)
Arenacross Class Championship Standings
1. Chris Blose, Phoenix, Kawasaki – 84 (1 Main Event Win)
2. Gavin Faith, Duncombe, Iowa, Kawasaki – 81
3. Jacob Hayes, Liberty, N.C., Kawasaki – 80 (3 Main Event Wins)
4. Travis Sewell, Westville, Ind., KTM – 73 (2 Main Event Wins)
5. Kyle Regal, Lake Elsinore, Calif., Husqvarna – 64
6. Gared Steinke, Woodland, Calif., Husqvarna – 63
7. Daniel Herrlein, Bethesda, Ohio, Honda – 47
8. Keith Tucker, Fuquay Varina, N.C., Yamaha – 44
9. Jacob Williamson, Swartz Creek, Mich., Kawasaki – 44
10. Ben Lamay, Forney, Texas, Honda – 40
Eastern Regional Arenacross Lites Class Results
1. Daniel Herrlein, Bethesda, Ohio, Honda
2. Jacob Williamson, Swartz Creek, Mich., Kawasaki
3. Tyler McSwain, Shelby, N.C., Yamaha
4. Ben Nelko, Aliquippa, Pa., KTM
5. Jared Lesher, Ball Ground, Ga., KTM
6. Cody VanBuskirk, Harvard, Ill., KTM
7. Lane Staley, Chillicothe, Ohio, KTM
8. Steve Roman, Apollo, Pa., Suzuki
9. Dave Ginolfi, Miduale, Utah, Husqvarna
10. Jake McKinney, Hamersville, Ohio, Honda
Eastern Regional Arenacross Lites Class Standings
1. Daniel Herrlein, Bethesda, Ohio, Honda – 44
2. Lane Staley, Chillicothe, Ohio, KTM – 39
3. Tyler McSwain, Shelby, N.C., Yamaha – 31
4. Steve Roman, Apollo, Pa., Suzuki – 24
5. Dylan Walker, Lancaster, Ohio, Honda – 20
6. Henry Miller, Rochester, Minn., Honda – 17
7. Austin Stroupe, Lincolnton, N.C., Kawasaki – 16
8. Keith Tucker, Fuquay Varina, N.C., Yamaha – 16
9. Jacob Williamson, Swartz Creek, Mich., Kawasaki – 15
10. Brandon Hartranft, Brick, N.J., Yamaha – 9