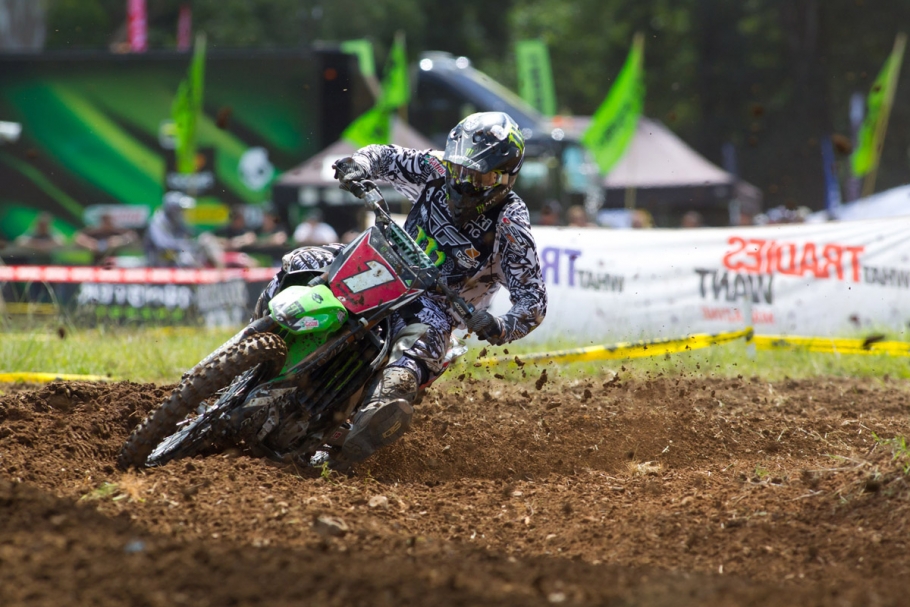 Monster Energy Kawasaki riders battled on at the 2012 Monster Energy MX Nationals opener at Conondale QLD on April 1 with all riders earning a top ten finish in a round where the team was hampered by injury, crashes and misfortune.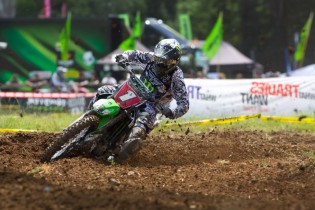 In the MX1 class Jay Marmont took 7th overall, Billy Mackenzie took 10th and Kade Mosg finished in 7th in the MX2 class. The rider's strong final points haul will serve them well throughout the long 10 round series.
Jay Marmont was fighting an uphill battle from the get-go with a recent knee injury forcing the reigning champion to limp around the pits. After qualifying soundly in 7th, Marmont fought through the leg pain to take the hole-shot in the first moto and a 10th place finish. Marmont's day was to go from bad to worse though when he was accidently taken out from behind by another rider after the chequered flag had been waved. Fighting pain, Marmont lined up for the second race and put in a brilliant effort to take 6th place before immediately heading off to the Racesafe medical truck for treatment. Marmont struggled to his feet to race the final moto where he took 6th place and many valuable points for his efforts. Marmont's 10-6-6 results secured him 7th place for the round and he sits only 34 points off the series leader. Notably, Marmont's start to the 2012 series was more successful than his start to last years Championship that he went on to win.
Jay Marmont says, "I'm very very disappointed. It's not the result I exactly wanted. I went into the round hurt with a sore knee and I knew it was going to be tough. I was just going to go out there and get some points and get the best result I could for myself and the team but it was actually a lot sorer than I expected. Not riding lately took its toll. I got really tight in the first race and got arm pump. Then at the end a rider came through and didn't see the flag and ran up the back of me and hurt the bottom of my back and I was in all sorts going into the second and final motos. I just had to push through the pain. It wasn't a really positive day but I have to take away positives. I've got to get back on the bike now and come out swinging at Coonabarabran."
Billy Mackenzie started the day off well qualifying in 5th place however a big crash and subsequent DNF in the first moto would prove costly to his overall result. Billy was looking good for a 4th place finish in the opener before a big downhill crash with 4 laps to go forced him to retire with a broken radiator. Mackenzie rode extremely well in the second moto and was on track for a strong finish before a small crash relegated him to a 7th place finish. Things finished brightly for Mackenzie with a hole-shot in the final moto and a 3rd place finish. Mackenzie's DNF-7-3 results left him in 10th for the round.
Billy Mackenzie say's, "It was a bit of a rough start to the season. I had a bad start and few crashes in the first race. I made a slow progression from the first race to the last but I leave on a positive note. I got 3rd in the last race behind Ben and Josh so I felt like I was riding pretty well. Overall we did alright. Obviously the one DNF in the first race was the main problem."
Monster Energy Kawasaki's MX2 rider Kade Mosig suffered from tough starts throughout all three races and on each occasion battled hard on the long flowing grass track to take three consistent finishes. Mosig went 7-7-5 for 7th overall and sits only 19 points behind the series leader.
Kade Mosig say's, "I got some solid points this round. I was really consistent around the 6th and 7th place but I've got a few things I need to work on but it's good to see where we're at. The bike's good, the bike's really good. I just think we need to make some minor adjustments and fine-tune it. My fitness is good. I pushed as hard as I could in all the races. We'll just go back to the drawing board and make some minor adjustments to my bike and we should be right."
Axis Motorsports Kawasaki also did it tough at the series opener in the MXD class. Ben George suffered mechanical difficulties during timed qualifying and did not record a time meaning he couldn't race. Due to injured riders retiring he was allowed to race the final moto where he crossed the line in a heartening 4th place. Mitch Norris finished the day on a high taking 2nd place in the final moto.
Kawasaki Australia supported rider Meghan Rutledge rode well amongst the qualifying group of 60 MXD riders to post a top 40 time and make it through to the main event. Meg rode extremely well to take mid-pack finishes in all three motos.
Monster Energy Kawasaki will quickly put this challenging first round behind them and build on their solid points haul at the second round of the Championship at Cooabarabran, NSW on 14-15 April.