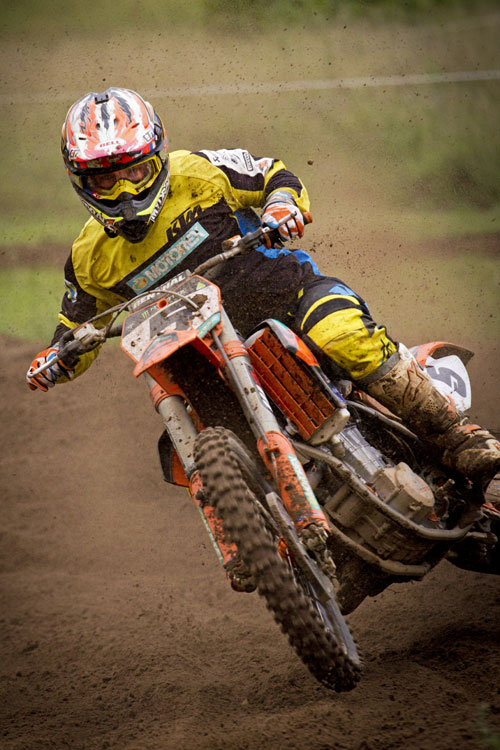 Aussie MX Nationals champion Kirk Gibbs will compete in the final round of the MX1 World championships this weekend at Glen Helen.
By Hayden Gregory

The KTM rider has been rewarded with a start following victory in the national competition a little over two weeks ago. Gibbs dominated the premier class holding the leader's red plate from start to finish. The opportunity will present a grand experience for Gibbs to show his skills on the world stage at one of the most well-known tracks.
"This is something that I've always wanted to do," Gibbs said. "It will be good to go over there and see what it's all about and see whether in the future I want to go down that avenue. I asked Rob a fair while ago about it, and I'm very grateful Glen Helen came about. I'm very excited to get over there and have a good go. It will be a great experience."
For the one off appearance Gibbs will ride a KTM 450 SX-F with support from American sponsors Troy Lee Designs and BTO. The 18th stop on the MXGP calendar will unite Gibbs with his 2013 KTM teammate Todd Waters who is currently sitting in ninth position for the Ice One Husqvarna team.
"It's going to be awesome catching up with Todd. Me and Toddy are great mates, and it's been a good eight or nine months since I've seen him so it will be great to catch up with him and to race against him as well.
"He's been doing really well over there so it will be really good to see where I am against him now – I was an MX1 rookie the first year I raced against him in 2013, so it will good to gauge against him now. Glen Helen is a famous race track and everyone raves about the steep hills, it could be quite nice," Gibbs finished.
KTM Motocross racing Team manager Rob Twyerould will accompany Gibbs to the US and is excited for his international exposure.
"We've had this trip to Glen Helen in mind for a while, and we planted a few seeds and it all came together," Twyerould said. "It's been unreal to have support from the factory, and Troy Lee Designs and BTO KTM teams in the US have been fantastic. It's a reward for Gibbsy for winning the championship, and it makes sense to go over there when you are riding as competitively as he is.
"I think it will be an incredible experience, the biggest thing will be nerves and how he copes with that, but the really great thing is that he's got some benchmarks, with Ben Townley competing, and Todd and Dean Ferris over there, he can feel comfortable with those guys around and I think they will be supportive of him. I think it will be an incredible experience for him.
Kirk Gibbs will hope for a positive result at Glen Helen to not only end the year on a high but open the door for further guest rides in 2016.