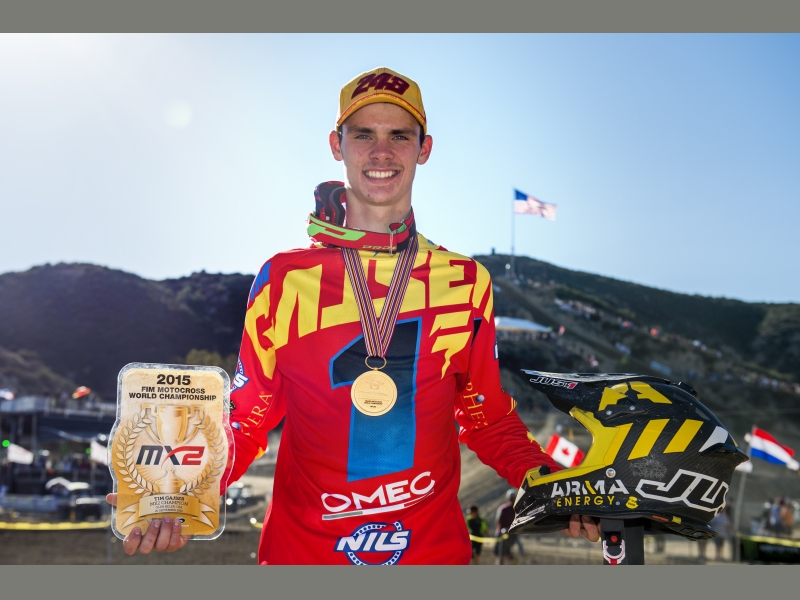 Reigning MX2 World champion Tim Gasjer has made the decision to move up to the premier class for the 2016 season.
By Hayden Gregory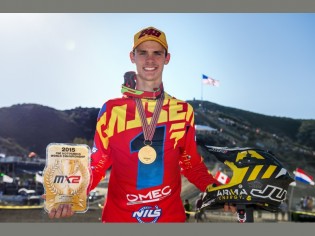 The Slovenian rider will continue to line up for the Honda Gariboldi racing team but will shift onto the bigger bike, the Honda CRF 450RW. The 19 year old is no stranger to the larger bike having competed twice in the open class at the Motocross of Nations.
"I'm so excited to move up to MXGP next season," Gasjer said. "This year was a dream – it was everything we've ever wanted to achieve and I'm so happy to have made that mark in history for myself, Slovenia, the team and for Honda. It feels amazing. It was the plan already – when we are MX2 champion, we go forward to the next class – but we didn't expect to win the title this year, so I'm a little surprised.
2016 will mark the first time in over 25 years that four former MX2 champions will compete in the MXGP class. Gasjer will join Cairoli, Tixler and Townley who have all made the transition from Lites world champion.
"Big thanks to Honda and HRC for their faith in me, and for providing me with such great support in MX2 this year, and for giving me a full factory bike and support in MXGP next year. I'm really looking forward to stepping up and riding the CRF450RW. I really like the bike, and actually I like the 450 even more than the 250. I'm tall, so the 450 is more powerful and easier to ride for my size. 
"I always train with the Honda 450 at home, and this season was just riding the 250 at the races, so actually it was a little tricky changing bikes like that. Now I have a full factory 450, but apart from more power it's not a new bike for me. I've already started testing the 450 for next season and I really love it.
Gasjer is extremely excited for the new challenge and is expecting to learn a lot in his debut year.
"It's a new beginning, a new class, and something new for us all, so for the first season there is no pressure and I will just try to do the best possible. I want to just take some experience from this first year – the other riders around me are more experienced in MXGP, so I will just try to learn as much from the year as possible. In my rookie season I will try for some podiums, but without putting myself under any pressure. 
"To be here at EICMA alongside people like Gautier, Bobby, the MotoGP riders and all of HRC's factory riders is an amazing feeling – I can't tell you how proud I feel to be a part of this family and how motivated I am to keep things going in this good direction next year."