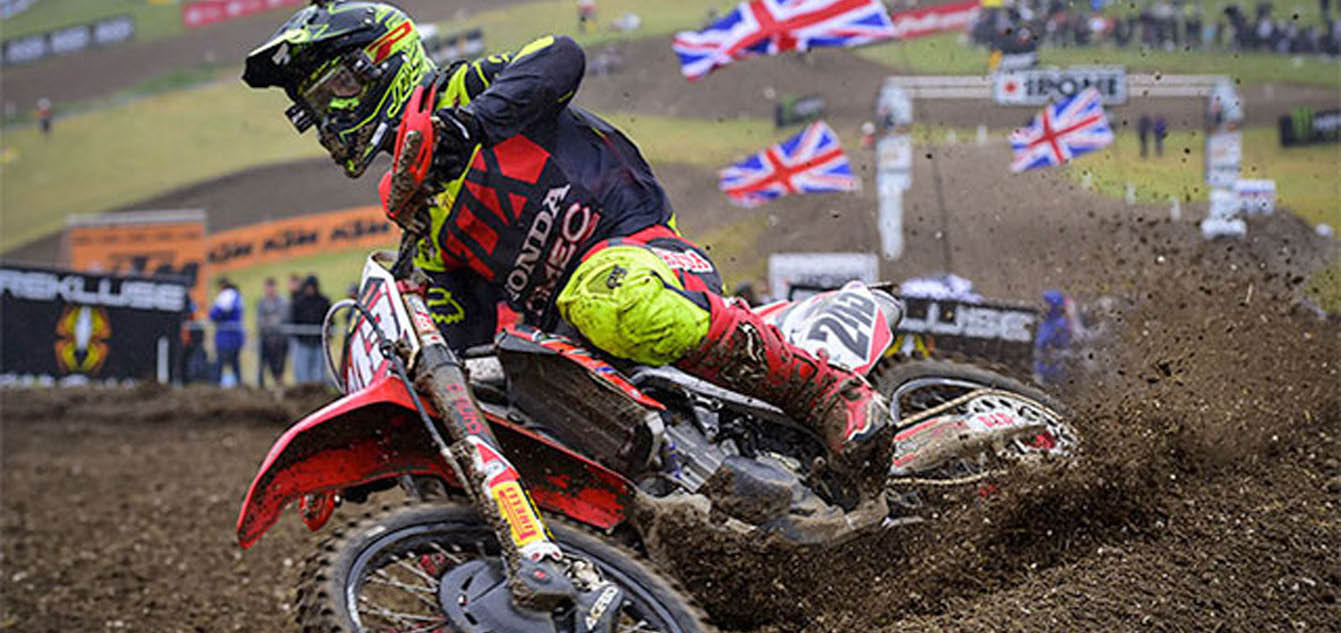 Both riders continue to dominate their respective classes.
By Hayden Gregory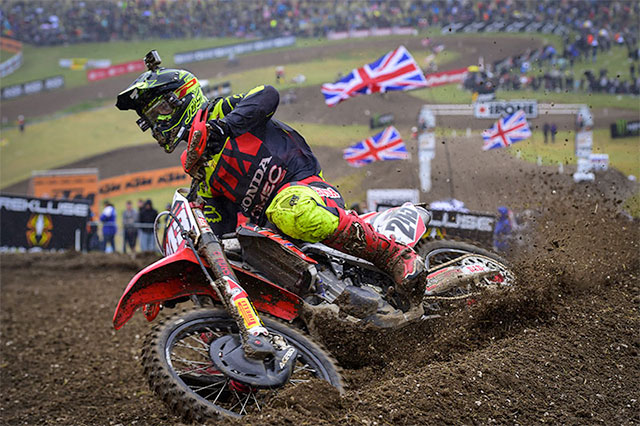 In the MX1 class, Tim Gasjer recorded another double moto victory to claim his sixth GP win of the season. A qualifying crash by Romain Febvre meant he was out of action for the main event giving some breathing room to the Honda Gariboldi rider.
Gasjer continues to impress in the premier class showing way too much pace for his competitors. He now leads the championship by 74 points.
"I am really happy I went 1-1 and thanks to Honda with the bike," Febvre said. "I am really at one with the bike and can't wait for the next race already. The first one was perfect; they worked on the track really well. Before the second start it started raining and it was different and slippery and I didn't take a great jump from the start, but passed some guys, got behind Max, then passed him and made a nice race of it. I want to wish Romain Febvre a quick recovery and return to the bike."
Rockstar Energy Husqvarna Factory Racing's Max Nagl scored second for the GP with a third and seventh placing.
"It was a pretty good weekend," Nagl said, "I always enjoy coming to the British GP and especially this track. I got a good start in the qualifying race and finished second so I earned a good gate pick for the final motos. In the opening race I didn't manage to get a good start.
"I was seventh or eighth and spent most of the race stuck behind Van Horebeek," Nagl continued, "I was faster than him but couldn't find a place to pass, so I settled for seventh. We made some changes with my bike between the motos. We changed gearing and it worked to our advantage. I got a massive holeshot in moto two and then put five really intense laps in to make a small gap of almost six seconds. When the rain started coming down I had to slow down a bit and Gajser passed me. I was surprised with getting second overall. But we've got so many fourth places this season so I guess we deserved to be on the podium this time."
Team HRC's Gautier Paulin landed on the last step of the podium after rebounding from a huge crash last weekend in France.
"Especially after the French GP, it's a great way to come back," Paulin said, "Yesterday wasn't my day as I was struggling a little but we worked hard with the team and did a good job to come back really strong today. The qualifying race was pretty terrible for me, but today was another day and we've been good all day. The first moto was ok but the second race was good. I spent too much time behind Butron and I used too much of my goggle roll-offs with the conditions, but I'm pleased with third and to be back on the podium again." 
Australian legend Chad Reed could only muster a 14th and 17th place finish in his return to MXGP racing after 15 years.
In MX2 racing Jeffrey Herlings clocked off yet another clean sweep, his tenth for the season.
"It's good, I put myself in a good position with two holeshots" He said, "man! Two holeshots with my weight, I was pumped and I definitely made my life easy for myself by getting them." Herlings now leads the championship by a whopping 148 points, "everything is good, eleven rounds in, seven to go and I have a pretty comfortable points lead."
While Herlings is spades ahead of the rest of the pack, Dylan Ferrandis did well to score second for the round with a pair of runner up finishes.
"It was a good weekend but I had two bad starts, so second is ok." He said, "We are always second to Jeffrey but next weekend I will try again, I will always give my best."
Red Bull KTM rider Pauls Jonass would claim the last spot on the MX2 podium ahead of Evgeny Bobryshev and Valentin Guillod.
MXGP Overall Top Ten: 
1. Tim Gajser (SLO, HON), 50 points
2. Maximilian Nagl (GER, HUS), 36 points
3. Gautier Paulin (FRA, HON), 36 points
4. Evgeny Bobryshev (RUS, HON), 34points
5. Valentin Guillod (SUI, YAM), 34 points
6. Antonio Cairoli (ITA, KTM), 33 points
7. Jeremy Van Horebeek (BEL, YAM), 28 points
8. Jordi Tixier (FRA, KAW), 27 points
9. Clement Desalle (BEL, KAW), 22points
10. Jose Butron (ESP, KTM), 20 points
MXGP Championship Top Ten:
1. Tim Gajser (SLO, HON), 482 points
2. Romain Febvre (FRA, YAM), 408 points
3. Antonio Cairoli (ITA, KTM), 405 points
4. Maximilian Nagl (GER, HUS), 378 points
5. Evgeny Bobryshev (RUS, HON), 367points
6. Jeremy Van Horebeek (BEL, YAM), 321 points
7. Valentin Guillod (SUI, YAM), 242 points
8. Shaun Simpson (GBR, KTM), 212 points
9. Kevin Strijbos (BEL, SUZ), 204 points
10. Glenn Coldenhoff (NED, KTM), 201 points
MX2 Overall Top Ten: 
1. Jeffrey Herlings (NED, KTM), 50 points
2. Dylan Ferrandis (FRA, KAW), 44 points
3. Pauls Jonass (LAT, KTM), 38 points
4. Jeremy Seewer (SUI, SUZ), 36 points
5. Max Anstie (GBR, HUS), 31 points
6. Aleksandr Tonkov (RUS, YAM), 29 points
7. Conrad Mewse (GBR, HUS), 28 points
8. Brian Bogers (NED, KTM), 25 points
9. Iker Larranaga Olano (ESP, KTM), 21 points
10. Thomas Covington (USA, HUS), 19 points
MX2 Championship Top Ten:
1. Jeffrey Herlings (NED, KTM), 547 points
2. Jeremy Seewer (SUI, SUZ), 399 points
3. Pauls Jonass (LAT, KTM), 370 points
4. Aleksandr Tonkov (RUS, YAM), 298 points
5. Benoit Paturel (FRA, YAM), 293 points
6. Dylan Ferrandis (FRA, KAW), 273 points
7. Max Anstie (GBR, HUS), 258 points
8. Samuele Bernardini (ITA, TM), 244 points
9. Petar Petrov (BUL, KAW), 242 points
10. Vsevolod Brylyakov (RUS, KAW), 209 points