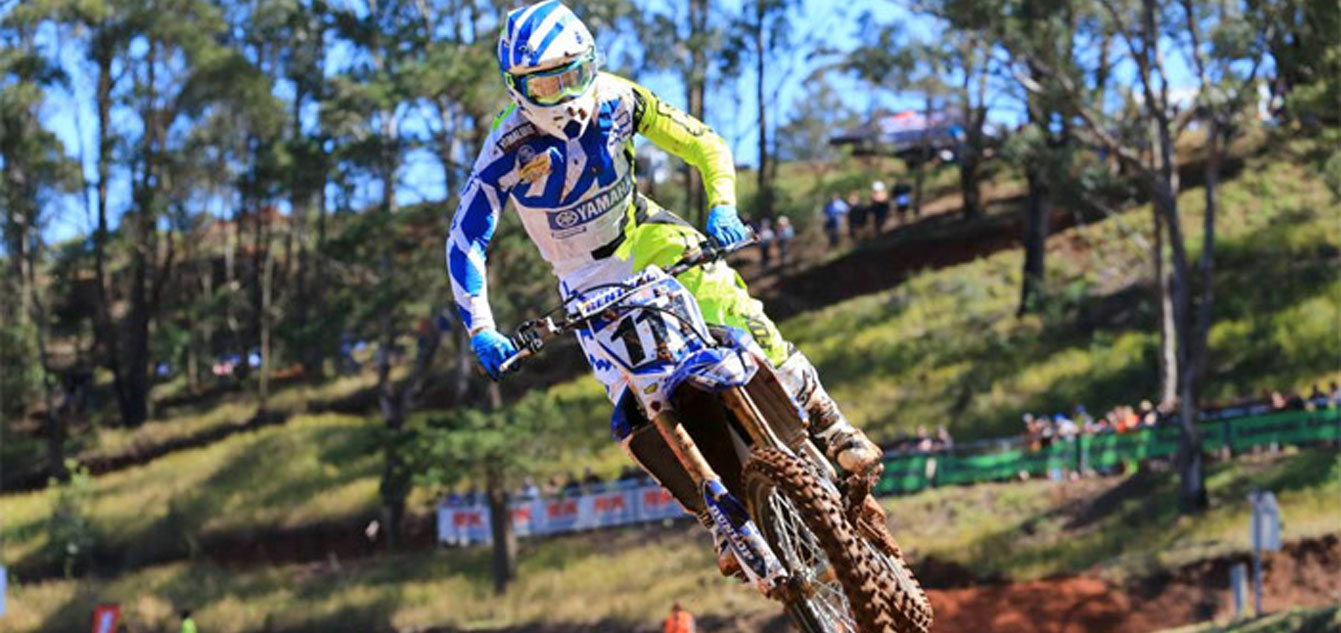 CDR Yamaha's Dean Ferris has scored the round overall in Toowoomba meaning just 6 points separate the pair heading into next weekend's decider at Coolum.
By Hayden Gregory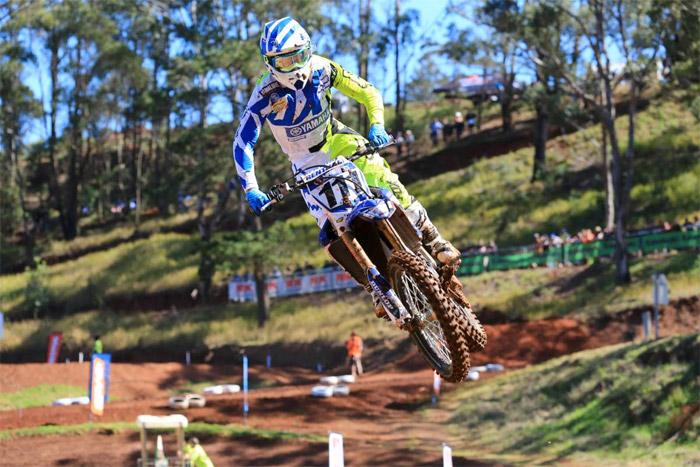 American guest rider, Kyle Peters stunned the crowd early winning the GoPro Superpole and getting first pick of the MX1 starting grid. The victory proved advantageous with Peters scoring the day's first holeshot ahead of Ferris, Gibbs, Mosig and Waters.
All eyes were on the battle between Gibbs and Ferris in second place and a small mistake by the KTM rider saw him crash back into fourth position.  Peters continued to impress in front before Ferris decided to put the foot down. The race was set to go down to the wire and despite Ferris' best efforts, the American would hold on to win the moto. Ferris claimed second with red plate holder Gibbs recovering to finish third.
In the second moto, Gibbs would get the pick of the starts, claiming the holeshot before Ferris stole the lead. Peters assumed third place with Waters hot on his tail in fourth.
The first nine laps saw no real change to the running order before Peters started to make his move forward. The American stalked Gibbs before passing him for second place.
With one lap left to race, the riders began to put everything on the line and with a championship up for grabs Gibbs showed determination to recapture second place and crucial round points.
Ferris scored moto two victory and round honours in the process.
"It's been a good day, 2,1 for the overall gives me solid points. I messed up qualifying a bit which I don't often do, but I made up some points and I'm in striking distance of this championship," Ferris said.
"It's good that Kyle Peters is here, because obviously it puts some of those points between myself and Kirk Gibbs. We know he's here, so I've just got to be the best that I can be.
"I've won a lot more motos than the other guys, so hopefully that points towards me being able to win the championship. Either way, I'm going to put down two solid motos at Coolum and hopefully that's enough."
Only six points now separate Gibbs and Ferris with a huge showdown expected for the final round next weekend in Coolum.
Dean Ferris – CDR Yamaha – Round 9 Overall Winner
Thor MX1 round nine results
1) Dean Ferris – 67 points
2) Kyle Peters – 65 points
3) Kirk Gibbs – 62 points
4) Todd Waters – 56 points
5) Dylan Long – 51 points
6) Kade Mosig – 49 points
7) Jay Wilson – 48 points
8) Jacob Wright – 48 points
9) Kurt Gow – 44 points
10) Brendan Duck – 39 points
Thor MX1 Championship Standings
1) Kirk Gibbs – 602 points
2) Dean Ferris – 596 points
3) Todd Waters – 578 points
4) Kade Mosig – 486 points
5) Dylan Long – 411 points
6) Jacob Wright – 388 points
7) Matt Moss – 381 points
8) Jay Wilson – 368 points
9) Michael Menchi– 338 points
10) Daniel Banks – 335 points