Bike theft is an unwanted extra that comes with owning a dirtbike. Unfortunately, I speak from experience. I've had bikes taken by these lowlifes on two separate occasions and both times I thought I'd done enough to avoid it happening. Let's take a look at what theft prevention options are now available, plus we offer a few tips from experience.
STORY SHANE BOOTH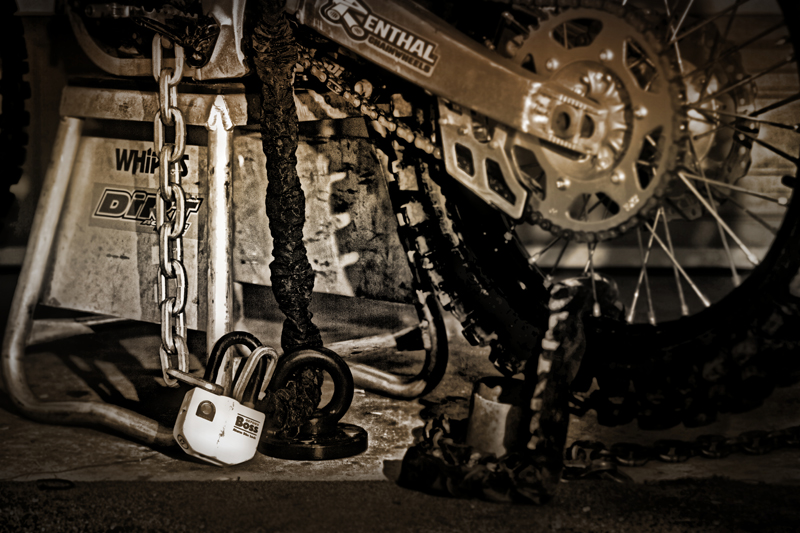 OUT OF SIGHT, OUT OF MIND
As much as you'd love to be able wash your bike out on the driveway, showing off your pride and joy to passers-by, this is the worst thing you can do. Wash your bike out the back of your house if you can; if not, do it at a car lover's.
Keep your garage door down if you're working on your bike. If your door needs to be up, cover your bike so it's not visible to everyone that drives past. The last thing you want is for people to know your house as "the one that has bikes".
SECURE LOCATION
Make sure you keep your bike in the most secure location you have available. A garden shed isn't going to put up that good a fight if someone wants your bike. Be sure to keep all entries locked to where your bike is kept. If you can, lock all but one door from the inside.
The tough part about this is keeping your garage practical and secure; you don't want to have to get out and go through your house to unpadlock your garage door every time you come home, especially if you have an automatic door! Just be smart with it; maybe have it as an option so if you go away for a few days you can lock it down.
LOCK IT DOWN
I think this is the most important layer of protection. Locking your bike to a fixed object with a high-quality, high-strength chain and lock will be your last layer of defence and ultimately decide whether you keep your bike or not. Chain your bike through the frame rather than the wheels — it can't be removed and means they have to break through the chain or lock to get your bike.
If you fix a plate or U-bolt to the ground in your garage, make sure you use high-tensile products and ensure you can't unbolt anything. A tack weld on the nut or rounding off the head will help. Kryptonite has purpose-made products to achieve all of the above: floor mount, chain and lock. Well worth the investment.
CAMERA
A security option that used to be reserved for banks and VIPs can now be easily installed at home and at an affordable price. There are a few reasons for installing cameras: they can be a deterrent if visible, they allow you to check on your bike remotely from almost anywhere, they can help identify the thieves if you are broken into and they can alert you to any movement in the area they cover.
I have D-link Wireless N cameras installed. They are easy to set up, have night vision and feed live to an app on my iPhone so I can check them from anywhere. They can also be set up to email you when they detect any motion.
DIY SECURITY
Here are a few tips you can do yourself without spending a cent on any security products. It really just involves some common sense and a little extra time when you tuck your bike away for the night.
The first is to take the wheels out of your bike and hide the axles. It will make a bike much harder to move, even if they do get through all of the chains and locks.
The second is to pop off the spark plug cap. I've lost count of how many people who've heard a noise and run to the garage only to watch their bike get ridden off into the distance. These thieves aren't rocket scientists. If the bike won't start they probably won't work out why. It may be the difference between finding your bike at the end of your driveway and watching it disappear.
INSURANCE
A provision for the worst-case scenario. If these mongrels do get your bike at least you can replace it. Always be sure to understand the details of your insurance policy and your responsibility. You don't want to have the policy void after your bike is stolen because you didn't meet the security requirements.
RECORD YOUR DETAILS
Make sure you record your bike's details, such as the VIN and engine number plus a few photos of it. That way you can give the police and anyone else the correct details and if you are fortunate enough to get the bike back you can prove it's yours.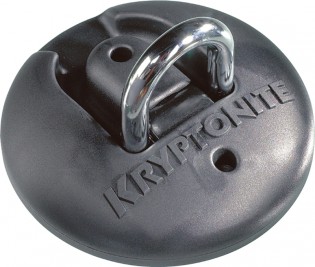 KRYPTONITE STRONGHOLD ANCHOR
* Attach to ground, wall, truck or trailer bed
* 16mm hardened carbon alloy steel shackle
* ⅝" cement anchor bolts installed directly into the cement
* Includes masonry bits
* Steel shackle lies flat within domed body when not in use, making it safe to walk or drive over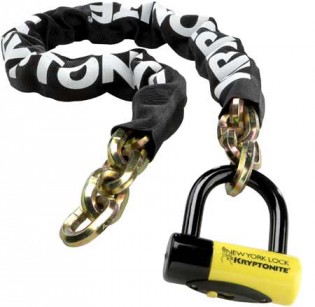 KRYPTONITE NEW YORK FAHGETTABOUDIT® 1415 CHAIN & NEW YORK DISC LOCK
* 150cm 14mm six-sided chain links made of 3t hardened manganese steel for ultimate strength
* Durable, protective nylon cover with Hook-n-Loop fasteners to hold in place
* Includes maximum security New York Disc Lock with 15mm MAX-Performance steel shackle
* Patented, oval hardened steel crossbar for extra security
* Hardened double deadbolt locking for extensive holding power
* Reinforced anti-drill/pull cylinder protection system
* Sliding dustcover protects and extends cylinder life
* Three keys, one lit with high-intensity bulb and replaceable battery
D-Link Wireless N Camera
* Easily view and manage your camera from au.mydlink.com
* Compact design with night vision that lets you view 24/7
* Wireless connectivity
* Ready to use in three simple steps
* Works with the mydlink iPhone or Android app for on-the-go viewing
TOP 10 TIPS TO LOCK DOWN YOUR BIKE
1. Cover your bike
2. Wash or work on it out of public view
3. Keep it in a secure, lockable location
4. Take the wheels out and hide the axles
5. Pop the spark plug cap off
6. Use a high-strength chain and feed it through the frame
7. Use a high-strength lock
8. Secure your bike to something like a floor anchor
9. Have an alarm if possible
10. Install a camera
Want more articles like this? Subscribe to Dirt Action Magazine.