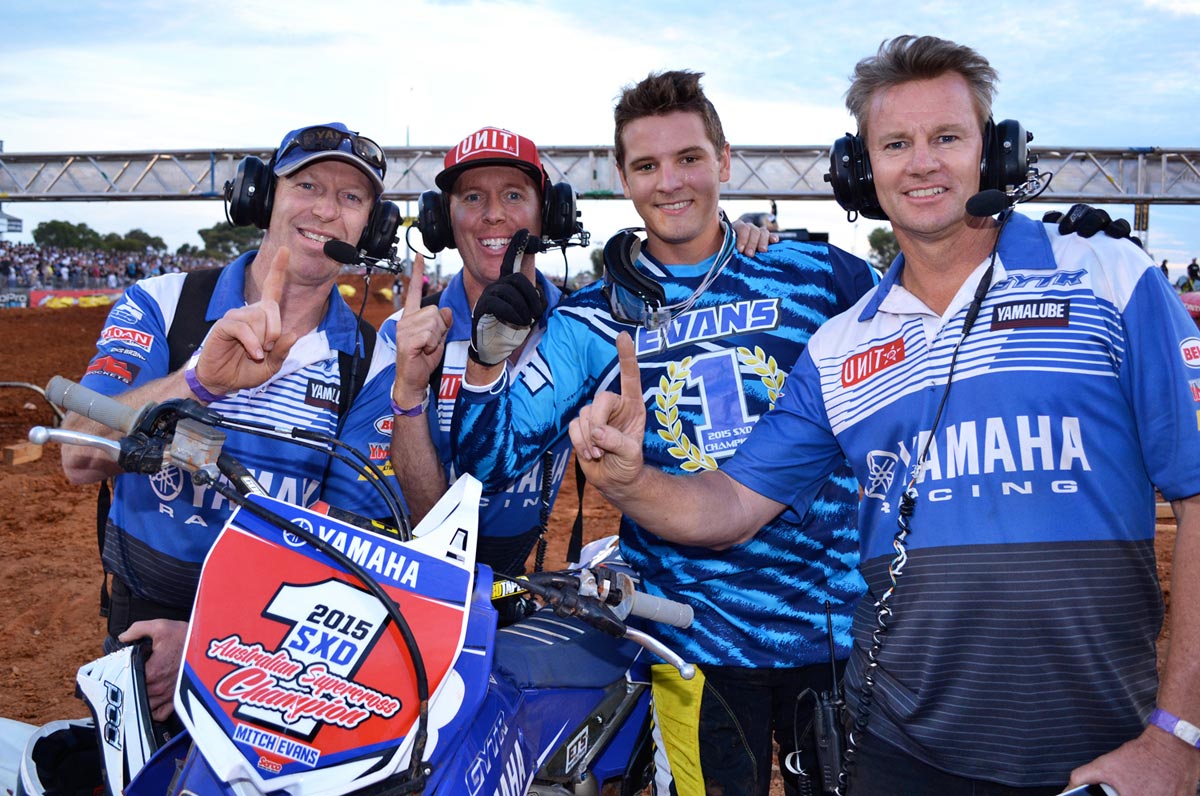 GYTR Yamaha's Mitch Evans has overcome a 10 point deficit to secure the 2015 Australian Supercross SXD Championship.
By Hayden Gregory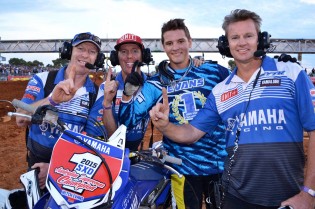 Despite being the man to beat all series long, a crash at Jimboomba in the second last round left Evans chasing Brock Mcleary for the title. The equation meant Evans would need to win both finals while also relying on results behind him.
The day started positive for the rider as he qualified fastest for the first main event. As gates dropped in the main, Evans quickly took second place behind team mate Jordan Hill. Just past the halfway stage, Evans made his move on Hill to make take the lead and the first final win. Points leader Mcleary could only manage a fourth place finish meaning his lead was dashed to just three with one race to run.
With a win worth three points, the crowd was set for a winner take all final. If Evans finished first and Mcleary second the pair would tie on championship points meaning the winner of the last race would take the crown.
As the final started it was clear we were in for a thriller as the pair shot to the front. In a bar to bar battle Evans stalked Mcleary before making the all important pass in the whoops section. The move was enough for Evans to streak ahead and take what was a well deserved Australian Supercross title.
"I was so determined to win tonight," Evans stated. "Even if I didn't win the championship, I just wanted to show I was the fastest rider in the class and take the round win.
"I knew what the points were during that last race but with Brock right behind me, no one was really sure what had happened. When they made it official that I had won, it felt so good as it was something I have worked so hard for. This was my first year of supercross and it's pretty amazing to think that I just won an Australian Championship.
"Thank you to my family at home back in Cairns as well as the Richardson family who are a huge help to me. I also want to thank the GYTR Yamaha team, especially Wardy and Thommo for doing such as great job and having our bikes perfect at every round.
"I won't forget this night in a long time."
It was a tough end for Mcleary who was full of confidence heading into the final round. The wrong end of a count back left him in second place overall; lamenting a disappointing first final.
"The weekend didn't exactly go to plan, I really wanted to go out and win the first main to extend my points lead but instead I got held up in the first turn and could only salvage a fourth losing a bunch of points," he said.
"The second race I gave it my all but unfortunately it wasn't enough and I came out with second, losing the championship on a count back.
"All in all I am still happy with the result and am proud of my achievements after being off the bike for so long earlier in the year.
"Just want to give a huge thanks to Chris Woods and the whole Raceline team, I loved every minute of this season working with these guys and I couldn't have achieved this result without them."
Evans team mate Jordan Hill made it a standout night for GYTR Yamaha with his 2-3 results enough to score second place for the round. Unfortunately after missing the Adelaide round it would always be tough for Hill to place in overall standings and he ended his season in sixth place.
"Tonight was good and I felt that was the best I have raced all season," Hill stated. "I really struggled during the afternoon when the track was dry and baked but when they prepared it for the night show, it was really good and our lap times dropped by a couple of seconds.
"My start in race two wasn't great and I had to work hard to get near the front as the races are pretty short. I'm happy with second and another GYTR Yamaha team 1-2 in this years' series.
"Joining the GYTR Yamaha team for supercross has been a great experience for me and I can't thank them enough for the opportunity. The team has great people in it, the bikes are awesome and everyone has a good time. Thank you to them and our team sponsors for a great supercross season,"
SXD Results – Round Six Melbourne
1st Mitch Evans
2nd Jordan Hill
3rd Brock Mcleary
4th Trent Wheatley
5th Toby Stevens
Final Championship Standings
1st Mitch Evans
2nd Brock Mcleary
3rd Toby Stevens