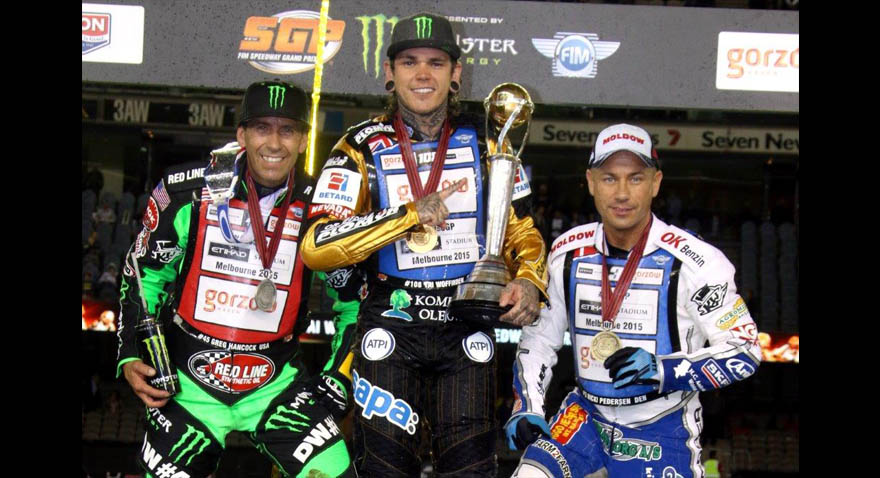 More than 25,000 fans turned out to Melbourne's Etihad Stadium for an action packed night of speedway racing.
By Hayden Gregory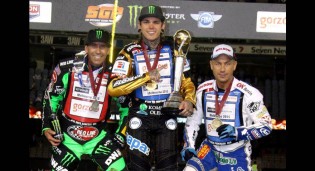 Despite having wrapped up the title three weeks ago Tai Woffinden was out to win the final round of speedway racing in the country he was raised in.
A crash in his semi-final all but ended his hope of a final victory with legend Greg Hancock taking out the Don Smallgoods Australian FIM Speedway Grand Prix, alongside an overall silver medal.
Woffinden became the 16th rider in history to win the world title more than once and only the fifth rider to achieve the feat in the SGP era alongside Tony Rickardsson, Nicki Pederson, Jason Crump and Hancock.
Rickardsson and Pederson are the only two riders to win the event in consecutive years, and Woffinden already has his eyes set on this record for 2016.
"Nicki said the hardest thing is to win it back to back. I'm always looking for something to help spur me on; another challenge in life." Woffinden said.
"Hopefully this is another one I'll knock straight down and I can keep trucking on. But I have so many more years at this, it's unreal. I've won it twice in the last three years. I have established myself as a top rider who is going to be here for a long time. I'll see how many of these we can get."
"It was absolutely unreal." Woffinden continued. "The guys at the Etihad put on a really good show. It has been a long series. There have been some ups and downs for everybody, not just the riders. 
"To see it all finish on a good note on a great track is fantastic. Hopefully every single person that was there tonight brings two people next year and we get this place full.
"It was great to clinch the championship in Torun, but to actually be given the trophy in Australia means so much to me. It has been an unbelievable year." 
Australian fans were delighted with local boys Troy Bacthelor, Chris Holder and wildcard Sam Masters all lining up against each other in the night's final heat. At the completion of four laps it was wildcard Masters who took the win ahead of his compatriots to progress through to the semi-finals.
With the support of the whole crowd, Masters flew the Aussie flag claiming second in the semi final to advance through to the night's final event. With a win on home soil in the making, a cruel twist of fate hit on the very first corner. Doyle went down with two other riders in the first turn leaving him in the hands of medical staff; his night over.
It has since been reported that Masters was taken to Royal Melbourne Hospital where he is in a stable condition. He has sustained neck and chest injuries but is in good spirits and is confident of a speedy recovery.
Back at the track the final race required a restart which saw three time world champion Greg Hancock claim the chequered flag.
"We all come here to win this thing. The truth of the game is second place is the first loser. But it's a medal and shows the determination we all have." Hancock said
"Winning is everything, but there are building blocks along the way. I'm learning all the time and I learned a heck of a lot from this. I love what I do. Speedway is what I have been doing since I was a kid and there's nothing better than getting sideways. If I'm going to do it, I want to be the best."
DON SMALLGOODS AUSTRALIAN SGP SCORES:
1 Greg Hancock 21,
2 Niels-Kristian Iversen 15,
3 Maciej Janowski 11,
4 Jason Doyle 11,
5 Peter Kildemand 13,
6 Tai Woffinden 12,
7 Andreas Jonsson 12,
8 Krzysztof Kasprzak 9,
9 Matej Zagar 7,
10 Michael Jepsen Jensen 7,
11 Nicki Pedersen 7,
12 Sam Masters 5,
13 Tomas H Jonasson 4,
14 Troy Batchelor 2,
15 Chris Holder 2,
16 Chris Harris 0,
17 Justin Sedgmen DNR,
18 Max Fricke DNR.

FINAL WORLD CHAMPIONSHIP STANDINGS:
1 Tai Woffinden 163,
2 Greg Hancock 147,
3 Nicki Pedersen 131,
4 Niels-Kristian Iversen 120,
5 Jason Doyle 114,
6 Matej Zagar 107,
7 Maciej Janowski 106,
8 Chris Holder 95,
9 Peter Kildemand 92,
10 Andreas Jonsson 88,
12 Troy Batchelor 59,
22 Sam Masters 5,