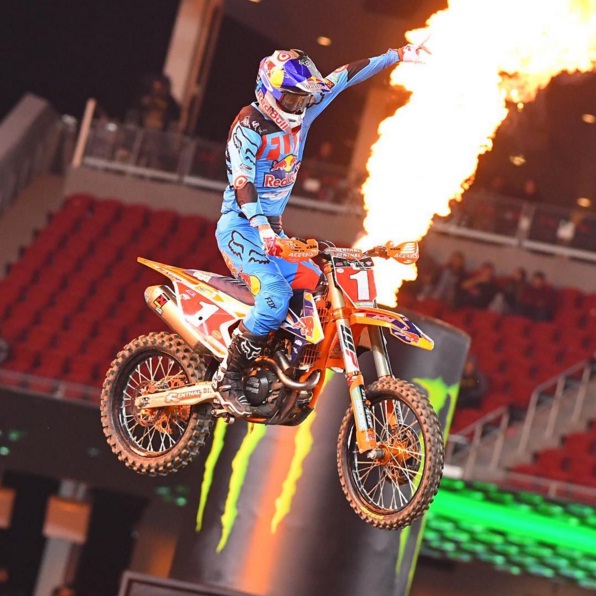 The KTM rider was near flawless in the premier class while Cooper Webb similarly dominated the 250's.
By Hayden Gregory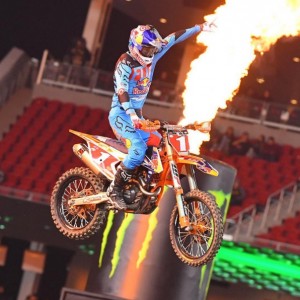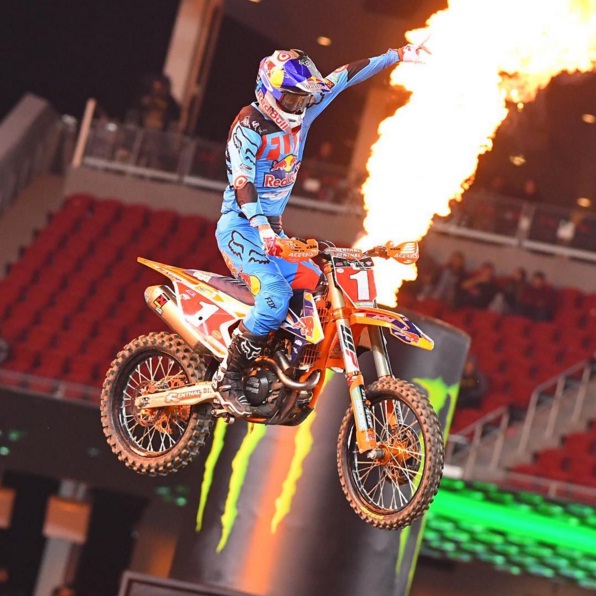 As gates dropped on round twelve it was Rockstar Energy Husqvarna's Jason Anderson out in front scoring his first holeshot award for the year. A small bobble in turn one however allowed championship leader Ryan Dungey to sneak into the lead closely followed by Justin Bogle.
Dungey let the lead slip to Bogle for a brief moment on the opening lap before regathering the position a few moments later. Bogle started to slow and both Ken Roczen and Jason Anderson made the pass, hunting down Dungey in front.
Roczen proved a challenge as the race for the lead intensified on lap seven, however Dungey stood strong and remained calm under pressure. Dungey's defence soon turned to offence as he began to reopen a gap on Roczen steaming ahead to his sixth round victory of the season.
"Tonight was good. I got off to a strong start, which was key," said Dungey. "Kenny [Roczen] was applying the pressure, but I stayed strong and made sure to make quick work with lapped traffic." 
Roczen held on to second place with Jason Anderson scoring third. The Santa Clara podium was a place for place reflection of the overall championship standings with Dungey now 42 points clear of Roczen and a further 16 points ahead of Anderson.
Round twelve also saw a return to racing for the 250SX Western Regional class after a few weeks off while the East boys chewed up some laps.
Zach Osborne earned his first holeshot award of the season ahead of Mitchell Harrison, Kyle Cunningham and Alex Martin. Big guns Cooper Webb and Joey Savatgy found themselves back in fifth and sixth respectively needing to mount a strong comeback through the pack.
Showing why they sit atop the championship standings the pair worked their way through the riders in unison with Webb working up to second place with a seventh lap pass on Martin. Osborne remained out in front yet his lead began to diminish as Webb eyed the top step the podium.
The deciding move came on lap eleven as Webb made a move down Osborne's inside to streak ahead and take his fifth 250SX win of the season.
"It wasn't one of my better starts, but I plugged away," said Webb. "Zach [Osborne] was riding good tonight, but fortunately I was able to catch him towards the end to make a pass and grab another win." 
Osborne was able to hold off Savatgy for second place equalling his season best result. "I'm pretty happy with the race overall," said Osborne. "The track was tricky, becoming slippery as the race wore on. I gave it my best effort, which was three laps short [of the win] tonight."
Webb stretched his championship lead to 16 points over Savatgy in second while Christian Craig holds onto third despite slipping to fourth in Santa Clara.
The 2016 Monster Energy Supercross season continues next weekend at Lucas Oil Stadium in Indianapolis on Saturday, April 9.
450SX Class Results
1. Ryan Dungey, Belle Plaine, Minn., KTM
2. Ken Roczen, Clermont, Fla., Suzuki
3. Jason Anderson, Rio Rancho, N.M., Husqvarna
4. Chad Reed, Dade City, Fla., Yamaha
5. Trey Canard, Edmond, Okla., Honda
6. Justin Bogle, Cushing, Okla., Honda
7. Eli Tomac, Cortez, Colo., Kawasaki
8. Weston Peick, Wildomar, Calif., Yamaha
9. Jake Weimer, Wildomar, Calif., Suzuki
10. Blake Baggett, Grand Terrace, Calif., Suzuki
450SX Class Championship Standings
1. Ryan Dungey, Belle Plaine, Minn., KTM – 278
2. Ken Roczen, Clermont, Fla., Suzuki – 236
3. Jason Anderson, Rio Rancho, N.M., Husqvarna – 220
4. Eli Tomac, Cortez, Colo., Kawasaki – 200
5. Marvin Musquin, Corona, Calif., KTM – 182
6. Chad Reed, Dade City, Fla., Yamaha – 178
7. Cole Seely, Sherman Oaks, Calif., Honda – 173
8. Justin Brayton, Mint Hill, N.C., KTM – 136
9. Trey Canard, Edmond, Okla., Honda – 120
10. Davi Millsaps, Murrieta, Calif., KTM – 105
Western Regional 250SX Class Results
1. Cooper Webb, Newport, N.C., Yamaha
2. Zach Osborne, Lake Elsinore, Calif., Husqvarna
3. Joey Savatgy, Thomasville, Ga., Kawasaki
4. Christian Craig, Corona, Calif., Honda
5. Mitchell Oldenburg, Alvord, Texas, KTM
6. Colt Nichols, Muskogee, Okla., Yamaha
7. Jordon Smith, Belmont, N.C., Honda
8. Kyle Peters, Greensboro, N.C., Honda
9. Alex Martin, Millville, Minn., Yamaha
10. Michael Leib, Wildomar, Calif., Yamaha
Western Regional 250SX Class Championship Standings
1. Cooper Webb, Newport, N.C., Yamaha – 170
2. Joey Savatgy, Thomasville, Ga., Kawasaki – 154
3. Christian Craig, Corona, Calif., Honda – 147
4. Zach Osbourne, Lake Elsinore, Calif., Husqvarna – 132
5. Colt Nichols, Muskogee, Okla., Yamaha – 132
6. Mitchell Oldenburg, Alvord, Texas, KTM – 113
7. James Decotis, Peabody, Mass., Honda – 109
8. Kyle Peters, Greensboro, N.C., Honda – 100
9. Kyle Cunningham, Willow Park, Texas, Suzuki – 78
10. Jordon Smith, Belmont, N.C., Honda – 77