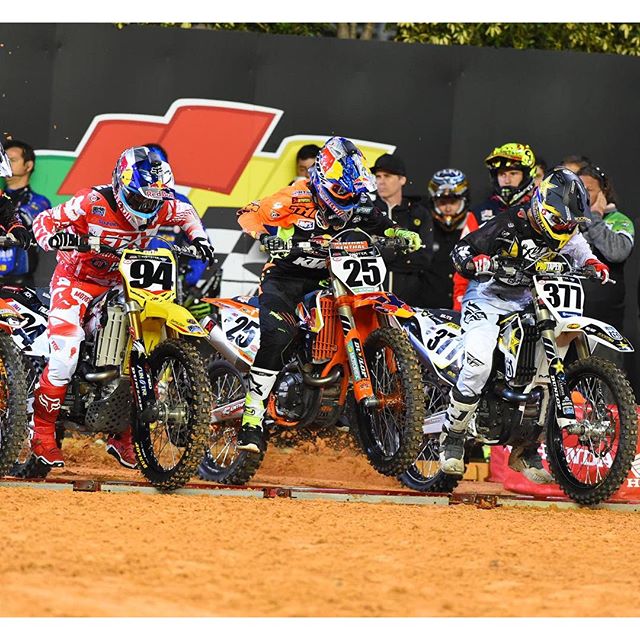 Hear from the stars of our sport.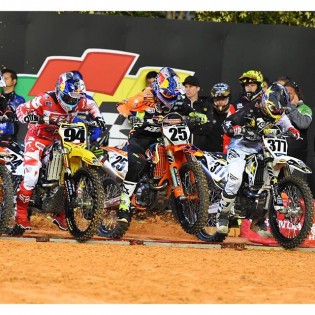 Eli Tomac (1st 450SX): "It's huge for us. We've been kind of searching all season. For a guy like me, having only one podium leading up to this event is unacceptable. I'm a winner at heart, and I just kept an open mind coming in here. This track so unique and different, and I just came in here like it was a new season and laid her down. To start the day, practice was good, and qualifying was super important to get that gate pick on the inside. That led to getting a good start in the heat race, laying it down in the heat race and kind of the same thing in the main event."
Ryan Dungey (2nd 450SX): "I am happy. Second place isn't too bad. Especially since there's a lot of good guys out there. Sometimes it's the same guys, sometimes it's other guys going good, but we want to be consistently up there on the box every weekend and that's the goal. Obviously, to consistently win races is key too. Tonight, here in Daytona, the whole day went good. Practice went really well, and I really felt the team and everybody did a really good job on the bike set up coming into this weekend as we prepared for it. Practice went well and we tried a few things. We put on a different tire and stiffened the bike up a little bit for the heat race, and it probably wasn't the best decision, but we had to try. At least we knew what we had was good. We went back to that, softened it back up, changed back the tire for the main event, and that was actually quite good. We were right there on Eli. Obviously, he was riding good tonight. He had his areas covered and he was riding well, but we were just trying to keep that pressure on him. He got away a little in a few areas—I'd make a mistake and then he'd make a mistake—and it was kind of cat and mouse. I was really happy that we were able to apply that pressure all night, and it was a good battle. "
Jason Anderson (4th 450SX): "I got a great start in the main. I found my way into fourth place and then was just by myself for the rest of the race. I got caught behind a lapper for five laps. Also, Pourcel's crash in the beginning of the race tripped me up a little and put way too much of a gap between me and the top-three guys, which made it hard to even get close enough to battle them."
Ken Roczen (5th 450SX): "Definitely not what we were expecting. I didn't get the best jump. I actually got pretty lucky in the first turn but I couldn't do the triple because I didn't think the person in front of me was going to do the jump, so I ended up not jumping. The track was tough so it was hard to pass. By the time I had a clear track, there was a big gap to the front that I tried to close but I just ran out of time. We're going to work on the bike a little bit this week to try and get it better. Other than that, I'm going to keep doing what I've been doing. I felt really good fitness-wise. I'm not too satisfied with a fifth-place finish so I'm hoping for better results next week in Toronto."
Trey Canard (6th 450SX): "Today was better, but I still didn't finish where I would've liked to. All in all though, I think it went pretty good and I'm happy to finish inside the top 10 and be leaving healthy, considering the season I've been having. I really think I just raced better today overall. I felt good in the main event was able to regroup after almost going down in the whoops, to still finish strong. I wasn't a huge fan of the track, and I don't think many guys were; it was just too tight and there wasn't a whole lot of room to make passes. I can't complain too much because we all had to race the same course."
Josh Grant (7th 450SX): "I don't know, driving thirty-six hours, coming off the couch, you know, doing this because my buddy would only take me on a fishing trip if I went and raced Daytona. I was like, "You know what, let's do it." I don't know, it's a pretty crazy feeling. I've always loved racing and being back, but it's not like I'm back for good. I would still like to get a deal done. It gives me a whole new respect for privateers and what they have to go through to get here. I never want to take that for granted. It's one of those things I was really blown away by, especially for being the first time I had to do it on my own, and having my two buddies helping me out this weekend was an eye opener. I'm really fortunate to come out here, to stay safe, get a top ten and put my own company on my bike—and to really make a good showing for myself, which was cool."
Chistophe Pourcel (8th 450SX): "I was second-fastest in practice, so I got a nice gate pick for the heat. I pulled the holeshot in the heat, but then made a little mistake, so I ended up finishing second. It would have felt good to have at least won that heat. My start for the main was decent, but then Musquin made a mistake and ran into me so I lost a few spots. From there on I just did my laps and tried to stay in the top 10, which I did. I'm just trying to be stronger every week."
Cole Seely (10th 450SX): "It was a rough day for us, all around. I was struggling in practice and transferred through the semi, so I had a horrible gate pick. During the main event I was involved in a first-lap pileup that banged up my bike and me a little and left me pretty much dead last. I was able to charge from 21st to 10th by the end of the race, which was good but definitely a challenge since this track wasn't great for passing. I'm really motivated to get back home and put in the work for next week and am thankful for my team and everyone behind me.
Jake Weimer (17th 450SX): "Just a tough day. I had to fight my way through the semi to get in the main. I didn't get the best gate pick in the main but I was in pretty good shape until I ended up going down. The track was really tough so the start was important and I didn't really execute or put myself in a good position. It ended up being a tough night. I feel like I'm riding well during the week and I feel good on the bike. I'm just not executing very well on Saturday so I need to do a better job of that."
Jeremy Martin (1st 250SX): "It's Daytona, it's gnarly, it's the shadows and it's one of the roughest Supercross' of the year, but we were fortunate enough to get the win tonight. It's a big thing for the whole team—we worked hard all day. Actually, every time I went out we made a change and it got better and better each time. "
Justin Hill (2nd 250SX): "I felt really good all day, and think I could have had a chance for the win if I would have grabbed a better start. It's really awesome to feel this good and be right there in the championship battle.
Martin Davalos (3rd 250SX): "Daytona is more of an outdoor race. So there's always a lot of fast guys that show up. I was confident throughout the day, and I felt good. The bike setup was awesome. I'm mostly just trying to stick to my own race, and I think that's working for me. My heat race was awesome. I should have done a practice start for the main though, because my gate looked a little slippery, and I didn't get the best jump. I rode smart in the main. I was there the entire 15 laps, and put in a hard charge for the final two to salvage third. It's a long championship, and I just have to give my best every weekend."
Malcolm Stewart (4th 250SX): "I had a really good day going into Daytona. I felt good and qualified third in practice. Got second in the heat and almost got RJ on the last lap. In the main, I led most of the laps but I got tight. Pretty bummed about the main but I have a lot of races to look forward to and I'm looking forward to being on top! Only down five points with seven races to go so I'm not worried."
Arnaud Tonus (6th 250SX): "Today was a huge improvement. I felt a lot better on the bike and I believe I proved that in both the Heat Race and Main Event. I was able to push for all 15-laps and made some great passes. It feels great to be able to ride like I know I can"
Tyler Bowers (9th 250SX): "We've been working hard during the week to get back to where we want to be and it's nice to see these small improvements every weekend. I'm looking forward to building on this finish next week in Canada."
Shane McElrath (10th 250SX): "Coming back from injury isn't easy, but I'm trying to improve each week and I think that I'm growing and learning each race. We'll take it race by race and hopefully I'll see my results improve with each passing round."
Justin Bogle (11th 450SX): "It was good. I felt a lot better this weekend than I have. Riding-wise was way better. Making progress. The results don't show it, but I felt much better, more comfortable. Confidence is getting there, I've just got to do it once and once you do it you're there. It's coming, I'm just getting time under my belt. Main event just got stuck and rode behind a few guys the entire main event. It was tough. The track was extremely one-lined. It's all good. We're making progress."