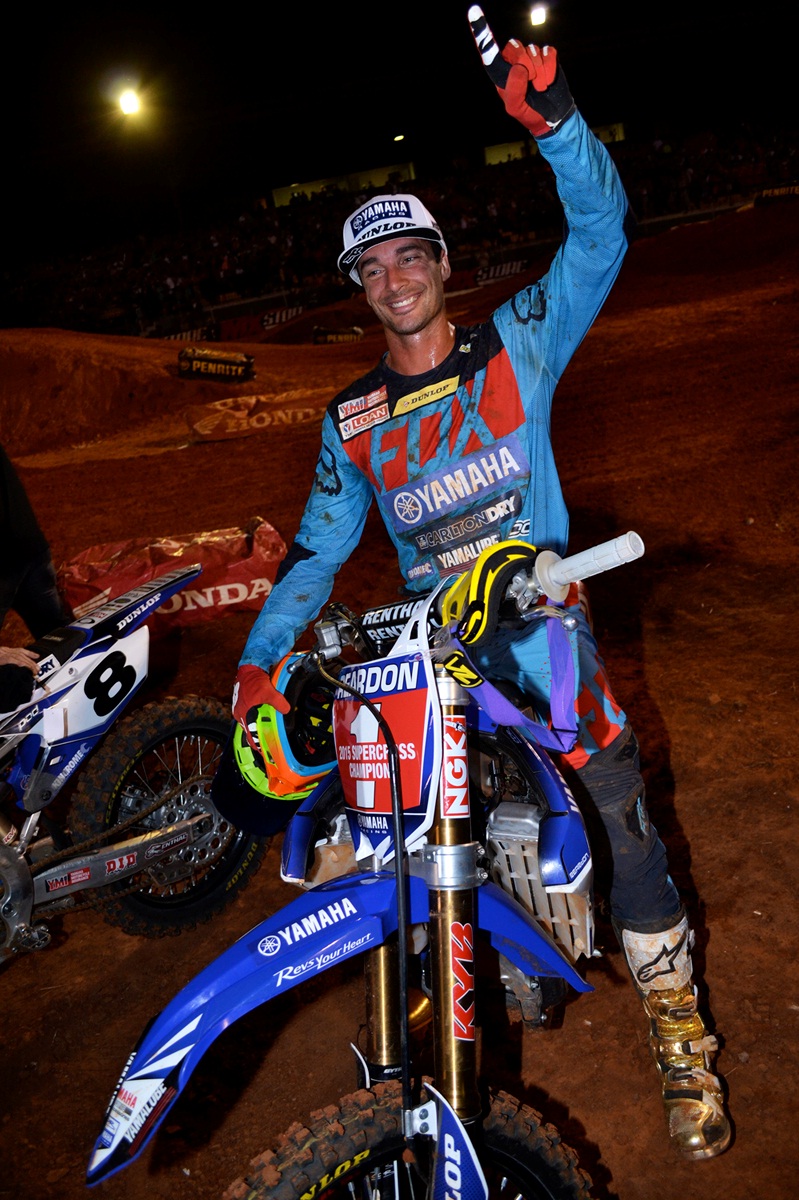 Dan Reardon is crowned 2015 Australian Supercross SX1 champion.
By Hayden Gregory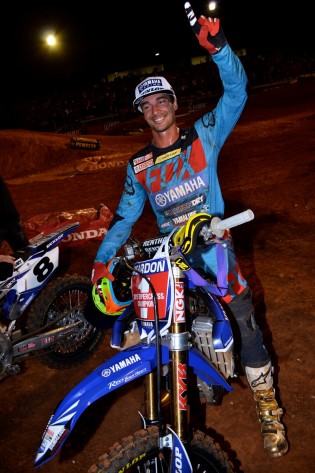 With a 31 point lead heading into Melbourne, Reardon was all but guaranteed the crown barring disaster, and disaster we almost had.
In the first heat Reardon's closest championship competitor, Kade Mosig crashed hard, leaving him with a sliced forearm and unable to finish the race. Moments after his team mate was pulled from the track, Reardon was sensationally thrown head first over his bike dislocating his shoulder on impact with the ground.
With a championship title on the line, RaceSafe officials were quick to pop his shoulder back in place before he jumped back on his Yamaha to amazingly finish the race. It was crazy scenes as Reardon who was in obvious pain completed the moto and left the crowd abuzz as to whether he would line up for the nights finale.
Forward of the drama, Daniel McCoy raced to his first heat race of the series ahead of Lawson Bopping and Taylor Potter who was having his first outing for the Penrite Honda racing team.
With Reardon's injury an obvious talking point it was soon highlighted that he only needed to finish 15 of the 20 lap final to secure his first Australian Supercross title since 2007. Teammate Mosig would need to win the race outright while also lapping Reardon five times.
With the riders lined up for the final race of 2015, the equation was simple. Battling through intense pain, Reardon joined his peers ready to embark on the toughest 20 laps of his career. Every whoop, jump and landing would no doubt be a hurtful reminder of his injury.
In the opening laps a battle ensued between Mosig and Lawson Bopping. The pair traded blows before a small mistake by Mosig allowed McCoy, Potter and Cheyne Boyd to pass by. As Mosig recovered in fifth, Reardon was holding his own in 7th place.
Out in front Lawson Bopping rode an incredible final 10 laps, stretching out to take the chequered flag by a massive 15 seconds.  McCoy showed similar form from his heat win to hold onto second place with Taylor Potter rounding out the final podium. It was an emotional feeling for the rider who lost his mother just two weeks before the race.
Mosig was never able to truly recover from an early mishap finishing in fifth place with the undisputed champion Reardon riding in at 7th. In an incredible feat of resilience and determination Reardon rode through the pain to put the final touches on an incredible comeback.
"What a way to win a Championship – with a dislocated shoulder," said Reardon.
"First and foremost I just have to say thanks to Racesafe. I dislocated my shoulder in the Heat race and then we popped it back in 30 seconds later on the side of the track, and then they've worked on me all night to get me ready to get through the Final, and I just can't thank them enough.
"I was in so much pain out there, and even on the sighting lap I didn't know if I would even be able to jump the jumps, but we did it and got through and got a seventh place finish, but most important of all, we got the Championship and that was the really big prize tonight.
"This year has been awesome and to win the Supercross Championship, that's just the best, so I have to say thanks to the CDR Yamaha team and all the sponsors and supporters who have helped make this possible. I'm rapt."
With Matt Moss a non starter in the sixth round, fifth place was enough for Mosig to complete a CDR Yamaha championship 1-2. The result capped off a remarkable year for Kade who also wrapped up second place in the MX Nationals.
DPH Stevens Yamaha's Lawson Bopping's final round victory was enough to shoot him on to the final championship podium landing in third place overall, completing an all Yamaha podium.
"That's the best I've felt on the bike in months," exclaimed Mosig.
"My plan was to put in 20 solid laps in the Final and that's exactly what I was able to do, so I am stoked to get the win tonight and get third in the Championship, it feels great."
SX1 Round 6 Main Event Results:
1. Lawson Bopping
2. Daniel McCoy
3. Taylor Potter
4. Cheyne Boyd
5. Kade Mosig
6. Danny Ham
7. Daniel Reardon
8. Aaron Tanti
9. Matt Van Slooten
10. Joel Newton
11. Joshua Spanos
12. Jono Krusic
13. James Lambie
14. Thomas Hill
15. Jack Zahra