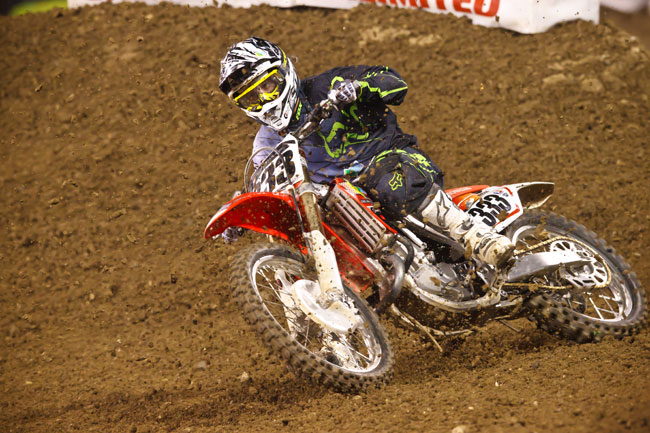 Dirt Action caught up with Cody Mackie after he narrowly missed out on making the 450 main at the opening round of the AMA supercross series.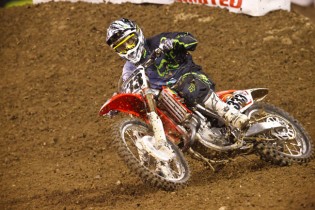 Give us a quick rundown on your weekend.
Well it pretty much started Friday. We got down to Anaheim, I went and had some tyres fitted then I stickered up my bike and we were ready to go racing. Saturday we turned up at the track and set up down the back in the privateer pits. For practice I was in the "C" session because I'm not seeded at all with the AMA and that was a little sketchy. The track is usually at it's worst compared to the track the "A" session gets and without disrespecting anyone there are some loose guy's out there so you have to be wary of that. It's also tough because you can't gauge yourself side by side with the faster guy's, you can only compare lap times. I was fastest in that session and my times were ok so I felt pretty good about everything. I qualified for the night program and when the gate dropped for my heat race I just felt like I rode way too tight early on. The first few laps are so intense, which I expected, but I think you need to experience it to really be ready for it. It settled down and so did I, but by that time I was in tenth and missed out on a transfer position by one spot. In the LCQ I started reeling off some better laps; I need to get my starts sorted a little better too. I'll work on that this week, maybe lower my start button a little and throw in a different clutch, one that's not so aggressive. Overall I come away happy with how it went.
How did it feel rolling up Saturday morning to a race like this? How different is it?
I still get nervous but I'm 25 now so I have some experience and have learnt to deal with it better. Turning up to race A1 really is living my dream so I was more interested in enjoying myself than being too nervous. As a privateer we are parked out the back so it's not like we are lined up with all the teams and getting caught up in all the craziness that goes on in the pits. It's not really until I rolled out for my heat race, when you come out of the tunnel to the sold out crowd that's pretty crazy. I tried to take it in for a bit and then just focus on racing.
What about the track, there has been plenty of feedback and mostly negative. What did you think?
My thoughts were pretty much the same as everyone else's I think. I can relate to it, it's like when we get a shit track in Australia and I'm expected to go really well, it sucks. If I was racing for a Championship here I would have been pretty pissed.
What was so bad about it?
It just didn't flow at all; I don't know what it looked like on TV but you go through the first turn and still be turning when you hit this sketchy double. Then you're on the brakes go up over a big roller, then right and a step up you could do on a push bike then four little whoops that just got one rut in the middle. Then there was single, single, single around a turn with a double out that had no down ramp and then a wall jump. It was just so stop start, always on the brakes and the clutch. I guess it wore you out a little bit but it wasn't fun.
What's the plan this week heading into Phoenix?
I just want to work on a few things, I'll probably ride Monday, Wednesday and Thursday. It's my Dads 50th on Tuesday so we are going to go and play a game of golf in Vegas which should be fun. Next week should be good though, it's an indoor stadium so I don't need to stress about it being a mud race. The dirt there is usually ok and I'll still have the support of Kevvy and Dad there so I'm looking forward to it.