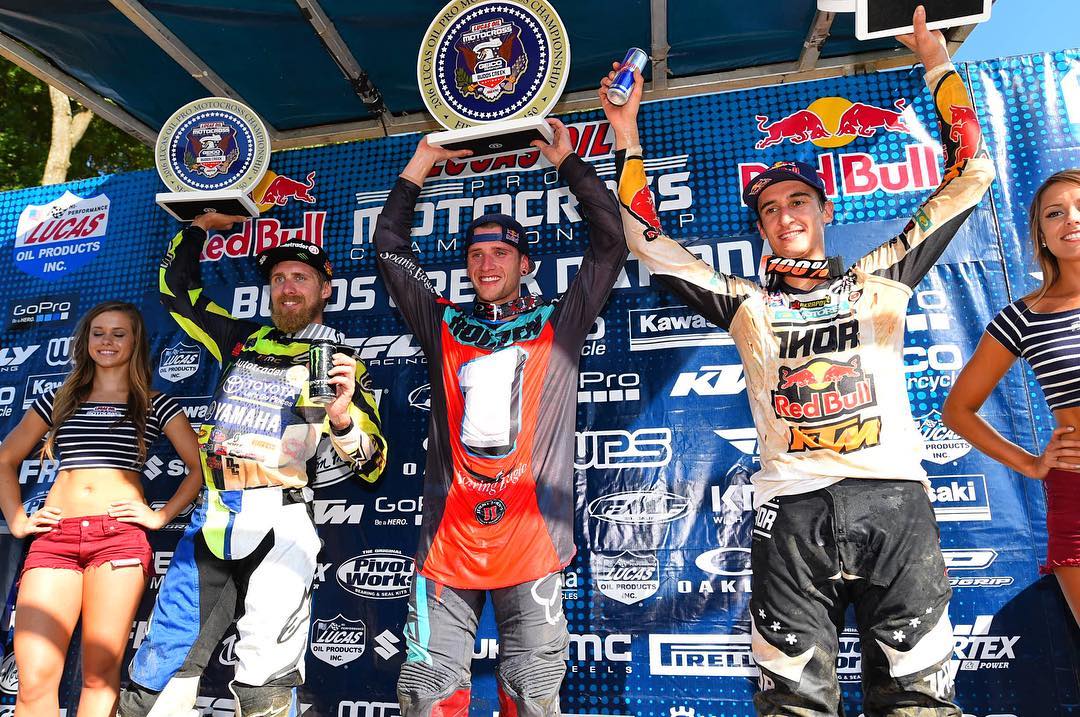 All the fallout from the penultimate round of the 2016 Lucas Oil Pro Motocross Championship.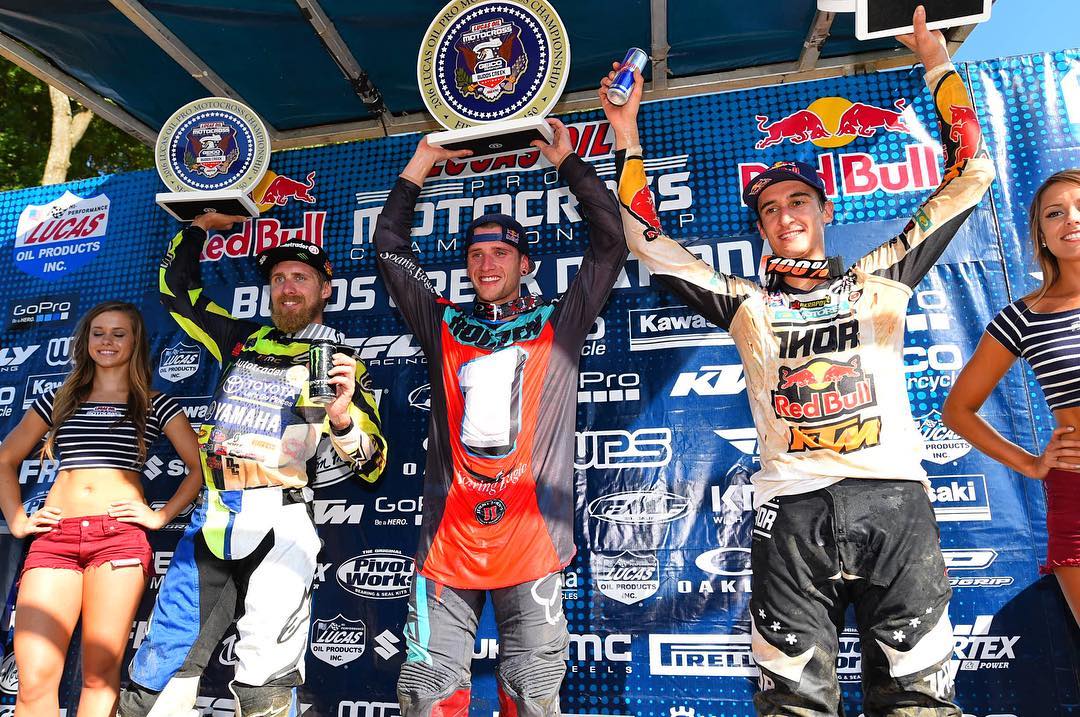 Ricky Carmichael: [On winning Championship as team co-pwner] "Several years ago when I asked Carey (Hart) if he'd be interested in coming together in a race team, our goals from day one were winning races and championships. It's definitely a very happy moment for us. I'm really happy for Ken Roczen. He's been fabulous on the bike all season. All the team members from RCH Soaring Eagle/ Jimmy John's/ Suzuki Factory Racing have been fabulous. They've put in a lot of hard work at the track and in the race shop. I'm also very thankful to the group at Yoshimura for the motors they build. They make great power and that's been a big part of our success. I'm really happy for Carey. He's put his heart and soul into this race team and to see it all come to fruition is incredibly gratifying."
Ken Roczen: (1st in 450MX) "First of all, I felt pretty relaxed coming into this weekend, which was a bit hard to just go here and plan on getting another 1-1 like we had been doing all year. I didn't want to come here thinking about the championship and all that kind of stuff. My practice went great. I'm usually not that good with one fast lap, but I was. Went into the first start with a lot of confidence and I actually pulled off another holeshot, which was amazing because when you think about where me and my team actually came from during Supercross. In SX we struggled really bad. We figured a lot out right now. It's fun getting holeshots, 'causeI haven't been having too many. Getting a holeshot made it a lot easier on myself and I raced to another win, which was amazing. I knew the championship wasn't done so I went to the start gate again and told myself "I've got to go out there and win." That's what we did. I didn't have the greatest start in the second moto, but I made it work. I just put in a quick sprint in the beginning and just kept the same gap and rode it home. It's amazing to get the title, but to also stamp it, kind of. In 2014 I barely won because I was beat towards the end of the year. I finally felt like I'm exactly where I wanted to be. And I won the championship going 1-1, and that's all I could ask for."
Justin Barcia: (2nd in 450MX) "Yeah, I made some changes in practice. The first moto was good. I wasn't perfect, but I tried my hardest. Marvin [Musquin] rode really good and got around me, I just couldn't run the pace. It's hard but he rode really good and Kenny [Roczen] rode super good. All in all the first moto was good. The second moto was tough today. It was super hot today. Just dry and hot today. It wasn't that humid, like in Florida it's super gnarly, but this was not fun to be in at all. I got a decent start in the second moto. Then I worked my way into second and Marvin was hounding me the whole moto. He got me a few times, but I was able to push myself a little bit harder and I got through it.
Marvin Musquin: (3rd in 450MX) "I was happy with the first moto to get around Barcia and get 2nd but the second moto didn't end up the way I wanted it to. I thought the second moto was going to be the same as the first so I was trying to be patient, follow Barcia's lines and make it happen at the end but I wasn't able to. He was able to push at the end. I'm a little disappointed but to end up 3rd overall was good."
Eli Tomac: (4th in 450MX) "Today had its ups and downs. My first moto started off ok until I made a mistake and tangled with another rider. We both went down and by the time I remounted I was basically last. I spent the rest of the moto with my head down doing damage control. Those situations are never what you want, but once you're in it, you just have to do the best with what you've got. The second moto obviously went much better. I'm upset I didn't make the overall podium but to lock up second in the championship is a good feeling."
Cooper Webb: (5th in 250MX) Clinched 250MX Championship. "Moto one was definitely tough. Went down in the first turn and kind of went into panic mode and put my head down. Actually crashed again on the first lap and after that I just kind of told myself to chill out. Whatever you can do, you do. It was hard to pass today on this track so I knew any pass I made I would have to make it stick. I was pretty pumped to come back with sixth. I felt like I was riding really well. Had I not gone down, I feel like I had a moto win in me. To come back to sixth obviously wanted to do better than that, but with all the circumstances I was pretty happy with that. And then moto two, the start was a little weird. [Chris] Alldredge and Alex [Martin] and I all kind of hit and locked bars and I actually almost went down. So another bad start didn't help at all. I'm not sure—I feel like I was outside of the top 20—but I wasn't sure where exactly I was. I just put my head down once again and was trying to do the best I could. I was pretty stoked with getting third. I feel like I really dug deep and was able to make some late passes and I felt good with that. Someone was telling me if Alex passed me he would have won the overall but I held on to it I guess. Overall the day wasn't that sweet but I'm sure I definitely passed the most people today."
Andrew Short: (8th in 450MX) "Budds was tricky this year. The track was extremely rough, so I'm glad to leave here safe and with a top 10. I am excited for Iron Man Mx next weekend."
Benny Bloss: (9th in 450MX) "Budds Creek was an amazing track. I'm glad I was able to grab another top 10 overall. We are looking forward to the final round at Ironman and finishing on a good note."
Matt Bisceglia: (11th in 450MX) "It was a bit of a tough day. I qualified sixth, which is the best I've qualified so far this year. I got a good start in the first moto, but crashed in the first corner. I went from last to ninth. Then I got the holeshot in the second moto and was still riding good up until maybe the halfway point. Then I struggled with my hands. They're just super raw and I couldn't even hold on, but there were positives from the day. I'm looking forward to next weekend. My Suzuki is working so great and hopefully I can get these hands a little bit tougher before the race and just be able to go and finish the motos strong. It's the last race of the year and hopefully we can go out with a strong result."
Zach Osborne: (1st in 250MX) "The first moto, my start was kind of mediocre—maybe top ten'ish. I got up to fourth behind Joey [Savatgy] and I made the pass, and he got me right back. I just kind of grenaded. I was kind of too hot. I felt like I never had any spunk after that, so I just took a fourth. I told my mechanic going to the line that I would probably win it, but I wasn't sure I was going to make that happen. I went with a positive attitude and had a good race with Austin [Forkner] for 15 or 20 minutes and took the lead."
Alex Martin: (2nd in 250MX): "In moto one, I made a mistake and Adam had a good little cushion, but bummer for him he went down. I came around the corner and was like, "Sweet!" That made my life easy, and I tried to just ride out the rest of the moto. It was hot so I kind of in my mind I thought to save my energy for the second moto. It was literally the same case scenario as last weekend. It was hot and humid and a lot of people dropped off in the second moto. A couple of lappers got in my way and I almost lost it to Adam there at the end, but fortunately I was able to hold onto it.
In the second moto I got tangled up with Cooper [Webb] and Aaron [Plessinger] on the start. All three of us were almost dead last. I think I was around 15th and I just tried to pick off people to get up to be in contention for the overall. I wasn't really sure where… [Austin] Forkner and [Zach] Osborne and all those guys were so far ahead. I didn't know where everyone was. Once I passed Adam and Joey [Savatgy], I kind of thought the overall was in my grasp. I had no idea Zach was leading, so that kind of put a wrench in my plans. It was like two laps to go and I got the pit board that said, "2nd overall." Maybe at one time I would of been excited to see that, but I was kind of pissed."
Austin Forkner: (3rd in 250MX) "I started up front with my teammates. Just paced them for the first half of the race before they began to pull away from me. I knew I had a decent gap behind me so I decided to relax and save some energy for the second moto, because it was so hot. I started in third once again behind my teammates, but made sure to charge right away and get by them as soon as I could."
Adam Cianciarulo: (4th in 250MX) "Today was definitely a step in the right direction. Got two great starts today, which led to my best moto finish of the year – with a second place finish in the first moto. It felt great to finally break through and get up on the podium again."
Justin Hill: (7th in 250MX) "I don't know why but I couldn't really get going like I wanted to at the start. I was able to get it together at the end of the motos and put in my best laps at the end. I feel good and really looking forward to getting better starts next weekend."
Mitchell Oldenburg: (8th in 250MX) "The heat definitely was a factor for me today. It's been hot in California, but this is a bit different with the humidity. So considering I didn't feel the greatest, I thought it was good to come away with a top-10. I'm looking forward to capping off the season with a ride in Indiana."
Joey Savatgy: (9th in 250MX) "Today started off really well. I got a great start in Moto 1 and felt like I could fight for the win, but a few little mistakes kept me from achieving that. Another awesome start in Moto 2 had me right up there with my teammates in the early stages of the race. It was really hot today and I think we all got tired out there. I'm happy with my first moto performance and I am looking forward to the final round next week."Chris Alldredge: (10th in 250MX) "Today went well for my first race back. After being off the bike for 16 weeks, I think a top-10 finish overall isn't too bad. I have a long way to go before I'm back at race pace, but I believe we started off on the right foot today."
Arnaud Tonus: (11th in 250MX) "My starts were on point all day today. I ran upfront in both motos and made great passes. I feel I've been improving all season and it's nice to get another top-10 finish."
Tristan Charboneau: (15th in 250MX) "My times from practices put me in tenth for gate pick, I was happy about it. First moto I got caught up on the start when Cooper Webb went down, made my way back to 15th. Second moto I almost pulled the holeshot, came around the corner third or fourth, ran up there as long as I could but the heat got to me and I just dropped like a rock. I fell back to 13th place, really disappointed in myself about that. I just need to be more prepared."
RJ Hampshire: (17th in 250MX) "Riding was the best it's been all season. Practice went well. First moto had a bunch of contact in the first turn, came out outside of the top 20, but I was gaining speed throughout the moto. Worked my way all the way up to seventh with (Arnaud) Tonus right there and we ran into some problems with the bike with only four laps to go. Ended up not being able to finish. Second moto I had an awful gate pick so it was going to be tough to get a start. This time I came around outside of the top 30, once again put in a decent charge and got up to ninth. Still taking the positives out of the weekend. My team works their ass off for me to go out and get the best result possible, and whenever my results haven't been the best we are going to try new things to make our bike better and hopefully the results follow. This weekend my bike was the best it's been all year! We will have it figured out for Ironman next weekend. I'm shooting for my season best to finish out the season."