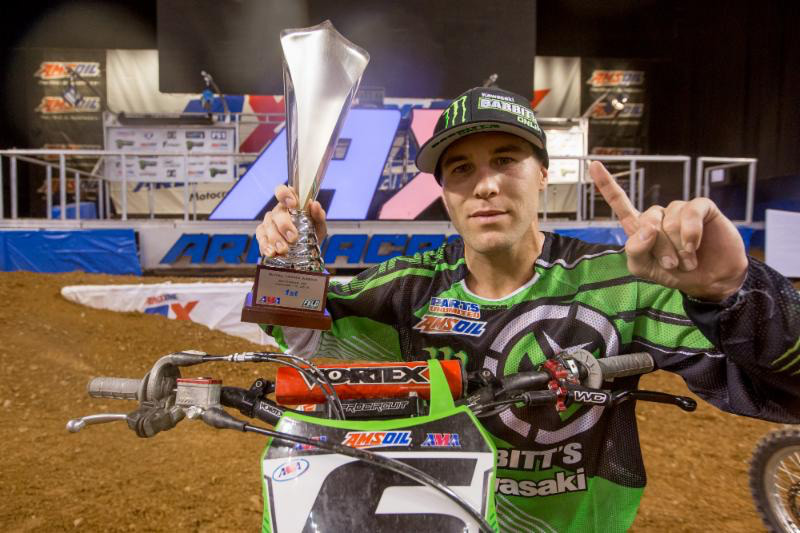 Chris Blose has won the second round of the 2016 AMSOIL Arenacross series kicking off the first doubleheader stop.
By Hayden Gregory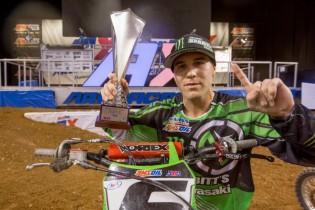 Team Babbitt's/Monster Energy/AMSOIL Kawasaki's Chris Blose made it two wins from two rounds for the team following a first round victory by team mate Gavin Faith.
Blose gained an early advantage in the first main event scoring the holeshot before chasing clean for the rest of the race. In tow a number of riders battled it out with Gavin Faith pushing Jacob Hayes and Austin Stroupe. A small crash between Hayes and Stroupe allowed Faith to push into second charging hard for the number one position occupied by his team mate.
Blose was able to hang on taking first by just over second leading start to finish. Faith secured second while Benny Bloss claimed his first career podium result in third.
As main event winner Blose had the decision between three suitcases to determine race two inversion. After selecting number 16, the entire field would be inverted adding a lot more pressure to the top riders from race one.
As gates dropped on the second main event, Travis Sewell grabbed the holeshot ahead of Hayes and Lane Staley. Race one winner Blose sat in sixth with team mate Faith further back in 12th. Sewell remained unchallenged out in front racing away to become the season's first two time main event winner. The minor places were taken by Hayes in second and Owen in third relishing his AMSOIL Arenacross debut.
Main event one winner Blose, finished the second in fifth place, enough to score the round win by just two points to Gavin Faith (2-6). Third place was a tie between Owen (6-3) and Bloss (3-7) with Owen given the points due to his podium finish in race two.
In the Eastern Regional Arenacross Lites main event, Stroupe dominated leading from start to finish. Behind him an interesting battle developed between Lance Staley and Dylan Walker. The pair swapped places a number of times before Walker came crashing down, dropping outside the top 10. Daniel Herrlein took advantage of the mishap moving ahead of Staley with impressive speed to take second place for the night.
In overall championship standings Staley holds on to the number one position following two consecutive podium finishes.
Arenacross Class Overall Results (Main Event Results)
Chris Blose, Phoenix, Kawasaki (1-5)
Gavin Faith, Duncombe, Iowa, Kawasaki (2-6)
Jace Owen, Matoon, Ill., Honda (6-3)
Benny Bloss, Oak Grove, Mo., Yamaha (3-7)
Gared Steinke, Woodland, Calif., Husqvarna (7-4)
Kyle Regal, Lake Elsinore, Calif., Husqvarna (4-9)
Travis Sewell, Westville, Ind., KTM (13-1)
Jacob Hayes, Liberty, N.C., Kawasaki (16-2)
Jacob Williamson, Swartz Creek, Mich., Kawasaki (9-8)
Daniel Herrlein, Bethesda, Ohio, Honda (8-10)
Eastern Regional Arenacross Lites Class Results
Austin Stroupe, Lincolnton, N.C., Kawasaki
Daniel Herrlein, Bethesda, Ohio, Honda
Lane Staley, Chillicothe, Ohio, KTM
Jacob Williamson, Swartz Creek, Mich., Kawasaki
Brandon Marley, McEwen, Tenn., KTM
Cody VanBuskirk, Harvard, Ill., KTM
Scott Zont, Algonquin, Ill., KTM
Tyler McSwain, Shelby, N.C., Yamaha
Davey Sterritt, Athens, N.Y., Yamaha
Dave Ginolfi, Miduale, Utah, Husqvarna
Arenacross Class Championship Standings
Gavin Faith, Duncombe, Iowa, Kawasaki – 57
Chris Blose, Phoenix, Kawasaki – 56 (1 Main Event Win)
Gared Steinke, Woodland, Calif., Husqvarna – 51
Travis Sewell, Westville, Ind., KTM – 48 (2 Main Event Wins)
Jacob Hayes, Liberty, N.C., Kawasaki – 47 (1 Main Event Win)
Kyle Regal, Lake Elsinore, Calif., Husqvarna – 39
Jacob Williamson, Swartz Creek, Mich., Kawasaki – 39
Daniel Herrlein, Bethesda, Ohio, Honda – 29
Keith Tucker, Fuquay Varina, N.C., Yamaha – 26
Jace Owen, Matoon, Ill., Honda – 25
Benny Bloss, Oak Grove, Mo., Yamaha – 25
Eastern Regional Arenacross Lites Class Standings
Lane Staley, Chillicothe, Ohio, KTM – 29
Daniel Herrlein, Bethesda, Ohio, Honda – 28
Dylan Walker, Lancaster, Ohio, Honda – 18
Henry Miller, Rochester, Minn., Honda – 17
Tyler McSwain, Shelby, N.C., Yamaha – 17
Austin Stroupe, Lincolnton, N.C., Kawasaki – 16
Keith Tucker, Fuquay Varina, N.C., Yamaha – 16
Steve Roman, Apollo, Pa., Suzuki – 15
Brandon Hartranft, Brick, N.J., Yamaha – 9
Davey Sterritt, Athens, N.Y., Yamaha – 8