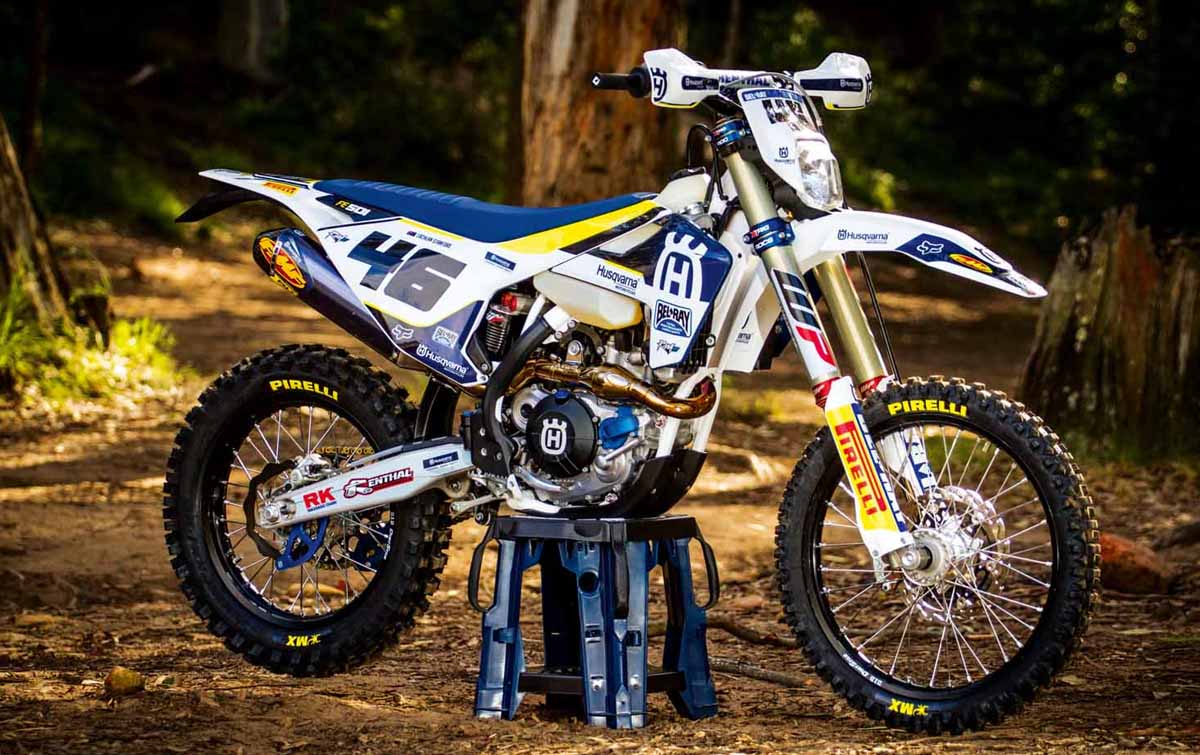 We throw a leg over Lachy Stanford's AORC Factory Husqvarna FE501 race bike
STORY SHANE BOOTH PHOTOGRAPHY MATT BERNARD
Big-bore enduro bikes are no longer the huge, heavy beasts they once were. In the past, if you decided on a high-capacity four-stroke to ride in the bush, it was a given you'd also have to deal with a heap more weight and a slightly agricultural feel below you. Those days are officially gone. The Husqvarna FE501 is an impressive bike in stock form so to get the chance to ride one that belongs to Husqvarna Off-Road Racing Team's Lachlan Stanford was an exciting prospect. This FE501 has been tested and developed in house at Husqvarna Australia specifically for the Australian Off Road Championships and Lachy Stanford has already bagged some class victories and top-five outright results.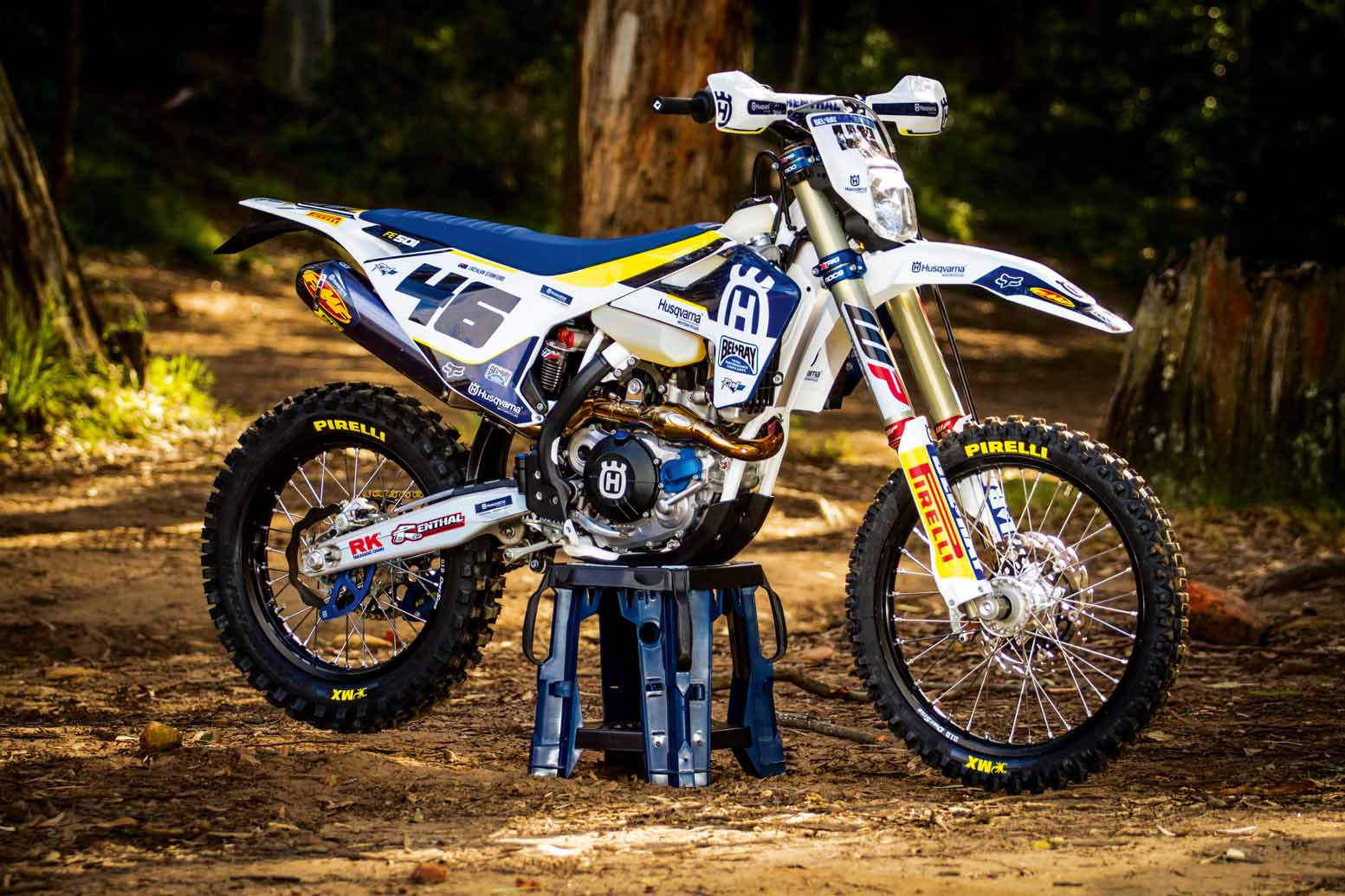 THE LOOK
This bike is a clean-looking Husky fitted with a majority of Husky Power parts available through Husqvarna dealers. The final say, though, is graphics and they're handled by Rival Ink, which has done a great job of keeping the bike very Husqvarna and following the lines of the production model while giving it the race team spin. The sprinkle of blue anodised parts adds to the look along with the billet black anodised clutch cover. Although a performance part, it also fits into the cosmetic category. The FMF Titanium F4.1 exhaust is a work of art that includes a carbon-fibre end cap.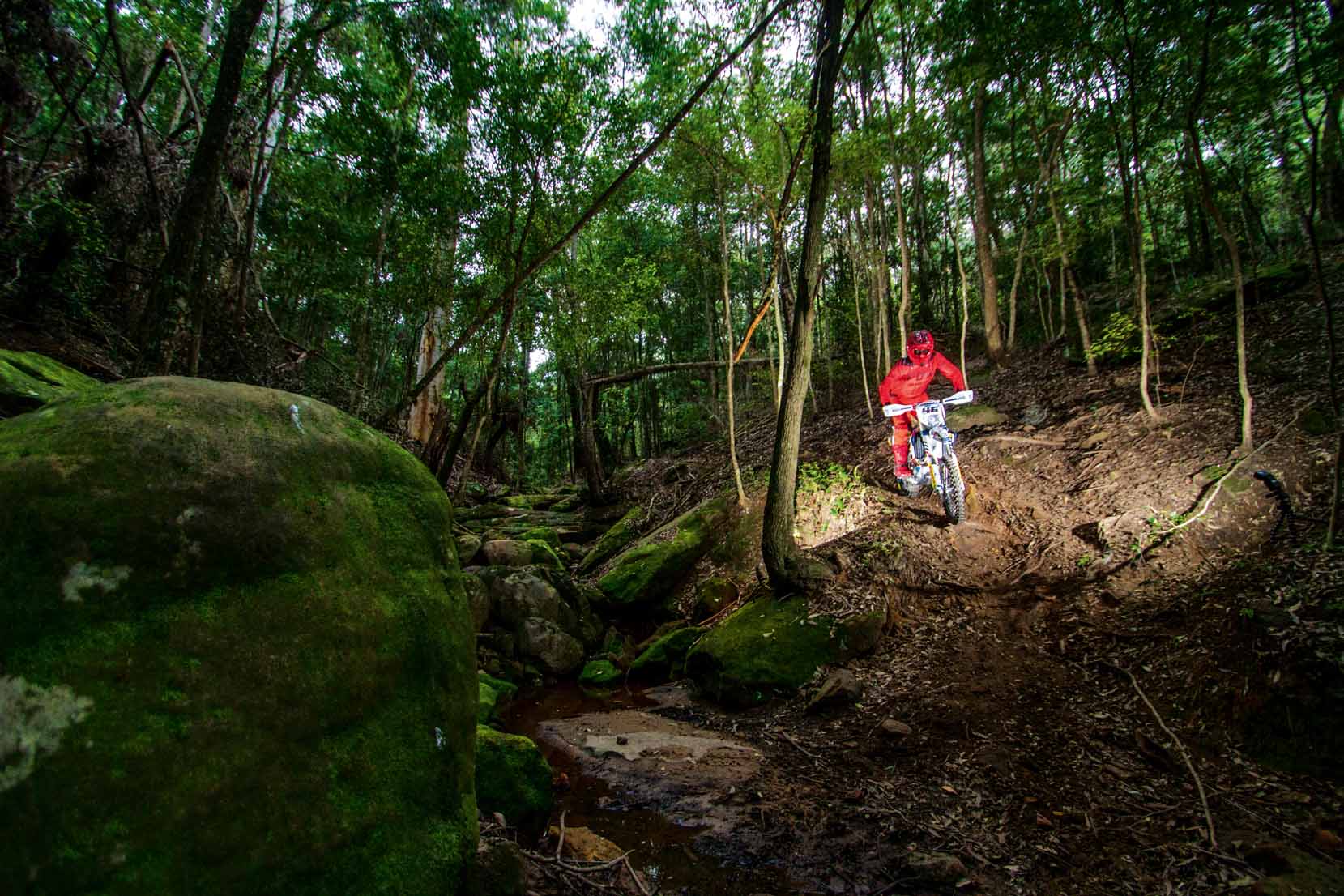 THE FORKS
If you hadn't already noticed, 52mm Cone Valve forks are fitted. These aren't easy to come by and even if you do find them they aren't cheap. But they do work very well and give a feel I'm yet to find anywhere else. The direct feedback you get is what makes them so great to me; there doesn't seem to be any delay or the chance to misread the surface. It's a positive experience that allows you to be accurate with the front of the bike and turn it very well. The action is similar in the way it inspires confidence. Typically for factory forks, they work extremely well on the small stuff and in this case that's important. We were riding in some slick trail with plenty of rocks and tree roots and the fork felt great, eating up that stuff no probs. We also got out on some higher-speed tracks and a sweet sandy grass track where there were some whoops and bigger bumps. The ability to handle bigger hits while still working over the finer obstacles is what give the rider such a great advantage.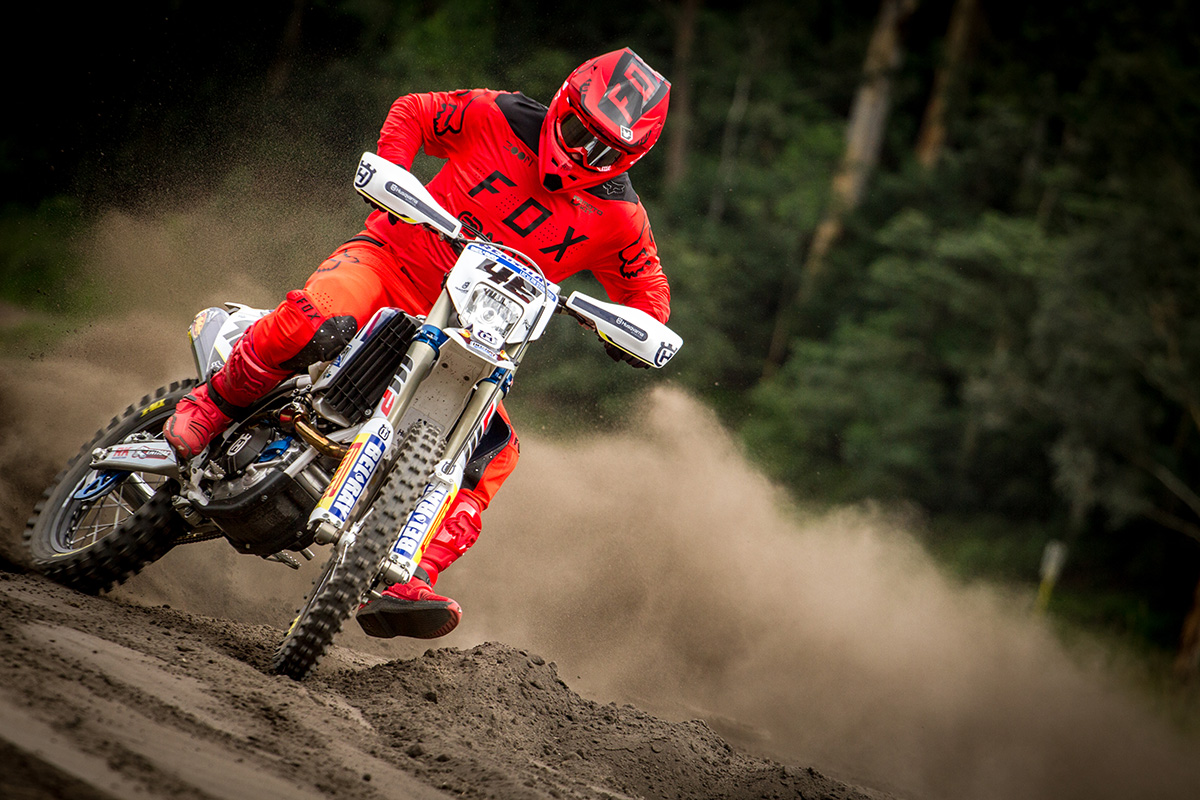 THE SHOCK
A Trax shock is also fitted and, like the forks, it's a unit that's not easily accessible or cheap. Again, though, like the forks, I think it's worth the investment for the team. One of the major benefits of the Trax design is that it works well over choppy, small bumps, the kind of stuff you get a lot of off road. Well, it doesn't disappoint; it does a great job of keeping the rear wheel on the ground and behind you on the trail. Out on the faster stuff or on grass track it helps the rear tyre feed the 500cc to the ground very well. The team have some great settings in both the fork and the shock that make this bike well balanced and confidence inspiring.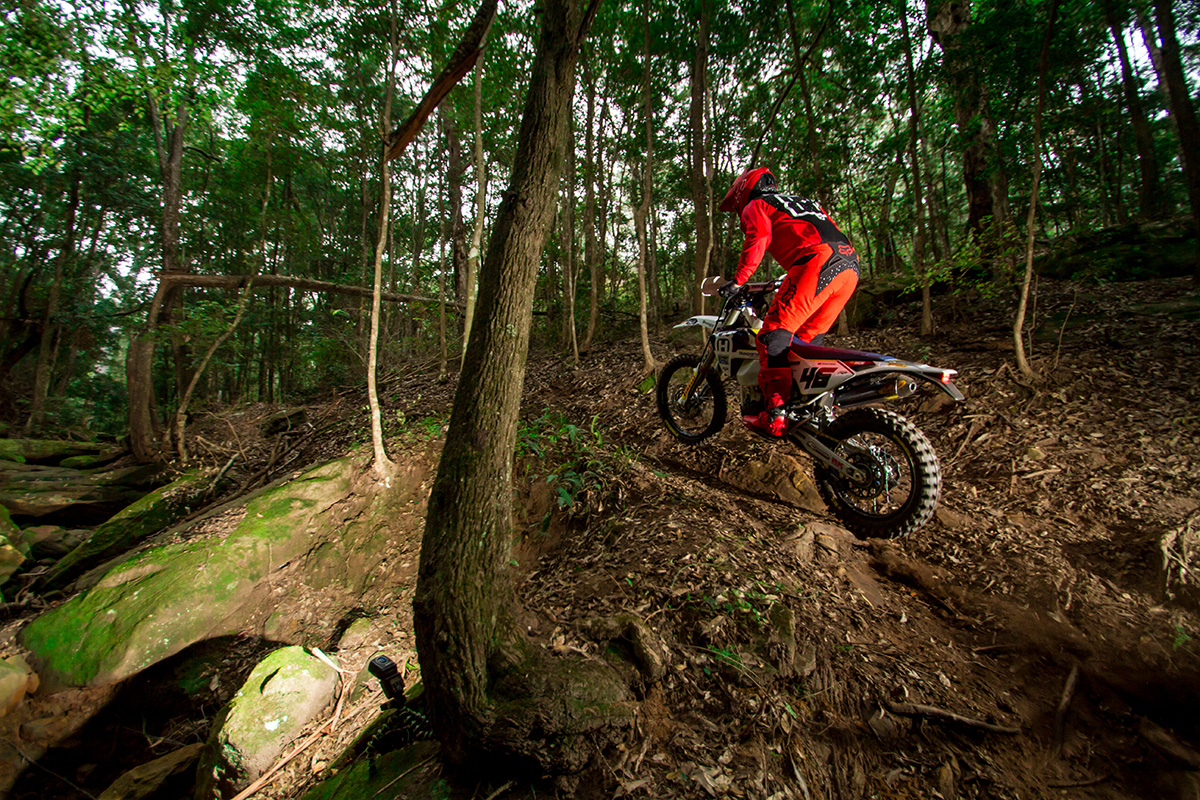 LESS IS MORE WHEN YOU ALREADY HAVE 500cc
As for the engine, the team barely touched it. Let's face it, there are very little, if any, scenarios in the bush that will leave you wanting more power than a fuel-injected 500cc four-stroke engine will be able to provide. Lachy goes for one less tooth on the rear sprocket to further accentuate the smooth and torquey power delivery this bike offers. I guess that's the general direction for the 501: make use of the torque you have available to make riding smoother and easier. From my point of view, that's how it felt to ride. You can forget what gear you're in on this bike; in almost any terrain you could be in one of three different gears and the bike will make it work. It allows you to pick up the throttle earlier and easier because the power rolls on so smoothly. If you get the throttle application wrong or misread the traction when you're riding in the meaty part of the power, it won't punish you the way a 450 might. I found it easy to keep increasing mid-turn speed on the open stuff and I could flow through single-trail with confidence. In the tight stuff, keeping up your average speed pays dividends and this bike helps do that. We had an open, sandy grass track to hit up, too, and that's where you remember there's 500cc underneath. Select third gear and this thing destroys loamy berms in the blink of an eye. In a nutshell, this engine is a caged beast that can be unleashed when needed or kept tame if that's required also. It would be hard to convince me that this isn't the best capacity to go AORC racing on.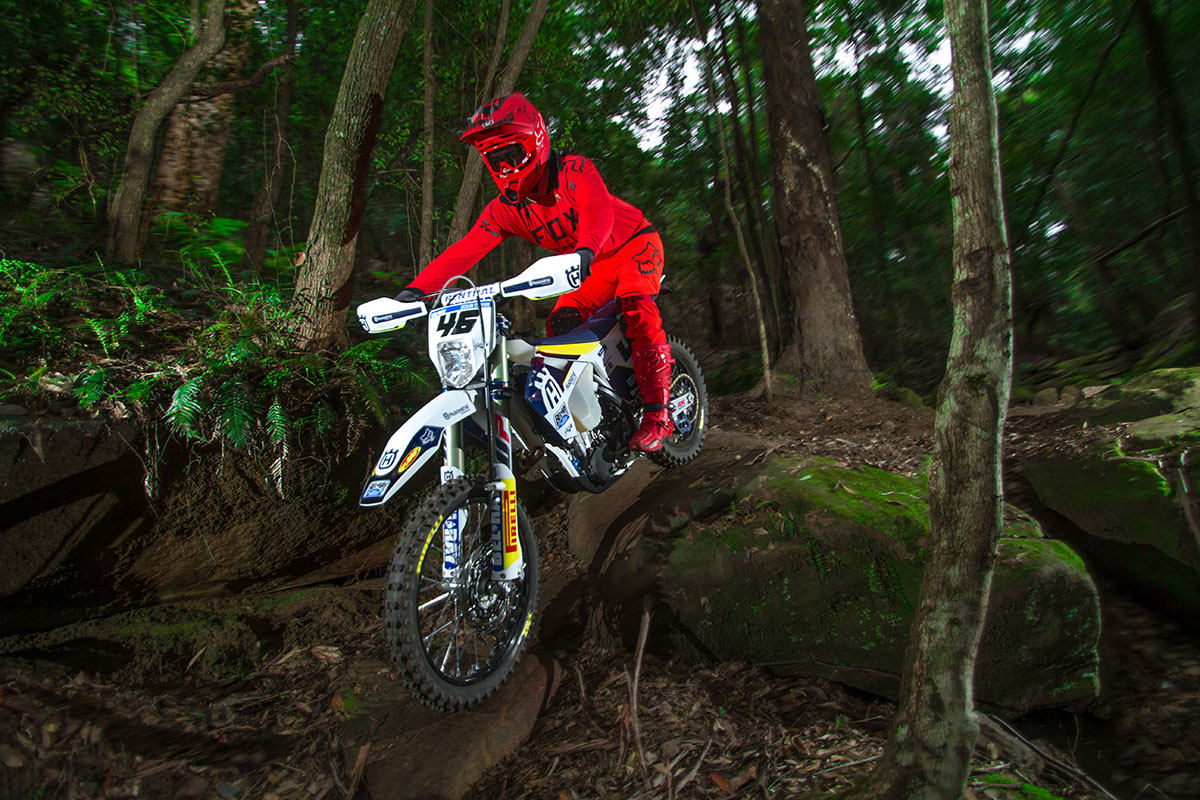 SECOND OPINION: MATT BERNARD
These days are the days you look forward to when working at a magazine. A factory 500 on a grass track – it doesn't get much better. I jumped on Lachy's bike and was instantly comfortable; his set-up is very neutral, nothing crazy at all. It's all very conventional. Being that I have a KTM500EXC at home, it was a great comparison between the two bikes. Suspension is where the biggest difference is at. I jumped on it and the 52mm cone valve forks felt hard, very hard, but as I built some confidence and some speed it became the ultimate beast on a grass track. It was forgiving, but nice and firm, I would weigh 15 or 20kgs more than Lachy but not anywhere near as fast as him, so it worked really well.  I was consciously riding the bike a gear higher than I was comfortable, even sometimes two gears higher and the broad torquey engine just chugged and pulled, throwing roost and picking up the front wheel. This bike is one of the best bikes I have ridden personally, it's not scary and aggressive, its engine is smooth, the suspension fantastic – you couldn't wipe the smile off my face.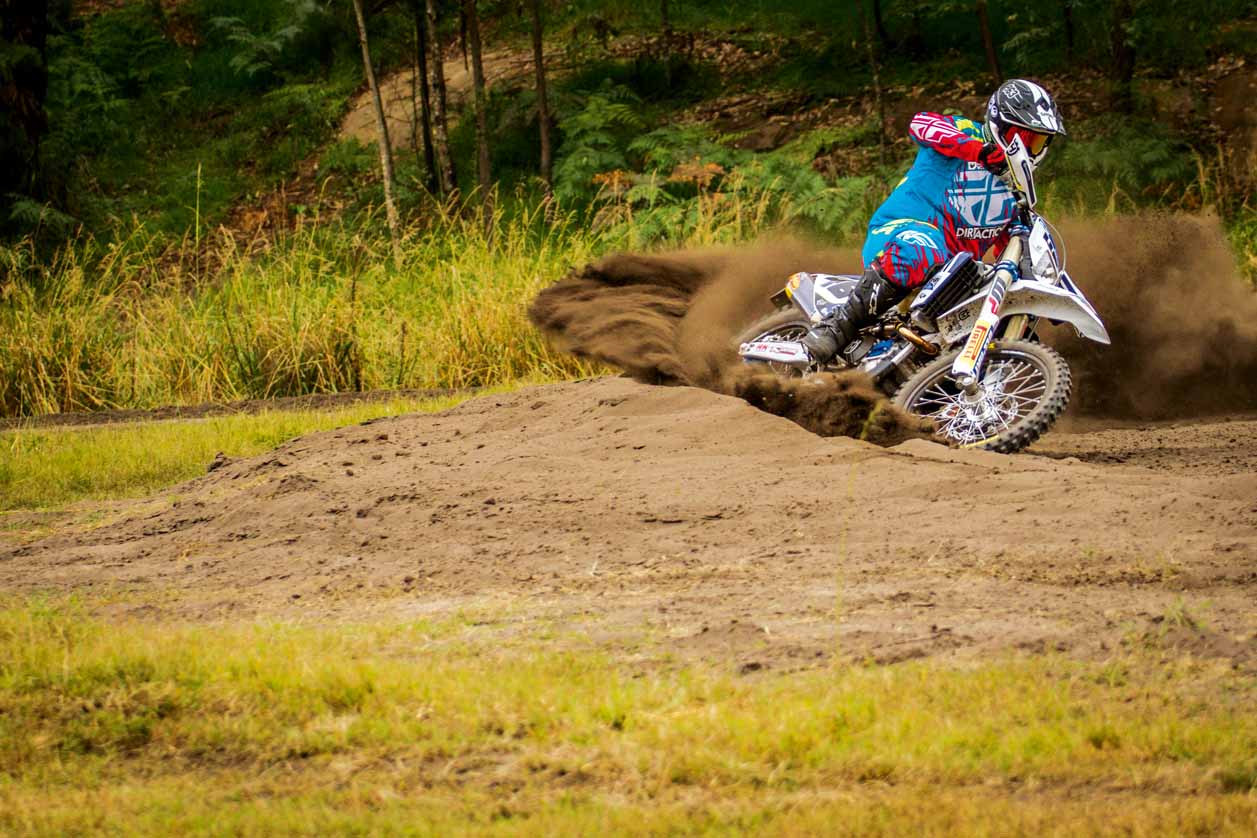 SPECS: LACHLAN STANFORD'S HUSQVARNA FE501
Handlebar: Renthal Twinwall 996
Grips: ODI Lock On (Standard)
Triple clamps: X Trig
Forks: WP 52mm Cone Valve
Rear shock: WP Trax
Front brake rotor: Husky Power 270mm Rotor
Skid plate: Standard
Frame guards: Standard
Water pump cover: Husky Power
Clutch cover: Husky Power
Oil filler plug: Husky Power
Oil filter cover: Husky Power
Rear brake reservoir cap: Husky Power
Exhaust: FMF Titanium F4.1 Full System
Rear brake disc guard: Husky Power
Chain guide: Husky Power
Rear sprocket: Renthal
Chain: RK 520 MXU
Front tyre: Pirelli Scorpion MX 32
Rear tyre: Pirelli Scorpion MX 32
Graphics: Rival Ink