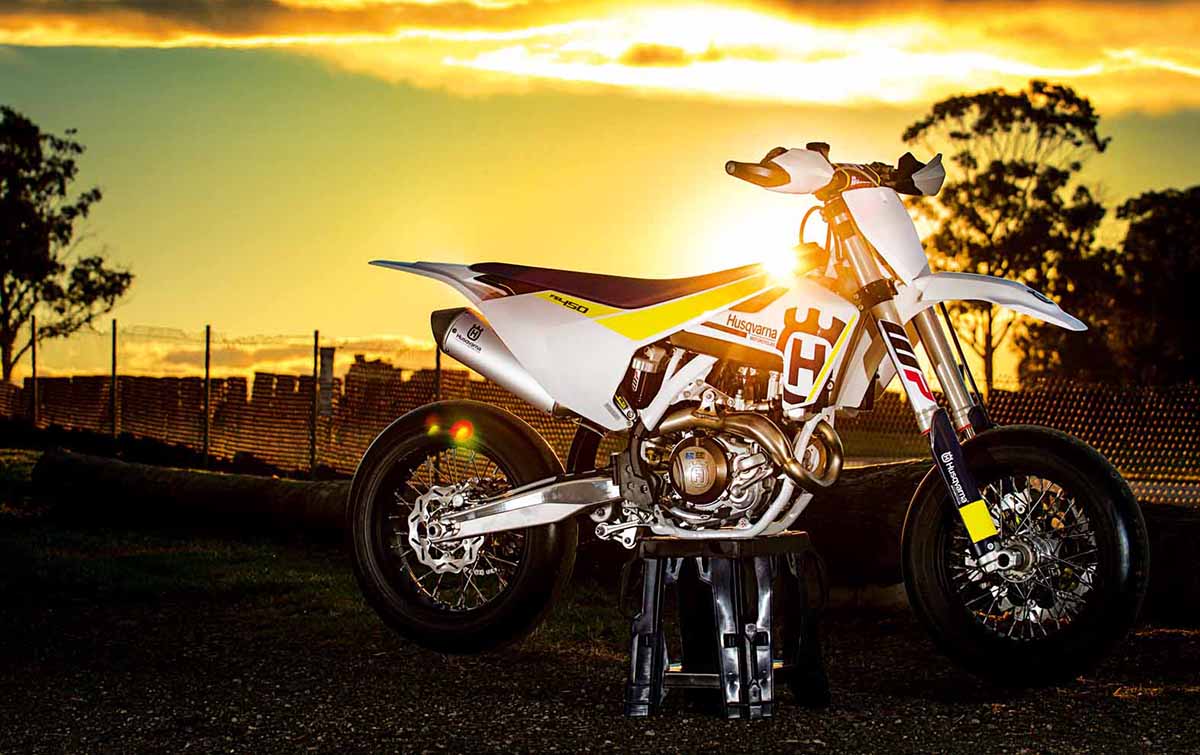 We get to ride a purpose-built supermoto weapon, the Husqvarna FS 450
STORY & PHOTOGRAPHY MATT BERNARD
I've been lucky to ride some pretty amazing bikes since starting at DA — and ride some cool events, too. However, I'd never slipped on a set of leathers and had a crack at some supermoto.
Husqvarna had an FS 450, its purpose-built supermoto machine, ready for a press test and when Boothy called I was quick to say yes. He may have rung for my photographic services while he was riding the motard, but I wasn't leaving Eastern Creek without a few laps on possibly the sexiest bike ever built.
THE MACHINE
The Husqvarna FS450 is based on the Husqvarna FC 450 motocross bike, the major differences being — most obviously — wheels and tyres, brakes and suspension.
The 450cc power plant punches out a whopping 63hp of tar-tearing goodness; pair that with a seriously impressive electronics package and you're in for a thrill.
The Husqvarna Engine Management System, by Keihin, is smaller, lighter and faster at processing than previous models and integrates selectable engine maps and traction control. These are operated via the map switch on the handlebars: choose between two engine maps activating Launch Control and operating Traction Control. As a newbie to supermoto, I found the traction control excellent for peace of mind, especially as we were riding a damp track with slicks fitted to the bike. A 44mm throttle body and linkless throttle cable ensure snappy throttle response to the rear wheel, perfect for accelerating hard out of grippy turns on the tar.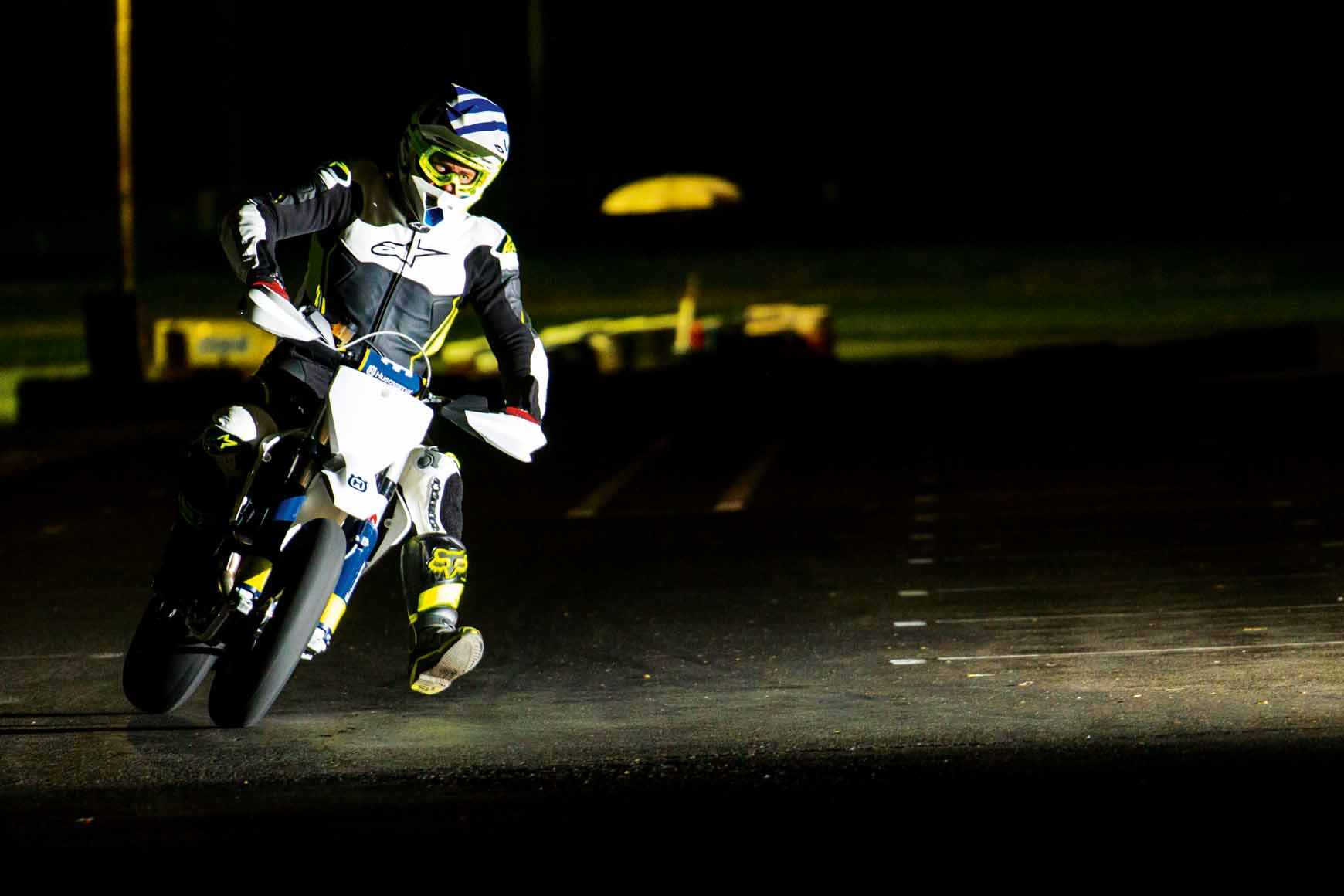 An integral part of the FS450s design is the Adler Power Torque Clutch, or slipper clutch. Using the slipper clutch you can bang down gears on entry without the rear wheel hopping. It assists in what we all want to do: back it in. On the handlebars, you're treated to a Magura hydraulic clutch for optimum feel.
New for 2017 are the WP AER 48 front forks, 1.66kg lighter than the previous model's WPs. The split air forks allow easy adjustment in the left leg's capsuled air spring to suit supermoto tracks and riding styles. Further adjustment is made via the right leg's clickers. In the rear, a WP shock specifically developed for supermoto is fitted.
Suspension travel is less than the motocross model — 34mm to be exact. The FS 450 is anything but lacking in stopping power: a massive 310mm Brembo disc is stopped by a four-piston radially mounded caliper while a 220mm disc is fitted at the rear.
All this engineering is stuck to the ground by Bridgestone 125/80 R420 and 165/65 R240 slick tyres wrapped around Alpina spoked wheels.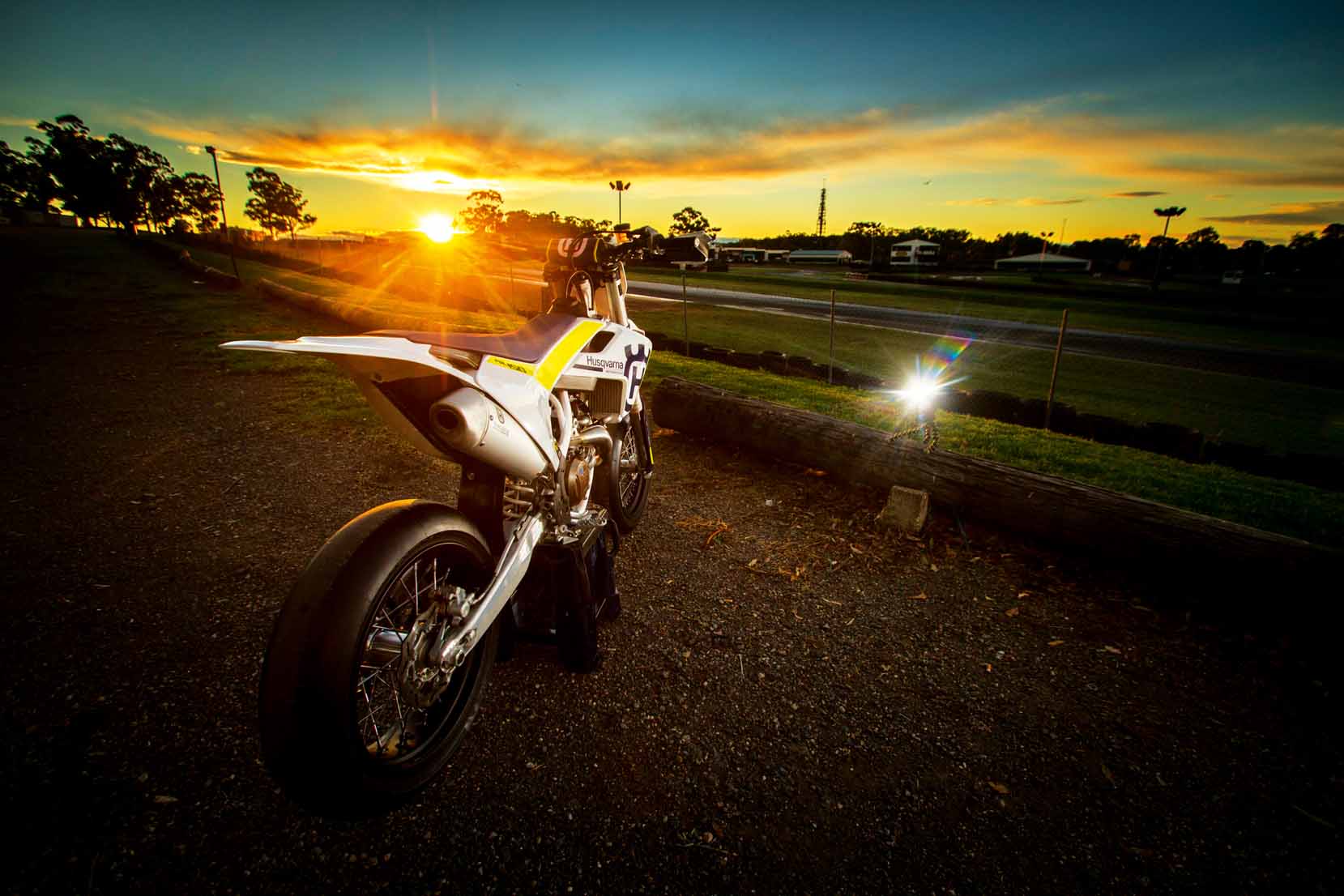 ON THE TRACK
I'm very much a newcomer to supermoto. I've never ridden a sports bike or a bike with slick tyres more than around the block, so I was quietly shitting myself about riding at the NSW supermoto track day.
I borrowed a set of leathers from Shane that were … ah, shall we say, slightly too tight. I felt like a girl in a change room wrestling to fit into a dress two sizes too small. After much grunting and groaning I was in but, in my defence, the leathers had been hanging in a wardrobe since Boothy's last supermoto race some 10 years earlier. Finally, I was on and riding out on track.
Riding supermoto was totally foreign to me, but the FS 450 made it a lot easier. After the first session of hardly using the powerful brakes and wondering how Boothy and the motard regulars were riding so goddamn fast I started to feel comfortable in the second, much longer session.
The FS's engine is super, super strong — smooth and aggressive but not scary. I rode the whole second session with traction control activated and I had a lot more confidence to push more and more. The amount of traction you have on the FS 450 is amazing considering we were riding a damp track with slick tyres fitted. The slipper clutch is incredible, especially for someone learning the art of riding a supermoto. I started ever so slightly to get the rear end out and it wasn't scary — it's just so smooth and controlled.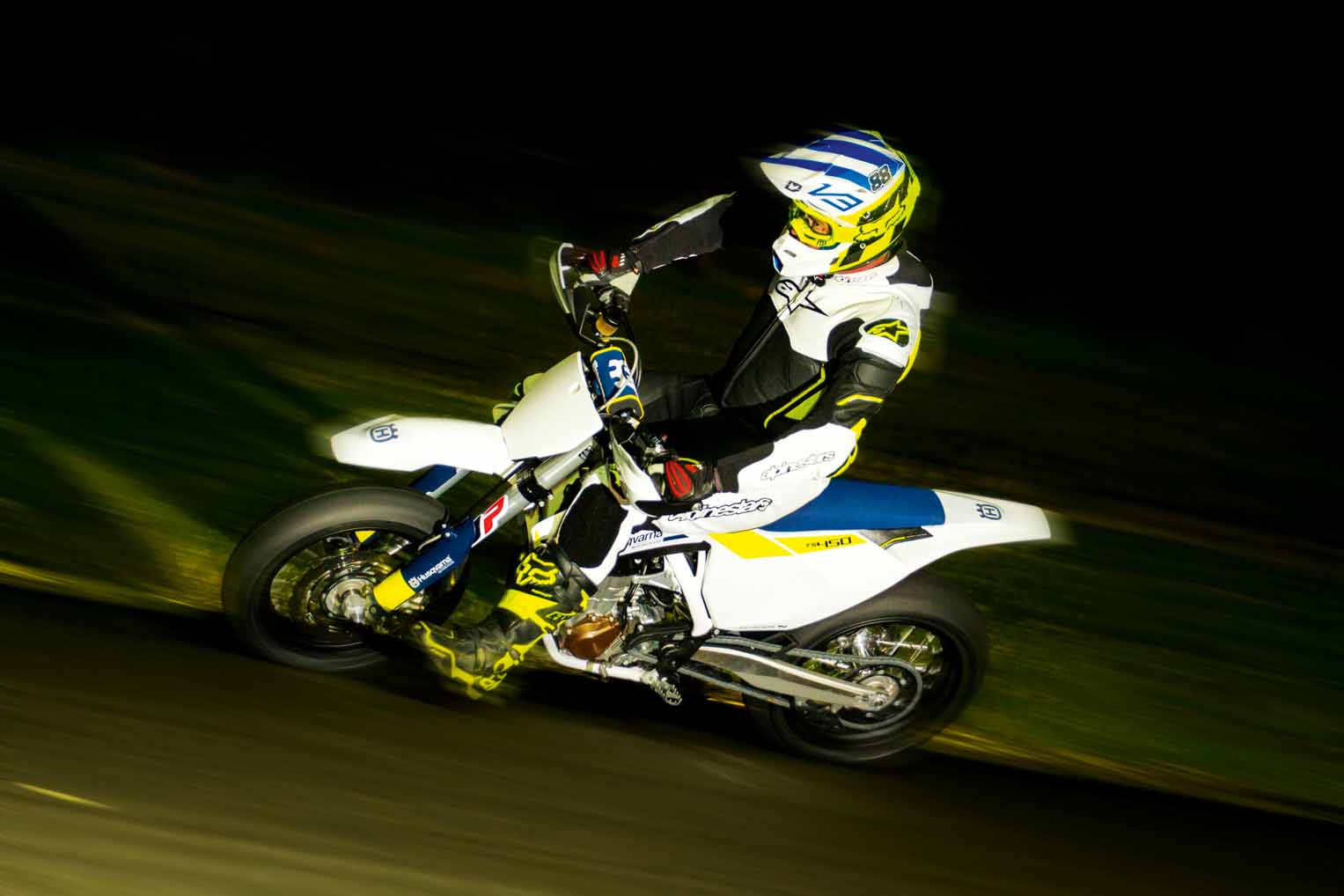 The Husqvarna FS450 is an extremely impressive machine. I had just over an hour on the bike in between photography duties and in that time I went from a total squib to feeling more and more confident and using more brakes and more throttle and feeling a lot more at home on the bike.
Quite a few times I shat myself, thinking I'd left my braking too late for my ability to get around the turn. The bike just sticks as you tip in and accelerate out, as if asking, "Why not brake later?" It's very confidence inspiring.
The night on the Husqvarna FS450 was one of the most enjoyable rides I've had. I left with a massive smile on my face and couldn't stop talking about it. What a ride.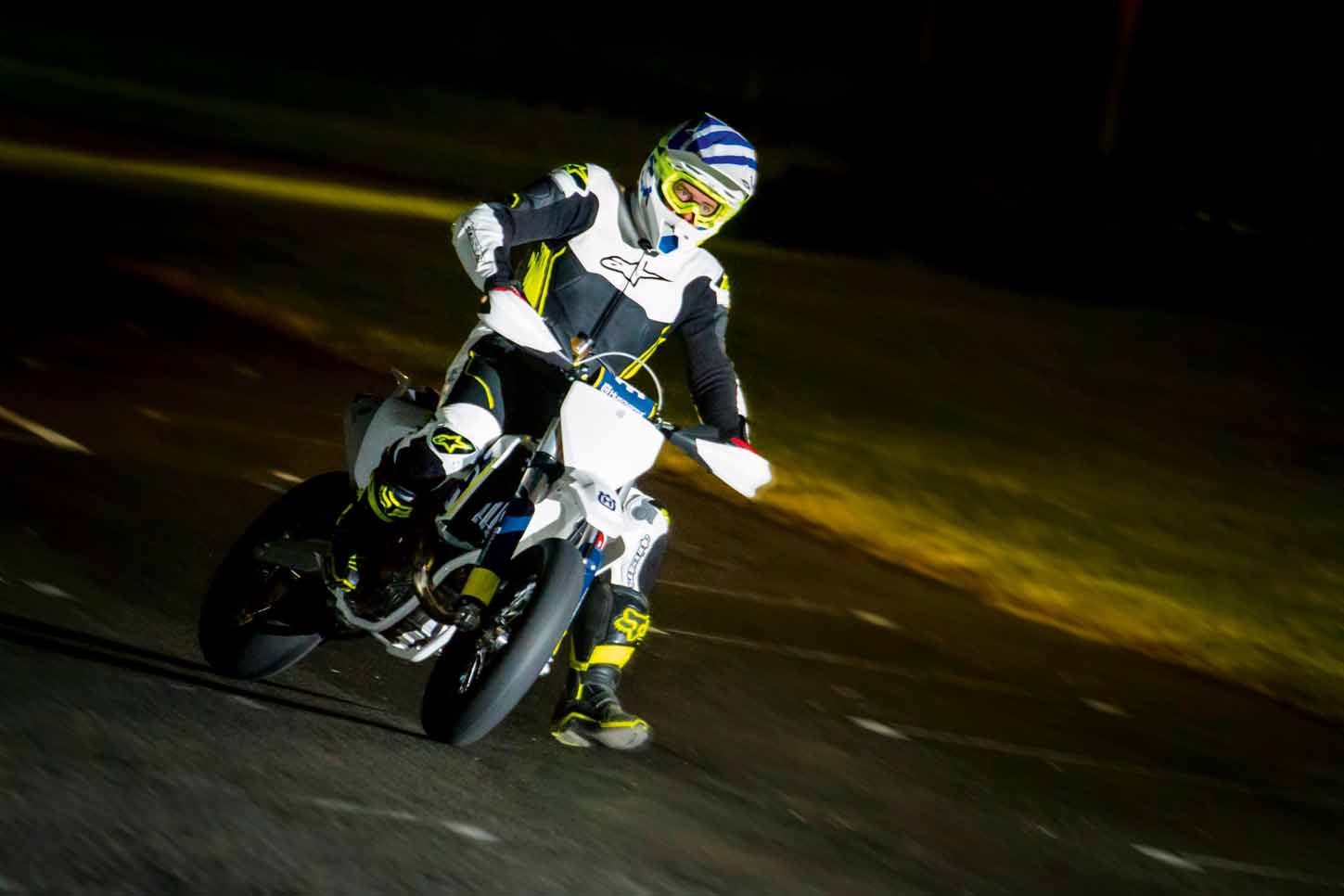 SECOND OPIONION: SHANE BOOTH, EX-PRO
The opportunity to ride the Husqvarna FS 450 was one that I wasn't going to pass up. It's been a few years since I have ridden a Super Moto and if I had it my way it wouldn't have been that long. I think it's a great discipline and to ride a bike built specifically for it was always going to be a blast. This thing is as ready to go as you're going to get; the Brembo four pot radially mounted caliper and 310mm front disc is an absolute pleasure to use and I really don't think you will get a better brake system than this. The stopping power and feel is second to none. The bike is standard with a slipper clutch which is something I actually hadn't spent much time using in the past and I loved it. It just makes the transition from braking to throttle so much easier to get right. We had tricky track conditions the night we rode but made a few suspension adjustments and improved it's cornering stability. I actually rode the bike quite a bit with traction control activated to help with the patchy conditions and it worked exceptionally well. In the dry I would switch it off for sure but it was a little extra piece of mind when there was some moisture around. I really hope I can spend some more time on this bike, if you are thinking about joining in on the resurging Super Moto scene make sure you consider this bike. You will not be disappointed.
WHERE WE RODE
We spent the night on the Eastern Creek go-kart track with the NSW Supermoto Club. They run a slick operation and the night was well run and great fun. You get bucketloads of time on track to work on your speed and blow off some steam after work. There are riders on DRZs and purpose-built motard race bikes and a few blokes even rode to the Eastern Creek complex on their bikes. Get there and have a go.
More information at nswsmr.com.au and facebook.com/nswsmr