These not-so-serious tips, can help you avoid carnage at the first turn.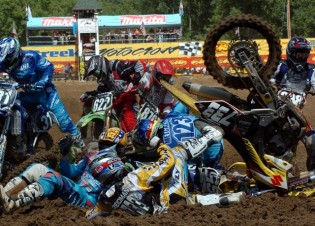 BY SCOTT BISHOP 
We all know the feeling, charging into the first turn, bashing bars with other riders before losing balance, taking a digger and have 39 other motorcycles scramble to avoid you. It's no fun watching your life flash before you and staring at the number plates of a heap of adrenaline fuelled motocross freaks without knowing which way to run and having nowhere to hide. So here are the essential tips to avoiding a first turn pile up.
Tip 1
Get a crap start. No rider rounding the first turn in 40th place ends up on the bottom of a huge pile up. You may be the cause and sole rider in a one man pile up, but you only have yourself to blame. A bad start saves you the embarrassment of asking where your bike is to the flag marshals as they clear the carnage from the first corner and almost eliminates the chance of totalling your bike as well.
Tip 2
Stay away from riders known to cause first turn pile ups. Without naming names, every rider knows that certain riders love a bit of first corner action and more often or not blame can be laid at their feet for most 10 bike pile ups. So, if rider X has a reputation, either start well away from him, or well to the inside if that is your only option.
Tip 3
Get the biggest holeshot in history, clear the field by bike lengths half way down the straight and own the first turn before anyone gets there. The only issue here is that if you fall off, then you are not only the cause of the yard sale, but you are the yard sale and your body and bike will reflect that. Holeshot and win, or nothing.
Tip 4
It's better to be aggressive in the first turn than passing. If there is a crash going on in there, you want to be the guy running people over rather than the guy being ran over. So, go in hot, bash some swappers out of the way, lock bars with the back packers, but always ensure you keep it on two wheels and never pick on a rider bigger than you. Weight in the first turn can do wonders for knocking other riders off balance.
Tip 5
Your starting position is vitally important. The perfect line is always an imaginary line from the inside of the first turn back to the starting gates. Inside is usually a little safer, but increases the risk of being boxed in, while outside means more distance to carry and if there is a crash it usually spills to the outside.
Tip 6
If you feel yourself going down, be sure to grab the guy alongside you and land on top of him as you fall. Not only does that ensure that you won't be blamed for the pile up, but there is evidence to suggest that the rider below you was the cause. This might also clear a small path allowing other riders to pass without running over you or your bike.
Tip 7
Leave your brain in the tool box, peg the throttle from the moment the 30 second board goes up, and the instant you see the gate move, ride like a wild man for the opening lap, scaring everything and anything within a 10 metre radius of you. When in doubt, go in flat out and do it with a primal scream under your helmet. Everyone will know you mean business.