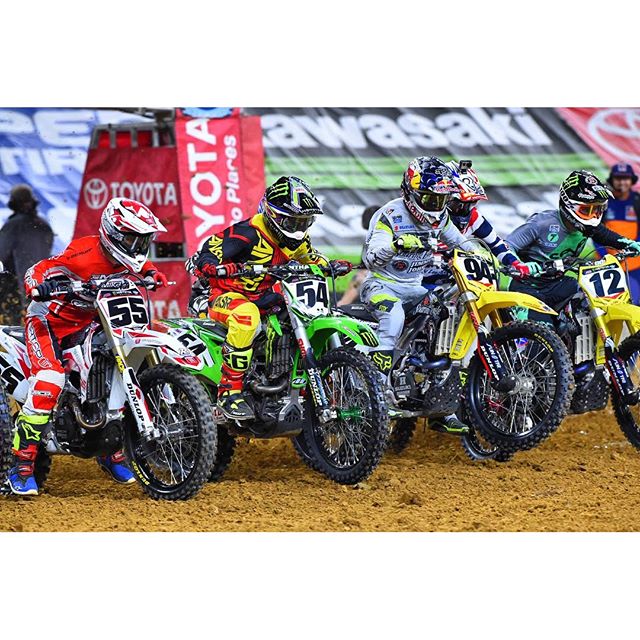 We hear from the stars of the show.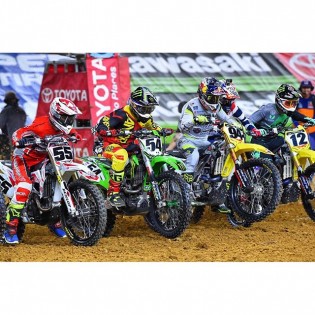 Ken Roczen (1st 450SX): "We went into the main event with strong thoughts, and I think that's what got me the holeshot too. I just really wanted it and in my eyes I made the perfect start. It's been a long time coming. I think I have more actual wins than I have holeshot awards. (laughs) It's pretty rad for me to get those. From really crappy starts to a holeshot tonight was great. Obviously, Ryan [Dungey] was right behind me, and we had a good battle for the first couple of laps. He made a pass on me, and I knew I didn't want to let him get away and cruise to a victory. I really wanted it, so I passed him back, and from then on it was wide open 'til the checkered flag came out.
He was right on my tail the entire time. There was nowhere to relax. There were some spots on the track that were really difficult to do and required a lot of focus, but we really hit our marks. A couple of little mistakes from both of us—we didn't hit the quad a few times, and I'm not sure if that [jumping the quad] was making up a lot of ground, but it was good to do. We had some tacky spots and some slick spots, but it was definitely a fun race. This is the way you want to win a race. We're going to have some great momentum going into the week, and I'm going to fight back and be aggressive next weekend."
Ryan Dungey (2nd 450SX): "The track was really tough today. It was a fight until the end. I really tried to push hard at the end but couldn't make that pass. Just a couple of mistakes in the middle there. We were gaining on him [Ken Roczen], and I was right there to make something happen. Then there was one lap that got confusing. He singled the triple and I ended up doing it behind him because I thought there was a red flag. It was a good battle, with good racing and we put in a hard fought charge. Sometimes second is what you have to get. All in all, considering everything, it was a good night."
Jason Anderson (3rd 450SX): "The heat race win was a big deal for me. I'm usually not very good at those. I was probably in 80% of the semis last year, so to get that win tonight was awesome. I got a good jump in the main, but so did two other riders. I was able to go with them into the first turn and just stay there. I'm pumped because I got the start and then did what I was supposed to do with it. I do wish I could have started just a little farther ahead so I could have sprinted away with those guys, but being in the top five is a good goal for me. I feel like I'm in a good spot."
Cole Seely (4th 450SX): "It would have been nice to get on the podium again, but we'll go for it again next weekend. It could be easy to get down on this one, but we're fourth in points and I'm feeling solid right now. I'm ready for next weekend in Atlanta."
Eli Tomac (5th 450SX): "Considering how the night started, my fifth tonight wasn't bad. Off the start I wasn't where I'd like to be but I passed quite a few riders straight away and rounded out around seventh, then spent the rest of the race working up to fifth. I had the speed early on but couldn't quite maintain it, so I'll be working on that and I'll keep working hard heading into the next round."
Marvin Musquin (6th 450SX): "I'm really disappointed about my start. To not qualifying from the heat race with a crash—[Trey] Canard took me down—and I obviously had to go to the semi [qualifier]. With a start like this, you need to have a good gate pick. That was the goal today, but unfortunately the heat race was difficult and I went to the semi. My gate pick was maybe twelfth position, so I had to go to the inside. It was really difficult to get a good start, but I tried my best. I was maybe mid-pack and actually [Eli] Tomac grabbed my handlebar and it threw me on the ground. That's racing, but from that I was really bummed. I had to put my head down and try my best. To come from dead last to sixth, it was a good ride."
Christophe Pourcel (8th 450SX): "There are so many good guys in this class. I knew it would be tough. It's probably the most stacked year ever. I just have to accept where I am, and it's tough sometimes. I haven't raced supercross in five years, and it's kind of scary at times because everyone is so close to each other. You have to be aggressive to make a pass, which isn't necessarily my style but I'm finally feeling confident to be more aggressive. I'm technically a rookie in this class, but I'm trying to adapt. I still think I made a big step tonight. The goal was to be in the top-10, and I did that so it's good. I had the speed in practice and almost won a heat race. I think I finally proved that I can ride with those guys tonight."
Wil Hahn (14th 450SX): "I didn't have the night I wanted. Qualifying was good, I actually had pretty good speed all night, really everything we've been working on was better, I just didn't ride the way I wanted too and the way I need too. We'll go back home and keep working."
Justin Bogle (18th 450SX): "Struggled in practice, but the last practice was better, started to feel more comfortable. Fortunately or unfortunately, I was in another semi and I won another one of those. I think I need to do some talking to management and restructure my contract—I need some bonuses for winning the semis! Main event I got a good start, was about fourth, got to see that pace up front. I got tight, heart rate spiked, I just wasn't too used to the pace up there. That's a good step in the right direction, getting to see that. Had a little incident at the end and I ended up going down. Clearly not the night I wanted at all, but we're making progress."
Cooper Webb (1st 250SX): "Yeah, we struggled with the bike a little bit in practice, made some changes and got it dialed. The heat race was not very good. That was kind of bad. In the main event, I just regrouped, got a good start and went out there and did what I needed to do. I got around Christian [Craig] late in the race, was able to get to the lead and took the win. That's always nice and we got the red plate, which is awesome."
Christian Craig (2nd 250SX): "I got off to a holeshot; Savatgy got around me. He bobbled coming out and I snuck on the inside. I thought I made the pass and then I heard him coming to the left of me, and there was a left-hander coming up so I knew I had to block that inside right away or he was going to take me high. I jumped into the second set of whoops and I moved over pretty quick. If not, I would have gotten taken high for sure. He was going for it. I ended up taking him out. It's unfortunate. I don't like being a dirty rider but it's a racing incident. It happens. I'm sure he would have cut over, too. I didn't mean to cut over as hard as I did, but, you know, you're in the mode of racing and pass, pass, pass, so you don't think at the time, really. You're just thinking: Get in front and get over."
Zach Osborne (3rd 250SX): "I had a pretty big crash in the second practice, so I was a little nervous going into the night, especially because I hadn't ridden all week. I got a great start in my heat race and won so that turned things around for me. I ended up on the podium in the main and was right in the mix. It's definitely a good way to go into the break. I'm going to focus on getting my ribs healthy and then I'll be back for more."
Colt Nichols (4th 250SX): "It was good. As for the track, it was good to be back on some Texas soil. I'm used to this dirt—I grew up racing on it—and man, overall it was a good day for us. We got a solid fourth, gained some good points, stayed up—we're all healthy going into the break—and I'm happy about that. That was a big goal of mine. I can't help being a little disappointed. I want to be on the podium so bad for all the friends and family that were here watching, but I tried my hardest. That's all I can ask of myself, and honestly, it was good. I really wanted it and we were close to that podium, but overall, like I said, we're healthy. We did a solid fifteen laps, but I felt like I didn't ride the way I wanted to, maybe a little bit tight. The start was better, so that's key. Usually I've been starting in last, so we were a little bit better. Overall, it was a good night for us. I'm glad we gained some good points, and we'll move on to the five week break before Santa Clara.
Mitchell Oldenburg (5th 250SX): "I'm looking forward to some time off after seven straight races. I feel pretty good overall but I am not going to quit trying for that podium. We'll try and get it when we come back in Santa Clara."
Jimmy Decotis (7th 250SX): "My night was okay, I finished right where I qualified. I felt a little bit off today, not exceptional. I had a bad start on this track and it cost me. You start in 14th on this track, it's hard to make ground."
Chris Alldredge (8th 250SX): "Today went pretty well. I just couldn't put everything together how I wanted to. In the heat I pulled a really good holeshot but unfortunately dropped back a bit. I ran the pace to be up front, but made a couple mistakes the first lap. When the Main Event came around I didn't get off the line very well, but plugged away and got up to eighth. We're going to start doing some outdoor training and I'll be ready for Santa Clara in a few weeks."
Joey Savatgy (10th 250SX): "Tonight didn't quite go as planned," said Savatgy. "We got off to a great start, winning my heat and grabbing the holeshot in the Main Event. Unfortunately I came together with another rider in the whoops and went down. I managed to get back up and made enough passes to salvage a few points though. We've got a break now, which is nice and it will give the team and I a chance to work on a few things to come back swinging."