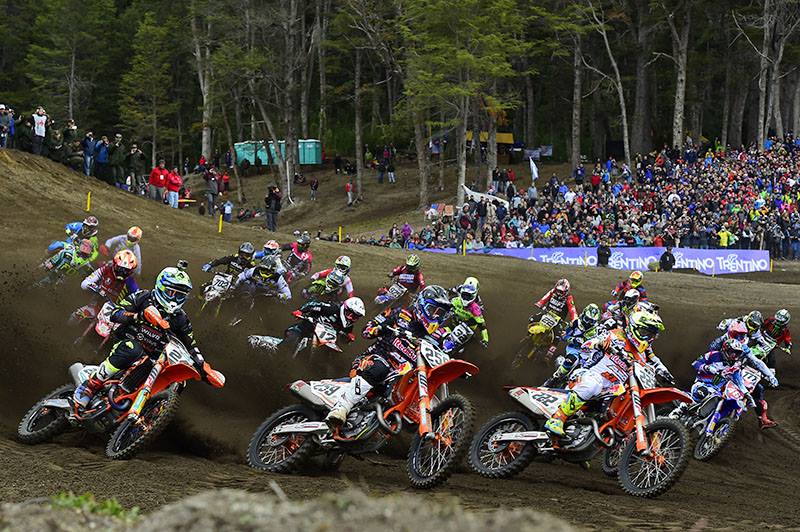 Hear from the riders following round four of the MXGP World Championship.
Tim Gajser (1st MXGP): "I'm really happy with the whole weekend – yesterday I won my first qualification race in MXGP, and then today was good, especially the second race. I was really pumped about the win in the qualification race, and even though I wasn't so happy with the first race, the second race was amazing. In race one I didn't have the best start, but then I passed many riders and finished third even though I made a little mistake. Then in the second heat I took the holeshot and lead all the race, controlling it from the front which was just incredible and I'm just so happy for the whole team. It's a great feeling!"
Antonio Cairoli (2nd MXGP): "I am very happy with my race, this winter's injury was more serious than expected and it took longer than expected to recover and still I'm not 100% fit. In some parts of the track I felt I that I did not have enough strength yet, so I tried to drive more smoothly, but I'm not very used to it. I am very happy to be back on the podium and I started to feel again myself, especially in the first laps, although I still miss the speed in the early stages of the race to go as the guys in front. In the first laps I was still a bit slow but the races are a great training, I feel every time better and I look forward to the next rounds to continue to improve. My injury is almost completely solved, so I hope to battle again on top in the next Grand Prix. Here the track was beautiful, it is very fun to drive and there are several points where you can try overtaking, without taking big risks. There are many lines and that's good for the sport, so the spectators from home can see some good races; this is a safe and spectacular track. In race one I got a good start but I was lacking speed in the early laps, Nagl (Husqvarna) was faster at the start and  he passed me, pulling the gap. After ten minutes I started to be a bit stiff and I lost ground but then I felt much better and I was able to go over both Tim (Gajser-Honda) and Bobby (Bobryshev-Honda). In race two I was able to finish second and I tried to stay close to Tim, but he was very fast, so I kept a good pace until the end, taking home solid points."
Max Nagl (3rd MXGP): "Overall, it was a very good weekend for me. I had a really good first heat. I got a great start and managed to pass Tony pretty soon after the first few corners. I was feeling good so I tried to remain focused on my own race and it paid off. I built a gap of about seven seconds, which allowed me to race to the win. Everything was fine and my riding was really good. Then in the second heat I got a better start but was a bit late on the brakes for the first corner. I went a bit wide ending up sixth after the first corners. I made a few passes but was struggling a little with my lines and this allowed Febvre and Van Horebeek to pass me again. A podium is always good but I'm a bit disappointed, as I could have won the GP. I feel good heading to Mexico. It's another one of my favourite tracks there so another podium would be great."
Romain Febvre (4th MXGP): "In the first moto I tried to anticipate the start with the gate still up, and I had to wait and go again, so in the pack I was 9th or 10th but I knew I had good speed. Then in one of the corners I went a bit too fast in a corner and went over the front of the bike. The second race I was better, but still this is a result we know we can improve on. We know the track in Mexico, but it's summer up there and so its much hotter than here in Argentina right now. We think the track is going to be really hard in Leon, and that's a good objective for us."
Jeremy Van Horebeek (5th MXGP): "The team did an awesome job, and it helped me a lot in this race. The second moto was really good, but we have work to do on the start to get into the top group early and finish at the front. The first ten minutes of the race are always a big fight, and it costs a lot of energy to get through all of it, so in Mexico we know what we have to do."
Glenn Coldenhoff (6th MXGP): "The first moto I took a good start and I was in fourth. I rode pretty well but in the beginning if you are out in front, you are riding above your limit and that broke me up a bit in the middle of the race, then I got a bit of arm pump and had to slow down. I got an okay start in the second moto. I started a bit easier and I found my rhythm. I could make some passes and some guys in front of me made some mistakes so I was able to finish sixth. It was a solid result and I'm pretty happy with it. Also coming into this race I was able to do some practice with the bike and this gave me more confidence."
Evgeny Bobryshev (7th MXGP): "I was pretty pleased after the first race as my pace was good and I had the fastest lap, but I just had a bit of arm pump at the end which slowed me down a bit. But then I had a big crash in the second race so I'm very disappointed. I feel very sore all over from the crash because it was pretty heavy, on the landing of a jump, so I was in pain to finish the race. So now I must just rest and hope that I feel less bruised and sore for Mexico."
Kevin Strijbos (9th MXGP): "We made some changes to the set-up for today but they didn't really work. The track was really sketchy and with that hard base it was easy to make mistakes…and I think a lot of people did make them! We tried to keep positive and gave our best out there. It is a bit frustrating for me and the team at the moment but we'll go to Mexico now and then have some more tests when we get back home. I really want to thank the team because there is a lot of hard work going on behind-the-scenes and it is not paying-off at the moment; but I'm sure it soon will."
Clement Desalle (10th MXGP): "I had some good lap times in the practice session, but in the qualifying race Bobryshev crashed just in front of me and I couldn't avoid him; I had to come back from last to ninth. Today I had a good start in the first race and was in the top five, but after fifteen minutes I could feel the effect of not being able to ride my bike so much since my accident and I had to slow down. I finished seventh; for sure I'd like better results but I don't want to take stupid risks as I'm still recovering. The second race was similar with a good rhythm in the first laps, but then I lost some positions. I know that soon I will be able to train normally; for sure it's always difficult to wait as I want to win races and score podiums."
Jeffrey Herlings (1st MX2): "We had a really good weekend and were the fastest. We won the qualifying on Saturday and on Sunday I was second at the start of the first moto and worked my way up to the lead and pretty much checked out after that. Then we did what we had to do in the second race and made it happen to get the 100 moto wins. I'm really happy about that. Hopefully we can get this winning going again in Mexico next weekend. I think I made a statement today. I came out good third or fourth in the first moto, had the lead quick and just did my own thing. I got my 99th moto win in moto one and I wanted to get my 100th in the second moto. I had to hurry up to get my flight (he laughed) We did it again, still won pretty much everything I could and I feel better every weekend.
Jeremy Seewer (2nd MX2): "Second overall; I'm so happy. I couldn't get going with the track yesterday so I had to make the best of it. We changed the bike a lot and it worked out well. Someone cut across me at the start of the first moto and I had to use a lot of energy to come through and it was a hard fight with Alex in the second. I want to thank the team and my mechanic because we have been working so hard for this and now I'll look forward to Mexico."
Aleksandr Tonkov (3rd MX2): "After some bad luck and sickness for two weeks, I really surprised myself. It's nice to rebuild and battle at the front and be back on the podium. I hope we can start working and get stronger for next work and go even further. After Valkenswaard the team really came together and did a great job to get us back up to this level, and everybody at Wilvo Standing Construct, my mechanic Gaitan and all the staff worked really hard to get us this result in Argentina."
Benoit Paturel (7th MX2): "The track was really good, but in the first race I crashed in the start and fought all the way back from 23rd to 13th. I got some points and that's good for all of us at Kemea. In the second race I was always in sight of Jonass and Tonkov, but finished fifth. For me this is not bad, but not so great, so we'll work together in Mexico to see if we can get back above average."