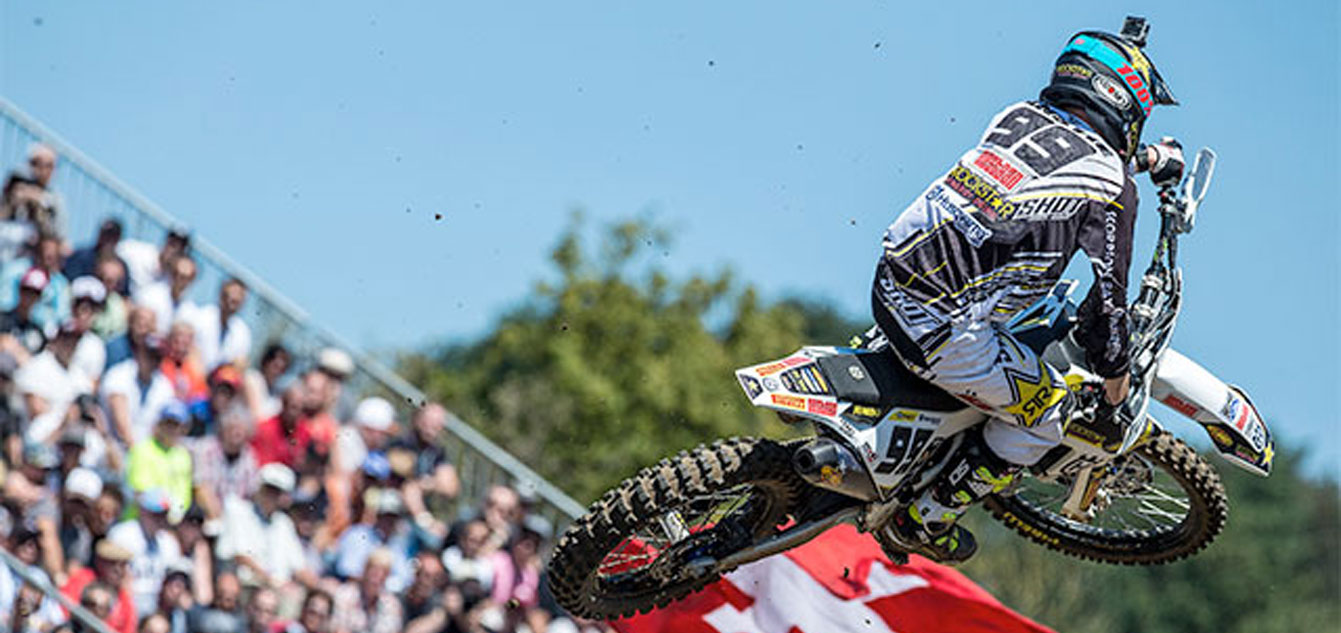 Max Anstie has dominated round 15 of the MX2 Championship in Switzerland.
By Hayden Gregory
The Rockstar Energy Husqvarna rider easily won the first moto before edging out Jeremy Seewer in race two. It marked the second straight week that Anstie has stood on the top step of the podium.
"That was one of the tightest races I've had," Anstie said, "it felt like the whole of Switzerland was behind Jeremy. Going through the waves I couldn't even hear the bike."
Hometown hero Jeremy Seewer suffered a poor start in the opening moto before recovering to finish in second place. Seewer would also finish runner up in moto two to claim second for the round.
"I'm so so happy, I can't find any words." He said, "The spectators were so crazy and I am so happy to ride here at home in front of them. It's an incredible feeling and I just can't thank them and the people around me enough." 
Kemea Yamaha MX Official's Benoit Paturel nailed a pair of third place finishes to finish third for the round.
Despite missing yet another round of racing, Herlings remains atop the MX2 standings with Seewer climbing to within 43 points in second. Paturel and Anstie are third and fourth respectively over 100 points further back.
MX2 Overall Top Ten:
1. Max Anstie (GBR, HUS), 50 points
2. Jeremy Seewer (SUI, SUZ), 44 points
3. Benoit Paturel (FRA, YAM), 40 points
4. Samuele Bernardini (ITA, TM), 33 points
5. Calvin Vlaanderen (NED, KTM), 31 points
6. Brian Bogers (NED, KTM), 29 points
7. Thomas Covington (USA, HUS), 24 points
8. Thomas Kjer Olsen (DEN, HUS), 24 points
9. Pascal Rauchenecker (AUT, HUS), 24 points
10. Ivo Monticelli (ITA, KTM), 23 points
MX2 Championship Top Ten:
1. Jeffrey Herlings (NED, KTM), 597 points
2. Jeremy Seewer (SUI, SUZ), 554 points
3. Benoit Paturel (FRA, YAM), 433 points
4. Max Anstie (GBR, HUS), 416 points
5. Pauls Jonass (LAT, KTM), 403 points
6. Dylan Ferrandis (FRA, KAW), 378 points
7. Petar Petrov (BUL, KAW), 340 points
8. Samuele Bernardini (ITA, TM), 327 points
9. Aleksandr Tonkov (RUS, YAM), 320 points
10. Brian Bogers (NED, KTM), 309 points