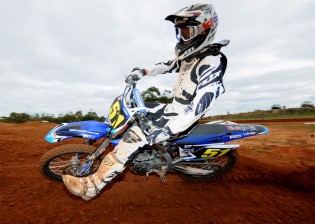 Yamaha Junior Racing (YJR) teams around Australia will converge on the South Australian country town of Murray Bridge this weekend for the start of the 2011 Australian Junior Motocross Championships.
The week-long event kicks off this weekend and is the jewel in the crown of Australian junior motocross with over 700 riders entered for the event. Spread across all five states in the
Yamaha
Junior Racing program, 13 Yamaha supported riders will contest the event and if lead up form is any indication the teams are set for a good showing.
Joel Milesevic and Wilson Todd are back from France where they both represented Australia in the FIM World Junior Championships and are keen to finish off the season on a strong note. Milesevic, from Victoria will compete in the 15 years division 125 and 250cc classes and is considered to be a serious contender for the championship.
Todd, from Atherton in Queensland, will be on board his YZ85cc in the 12 to 13 years age group and also the 13 to 14 years 125cc. The softly spoken rider already has plenty of championships under his belt and will be looking to add to the tally.
The Yamaha squad also features plenty of state champions with Joel Dinsdale winning a Queensland championship in 2011, South Australia's Damon Hill a dual state champion this year and  New South Wales rider Mackenzie Tricker continuing to take all before her in the Women's classes.
Billy Jackson from Victoria, Kyle Webster and Liam Whisler from WA, Jordan Bissaker and Brendan Walther both from New South Wales also loom as potential championship winners after success during the year. Jackson was the runner up in the Victorian junior motocross championships earlier this year while Bissaker, Walther, Webster and Whisler have seen plenty of podium action throughout the year and contested plenty of events in the lead up to the national championship.
In support of the Yamaha contingent, coaches Shane Metcalfe and Shane Booth will assistant with any on track or technique issues while Darren Thompson, Yamaha's in house mechanical guru, will be in attendance keeping the blue machines on song all week.
"We have a very strong line up for this years' championship," commented Yamaha Motorsport manager, Ray Howard. "Each of our state teams have had a tremendous season in their own right and Yamaha hopes that form will continue on at Murray Bridge."
"All these riders will compete on Yamaha's YZ range and represent our brand and products in the best possible light. Good luck to our riders and we wish them every success," he finishes.
The championship gets under way on Saturday October 1 with machinery and set up, then practice starting on Sunday. Heats and qualifying races begin on Monday where each class is whittled down to the fastest 40 riders in their age groups before a three round final system determines the 2011 champions. Racing is concluded on Saturday October 8.
Yamaha Junior Racing Teams
Western Australia: Kyle Webster (15 years) / Liam Whisler (13-14 years)
South Australia: Damon Hill (13-14 years) / Izak Maule (13-14 years) / Oscar Maule (9-11 years)
Victoria: Joel Milesevic (15 years)/ Billy Jackson (15 years) / Jed Beaton (12-13 years)
New South Wales: Jordan Bissaker (15 years) / Mackenzie Tricker (Girls) / Brendan Walther (9-11 years)
Queensland: Joel Dinsdale (13-14years) / Wilson Todd (12-13years)