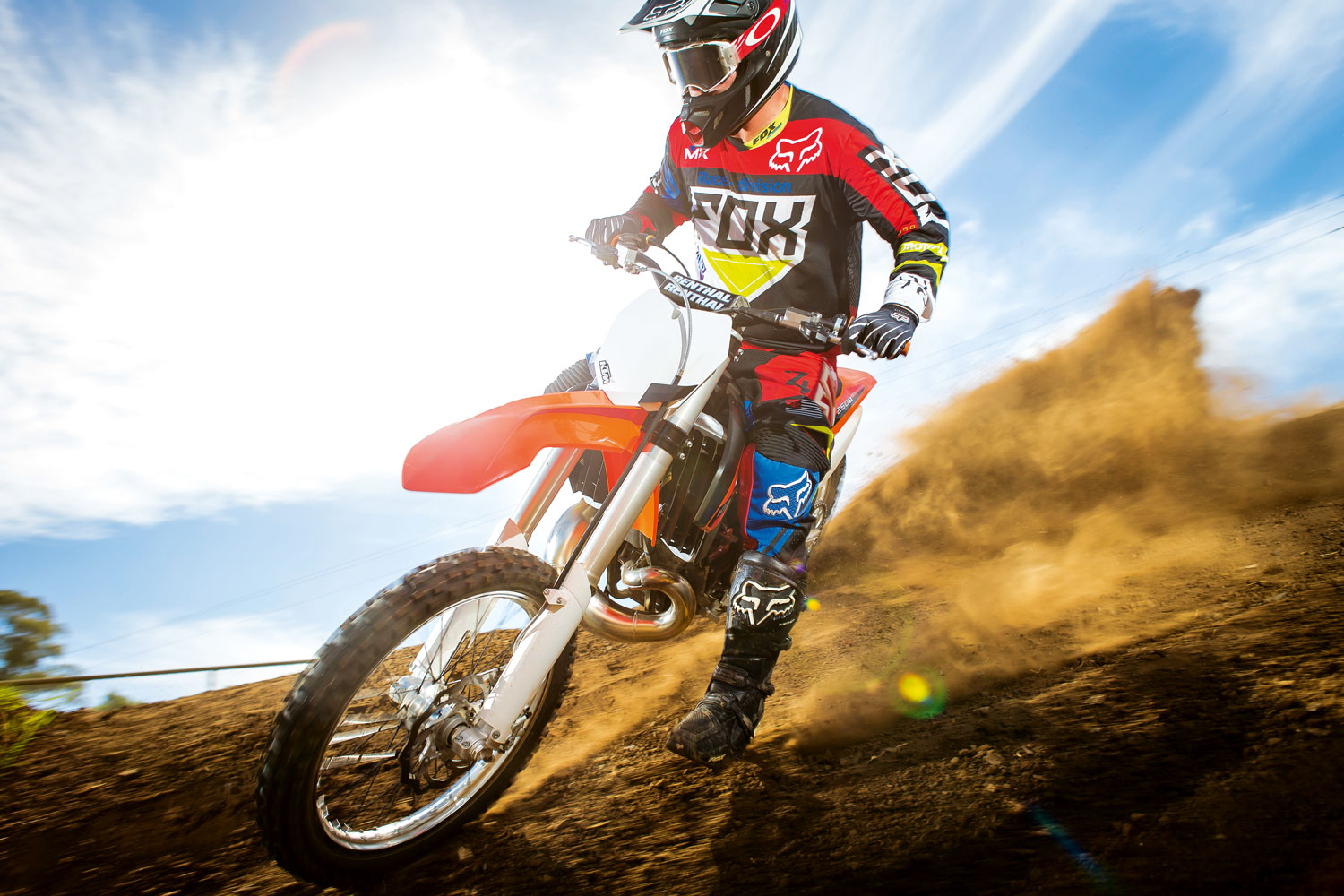 We hit the track and reacquaint ourselves with KTM's 250 SX, a popular choice for riders in the two-stroke vs four-stroke battle.
Story Shane Booth | Photography Greg Smith/ iKapture
Although there are no major updates to the KTM 250 SX for 2014, it's always a good day when you get to hit the track on one. In the current racing climate, the 250 two-stroke is on the comeback and this bike is a popular choice for those who go down that road.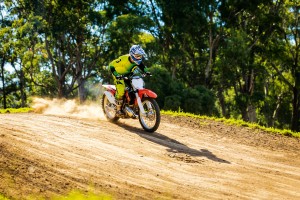 Is it fast?
Yes it is. There is no doubt the bike has a strong engine that produces plenty of torque and performs well throughout the power delivery. We were riding the 250 SX on a baked, hard-pack track though, and getting that power to the ground could be a handful. Not impossible, but a rider relying on purely twisting the throttle will most likely struggle to keep the bike straight and driving well out of turns. Plenty of clutch and throttle control is needed to get the bike to hook up. However, this is just a two-stroke trait and not specific to the 250 SX, but one worth considering when thinking about a purchase. Take this bike to some moist loam and you'll have the time of your life stretching the throttle cable all day long.
How does it feel?
This bike feels good on the track and one of the major reasons for this is how nimble it is. The KTM two-strokes are thin bikes and come in fairly light on the scales, and that all shines through when you're stopping and turning it. The forks hold up well under brakes, which they didn't always do in the past. It settles well mid corner and drives out well if you pair it with the correct throttle control. As per usual, KTM tick all the boxes as far as control feel goes, with high-performing brakes and the light smooth feel of the hydraulic clutch. High-quality grips and handlebars standard give you a premium feel straight away, which is something you can't miss. Of the current 250 two-stroke motocross bikes it's had the most recent updates and you can tell that's the case when you ride it. It feels a little more current in the ergo department than most of its competitors, thanks to a nice flat seating position.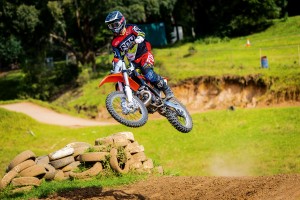 Why so popular in the lites class?
Bang for your buck. That's what two-strokes offer. Pretty much as simple as that. You get horsepower and a relatively low-maintenance machine. You don't need to spend much on trying to increase horsepower because there are very few riders who can use more than is on offer here. I still believe whoever wins on the day would be capable of doing it on a two- or four-stroke, but right now plenty of racers believe this is a cheaper and more advantageous way to go racing.
KTM 250 SX Specs
Engine: Single-cylinder 2-stroke, water-cooled, with reed intake and exhaust control
Displacement: 249cm³
Bore: 66.4mm
Stroke: 72mm
Starting aid: Kickstarter
Transmission: 5 gear, claw shifted
Primary ratio: 26:72
Final drive: 13:48
Clutch: Wet multi-disc clutch DDS / Brembo hydraulics
Ignition system: Contactless, controlled, fully electronic ignition system with digital ignition timing adjustment
Frame: Central tube frame made of chrome molybdenum steel tubing
Shock absorber: WP Suspension 5018 BAVP DCC
Suspension travel Front: 300mm
Suspension travel Rear: 330mm
Brake system: Disc brakes, brake calipers on floating bearings
Brake discs Diameter front:260mm
Brake discs Diameter rear: 220mm
Chain: 5/8 x 1/4in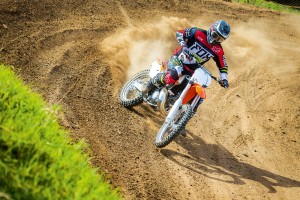 Second Opinion 
Clubman: Matt Bernard
Racing on a budget? Check out the KTM 250 SX. The KTM comes standard with oversized handlebars, Brembo brakes, hydraulic clutch, gripper seat cover, graphics inside the plastics, quality grips and quality XXXX tyres. You can buy this bike, fit numbers and head to a club day. There isn't the need to replace crappy grips or oversized bars and mounts. As KTM say, it's Ready to Race. I'd certainly look at racing one in the lites class; they're good to go standard and on a grasstrack, which I'd be competing on, I think the power would certainly be put to good use. We tested it at Mt Kembla, which was quite dry and hard pack, and the two-stroke becomes much more of a handful when compared to a 250 four-stroke. The power is strong and if you use the correct technique it's easy to roll on. The ergonomics are very comfortable on the KTM, the seat is flat and the bike thin. It's a modern-feeling motorcycle. The suspension is good and handles the big hits and jumps around the Kembla circuit admirably. On a well-prepped track, you'll struggle to find a more enjoyable bike than the KTM 250 SX; it's an exciting ride that will slap a smile on your face inside your helmet — try not get too much dirt in your grill.