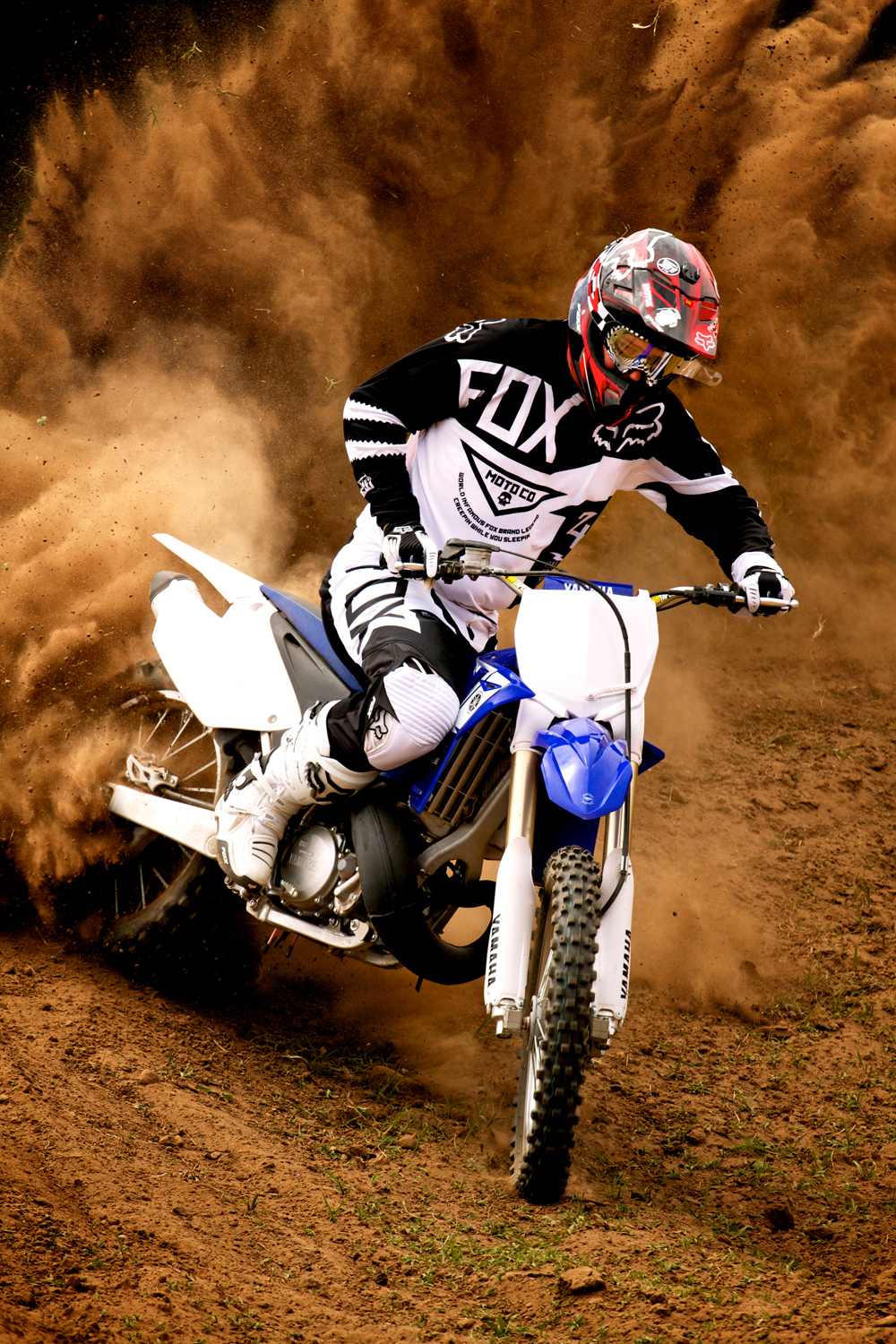 Pre-mix Selection: We take a look at a bunch of twp-stokes that continue to rip up trails and tracks around the world
After his obituary was mistakenly printed in the New York Journal, author Mark Twain responded with the quote, "The reports of my death are greatly exaggerated." As are the reports of the death of the two-stroke. It's alive, it's winning races, titles and fans all over again. There was a lull, a dip in enthusiasm for sure, and it's true it will forever now take a back seat to the four-stroke in sales numbers and race success. But man, the dinger has fight in it and it ain't going down.
Let's take a look at a selection of two-strokes that continue to rip up trails and tracks the world over. Take a deep breath, take a whiff of that pre-mix, drop the clutch drop and let the engine scream. That's the soundtrack for the following pages, where you won't find a four-stroke in sight.
This ain't no retro look at bikes long dead, this is the varied and awesome world of the modern two-stroke.
2013 KTM 125 SX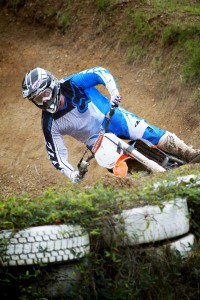 The KTM 125 SX is back and we didn't realise how much we missed it.
It's been a little while since we've been able to throw a leg over the KTM 125 SX. When the 150cc limit was bought in at the end of the 2008 season, KTM effectively stopped importing the 125 SX and replaced it with the 150SX, so the popular 125 was left out in the rain.
The rule was a strange one in that KTM was the only maker of a 150cc two-stroke. Nowhere else in the world had a class for the bike and if you were on other brands, it made a cheap, maintenance-free class quite expensive. Fortunately, some common sense has been restored and the 125 class limit is back in place and the KTM 125 SX is back on our shores.
So it's been the best of four years since we have tested a KTM 125 and despite the bike not being seen in Australia, there has still been plenty of development going on to cater for other international markets. There isn't a lot to separate the 2012 and 2013 models, but if you back-to-back test rode the 2008 bike against the new 2013 machine, you'd notice a big difference. So let's not bore you with five years of changes, let's ride this thing and tell you how it goes.
Ergos
KTM has refined the ergonomic layout of all its bikes over recent times. Gone is the long, stretched-out feel of the bike, replaced with a seamless, slightly more compact feel. The flat seat/tank junction put the rider in an ultra-aggressive position and makes climbing over the bike easy.
The levers have a big chunky feel to them, which makes it easy on your fingers and hands. The hydraulic clutch is still something the Japanese haven't gotten on board with, while the front brake is the strongest in the business. The rear brake is strong and doesn't have the grabby, almost light switch feel of a few seasons ago. The new front fender is made with extra reinforcing to stop it bouncing and flicking mud up in the rider's face. It is a subtle but worthwhile update. The bike looks sharp and is the same design as the current KTM SXF machines.
Motor
Ever since 1998, there has been little doubt that KTM knew how to drag serious power out of the little 125cc motor. It wasn't always well suited to Australian conditions, but in sheer output the KTM has been unmatched for over a decade.
The 2013 motor comes on a touch flat right off idle and with the jetting supplied gave it a lean feel. Response was good, but from nothing to quarter throttle, the motor certainly didn't set any records. Stand by, though, because the action is about to come.
Once the quarter throttle barrier is cracked, this motor is a hands-down rocket ship that defines its 125cc capacity. On the long up hills of the Lakes circuit, the motor continued to make power and was begging to be upshifted, even with riders over the 90kg mark. The midrange is ballsy and pulsates the bike forward in style. As the motor climbs higher in the rpm, it feels like it's about to run flat and sign off, then a second wind kicks in and drives it right through to an impressive top end and easily the fastest 125 on the track.
Comparing it to earlier-model KTM 125 SXs I have tested, this is far and away the strongest motor from low in the rpm through to redline, and generates a lot more ground speed. The motor is that good it has me questioning why you would want to bring in a 150SX. This bike is far faster than any other production 125 I have ridden and it only had one hour on it. With some time to loosen up, add the odd performance part and dial in the jetting, there is no saying just how fast this bike can go.
Suspension and Handling
The downfall of many KTMs in their growth period in the 2000s was the suspension and handling. The 125 didn't always draw the same criticism as the bigger bikes, because the light-weight, free-wheeling 125 didn't expose too many issues of the larger bikes and the motor always drew the attention. But, like all KTMs recently, the suspension and handling has come a long way and is now one of the bike's strengths.
The change to the linkage rear end a couple of seasons ago didn't drastically alter the handling, but it did liven up the back end and take away the KTM's almost dead feel in the rear that the PDS exhibited. The shock feels surprisingly firm for a 125 and that could suggest that many of the 13-15 age group that buy this bike may need to spend some time getting it right. But with 100mm of ride height and some small clicker changes, I was able to get a predictable feel in the rear and get constant hook up out of turns.
The fork is much improved from when I last tested a KTM 125. I recall a soft fork that dived instantly under brakes and banged bumps when under pressure. The 2013 version sits a fraction taller, holds itself up higher in the stroke under heavy braking, and as a result doesn't get a loose or a busy front-end feel entering turns or on downhills.
The improved action on the fork is as big a gain to the KTM 125 SX as the motor is. It improves the handling in many on-track situations and allows the rider to get on with the job of selecting lines and going fast, and not worrying too much about what bumps might be in the way.
Much Improved
If you took almost any brand of bike in almost any of the manufacturer's range and compared the bikes with a four-year gap, there is sure to be some big changes and the KTM 125 SX is no different. In that time, the KTM crew have punched up the power, improved the fork, dialled in the handling and made it a real race-ready motocross bike. Ten years ago, when the 250Fs hit the market and effectively wiped out the 125, there was no comparison between the two bikes; the 250F dominated. If the same test was conducted today, the KTM 125 SX would have a much bigger say in the result. This bike has come a long way.
2013 YAMAHA YZ125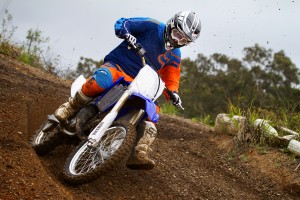 The YZ125 hasn't undergone any substantial changes since 2005, but this bike is still very capable in its class
The YZ125 has a strong engine with very solid bottom-end and midrange power for a small-bore two-stroke. Get the jetting on point and this bike will become sharp and snappy, delivering crisp two-stroke horsepower. Yamaha has made an effort for 2013 and the bike will come with an updated plastics kit, which does sharpen up the lines on the bike and bring it into the current times. However, the updated kit doesn't change the actual seating position on the bike and there's no doubt it feels slightly dated in the ergo department, especially if you have just jumped off a new four-stroke. You sit in the bike more than on top of it and the footpegs are noticeably narrower than on the current YZF, but otherwise still perform very well, especially once you get comfortable.
The YZ125 produces quality performance from each of its 125ccs. Like any 125 it's more about the rider being able to keep the bike working in its optimal rev range, where it will produce the most power. On a 125 that isn't a huge zone to work with, but when perfected you'll be very surprised at how well the YZ125 will cart you around a track. It's a solid handling package considering the last time it had any development poured into it was around 2005. It's stable and doesn't seem to produce any headshake, which is a good trait to have considering this will be the first full-size bike for many junior riders.
The bike does everything else well; the clutch is light and the brakes are up to scratch. If you are planning on racing one at state or national level, there are a few things you can do to squeeze a little more out of the YZ without spending a bucket load or, more importantly, making the bike unreliable.
Jetting
Get the jetting right and you will transform your YZ125. Here's a spec for a standard 2013 YZ125 that will tidy things up a bit and improve throttle response. Always be wary that a single jetting spec will not work everywhere, especially in extreme temperatures or high altitude. Refer to your manual to be sure the bike is not running lean, which could damage your engine.
Main Jet: 440
Pilot Jet: 37.5
Needle: 6BFY43-74 (std)
Clip Position: 2nd from top
Gearing
You can cheat a little with gearing and help add some bottom end to the power delivery with a sprocket change. Most riders will benefit from an extra tooth or two on the rear.
Pipe and Muffler
An aftermarket exhaust will help make your 125 a little more snappy and will generally change the power delivery rather than add bulk horsepower. Different pipes will do different things so do your homework; keep in mind noise regulations if you are thinking of buying a tiny little muffler.
Footpegs
It will not hurt to add either a set of aftermarket footpegs or a pair of genuine Yamaha YZ250F pegs. The standard ones are slimmer than what most riders will be used to these days.
Chain
Slap a good-quality aftermarket chain on your bike, especially if you have spent money on a new rear sprocket.
Reeds
If you are looking for every little bit out of your YZ, then an aftermarket reed block can squeeze a bit more out of it. V-Force or Boyesen are two popular choices. This mod will improve throttle response even more and will help a little overall too.
Head
Adding some compression with an aftermarket head like a VHM will no doubt increase power. If you feel as though you are getting absolutely everything out of your 125, then this will help. Be warned, however: adding compression works the engine a little harder and you need to be on the game with your jetting to stop the detonation that can lead to engine failure. Once again, remember your jetting is key. Too lean and it can damage the engine, too rich and the performance and throttle response won't be there.
YZ125 SPECS
Engine type: Liquid-cooled, 2-stroke, reed-valve
Displacement: 124cc
Bore x Stroke: 54.0 x 54.5mm
Compression ratio: 8.6-10.7:1
Lubrication system: Premix
Fuel management: TMX 38
Ignition: CDI
Starter system: Kick
Fuel tank capacity: 8L
Oil capacity: 0.7L
Final transmission: Chain
Transmission: 6-speed
Length: 2135mm
Width: 827mm
Height: 1315mm
Seat height: 997mm
Wheelbase: 1443mm
Ground clearance: 386mm
Wet weight: 94.5kg with 8 litres of fuel
Frame type: Semi-double cradle
Suspension front: KYB Telescopic fork
Suspension rear: KYB Shock
Brakes front: Single disc
Brakes rear: Single disc
Tyres front: 80/100-21 51M
Tyres rear: 100/90-19 57M
2013 KTM 250 SX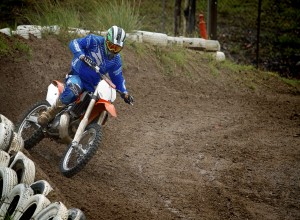 Spinning laps on the new KTM 250 SX
If I had to describe KTM's 250 SX in one word it would be "light". Everything about this bike is light. There is absolutely no more metal used than required anywhere on the head, cylinder or cases. When you hit the track it feels only slightly more bike than a 125, obviously not in a power delivery sense, but ergonomically it's extremely nimble.
One feature the KTM benefits from is having "current" feel when you ride it. It has been updated more recently than other two-stroke motocross bikes and you can notice it. The body work is in line with the company's four-stroke range, which allows the bike to fit right in among all the latest models in the pits. When you are out on the track you feel all of those benefits, you sit up on the bike not down in it, the seat has a flat profile which allows for easy movement, and the plastics have a seamless finish with no edges to catch yourself on.
This bike delivers more grunt right through the power delivery than most riders will ever need. On a loamy track you'll be hard pressed to find a bike that will deliver more enjoyment than a 250 two-stroke. When the corners have formed up lines, ruts and berms, you will go fast on one of these. The trade-off is the 250 two-stroke requires some finesse and real throttle control to get the power to the ground on hard, slick corner exits. If you were to get too excited on the throttle, make no mistake: a 250 two-stroke will make you pay for it. But ride with some respect and patience and you can stay just as smooth as on a four-stroke, even on hard pack.
The million-dollar question is whether the extra brute horsepower of the two-stroke is an advantage over the 250 four-stroke. Well, there is no doubt they can be very competitive with the 250 four-strokes — race results are proof of that. Would the same riders be competitive on a decent 250 four-stroke is probably more the question to ask, and I personally think yes, they would. The start would be the only major advantage enjoyed by the riders on the 250 two-strokes, but in saying that there have been plenty of 250Fs rounding the first turn in the top five also. I believe the greatest advantage and the biggest reason for riders to go with the 250 two-stroke in classes like under 19s is running cost. There is no doubt you will have a competitive bike with much cheaper running costs. I think that's where it starts and finishes with the two-stroke vs four-stroke debate at national racing level.
The 250 SX handled very well; the actual weight saving of a two-stroke combined with the lighter feel of a two-stroke engine makes a huge difference. You don't impact bumps and edges as hard and you can almost hop the bike over the odd bigger bump if have too. It was stable at higher speeds and not too bad under brakes too. I think you could afford to have a firmer front end on this bike; it would allow you to take advantage of the braking performance that is available due to the lighter weight of the bike. You tend to push into corners harder because you can pull the bike up quickly. You will also find the Brembo front brake handles the hiding it cops as there is very little or no engine brake helping you slow the bike. The 250 SX is actually 6.6kg lighter than the 250 SXF. Combine it with the lighter feeling of the two-stroke engine and it probably feels more like 10 kilos lighter. There is absolutely no doubt it is more nimble than its four-stroke brother.
Body Work
KTM has updated bodywork in line with its four-stoke range, showing its commitment to the two-strokes.
Reed Block
A new V-Force 4-reed valve block improves throttle response and power delivery.
DDS Clutch (250SX)
The 250 receives a new Damped Diaphragm Steel clutch, which reduces the lever force required to activate the clutch. It's also thinner by 5mm and 250g lighter than the old version.
Displacement: 249cc
Bore/stroke: 66.4×72mm
Transmission: 5-speed
Starter: Kick-start
Fuel system: Keihin PWK 36S AG
Final drive: 13:48
Handlebar: Renthal
Front suspension: WP-USD, closed cartridge 48mm
Rear suspension: WP monoshock with linkage
Fuel capacity: 7.5L
Weight: 96.3kg (without fuel)
YAMAHA YZ250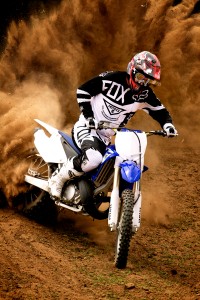 A new look for 2013 on the Yamaha YZ250
Since the inclusion of the 250 two-stroke in the lites class around Australia, there has been a strong resurgence of 250 two-stroke machines. From club days to state and national level events and dudes just out fanging with their mates, the YZ250 is a stayer in the Australian market; whether it's a 2002 or a 2012, there's a good chance you will see one of these at your local track.
There are a number of factors to the Yamaha's longevity and one of the most important when purchasing a two-stroke is the running cost. When purchasing a 250cc two-stroke to race in the lites class, you have instant competitive horsepower. There is very little to spend to make this bike go fast; it's more money spent on making the power usable for your level of ability and getting the bike set up for you.
I stepped up to the opens class as my weight of 90kg is too much to get a good start on a 250F. The two-stroke eliminates a lot of that struggle.
Freshen-Up
The Yamaha YZ250 has had minimal updates and changes since 2005, when the Yamaha YZ125 and YZ250 had changes to an alloy frame, and in 2006 with SSS suspension, both which improved the bike immensly. So for 2013, Yamaha Australia listened to its market and decided to give the 250, and also the YZ125, a new lease on life with an all-new look. Mechanically these bikes remain unchanged, but a cosmetic facelift leaves them looking fresh and revamped for the New Year.
The engine on the YZ250 is lively; if you have spent the last few years on a four-stroke and you jump back on one of these, you'll get a shock. But with a re-think on your riding technique, a YZ250 can not only be a quick machine around the track, it will be a competitive little rocket too. You need to be more precise with your gear changes, use more effective clutch control and pick your lines — all while respecting the engine sitting inside the Yamaha's alloy frame. If you do find the engine too aggressive, there is a range of ways to make the YZ more rideable, including a heavier flywheel and an extra gasket under the cylinder.
The YZ250's suspension is quite impressive, especially as it has remained unchanged since 2006. The 48mm Kayaba Speed Sensitive System forks use piston speed to control damping force for more precise handling and straight out of the crate, the front-end on the YZ250 is quite predictable. The KYB shock features Kashima coated internals.
There are plusses to a machine remaining unchanged for a number of years. Despite the factory not spending the money and time developing the machine, mechanics, racers and suspension tuners will have an absolute wealth of information that can help improve the YZ250.
I love riding the YZ250 and currently have one as a project bike, which you can read about on page 137.
Living with the YZ
A few things I have learnt having the YZ250 as project bike for the last few months
Everything is simple. The engine is minimal, they are easy to work on and much easier to maintain than a four-stroke.
The grips need to be replaced if you work in an office.
The GYTR pipe made a big difference.
An oversized front-brake rotor makes a world of difference.
The aggressive nature isn't for everyone; if you've spent a lot of years on a four-stroke, it will catch you off guard. I love it, however.
5 Budget Tips
If you find the power too aggressive and need to tame down, run two base gaskets under the cylinder to reduce some compression. This is a simple, cheap mod that takes the hit out of the power, but doesn't reduce the overall amount of throttle response.
There is a reedblock spacer standard on the bike. To alter the power, you can remove the reedblock and effectively bring the carby closer to the cylinder. The change in power delivery is noticeable.
The N3CG needle is the best all-round needle for the bike. To find this needle, you will need to look at the 2000 model parts list but it is a good needle. Clip 2 in summer, clip 3 in winter. 48 pilot and 175 main is a good starting point.
An NGK spark plug cap is also a good investment. The stock one is ok, but the NGK unit is more water-resistant and is a more durable unit.
YZ-F footpegs. The footpegs from the newer-model YZ 2550F/450F are wider and much better to ride on. Once you step on wide footpegs, you never want to return to the skinny ones of yesteryear.
Tuffy's YZ250
A tight budget and a bit of hard work pay off big time with a bike built for fun
My good mate Chad Talbot from Chad's Offroad Setups suggested I get an old bike that he could restore for me so that I'd end up with a relatively cheap bike that I could hang onto. The idea was that it wouldn't owe me much so if it sat in the garage doing nothing for months, it wouldn't really matter. So I picked up a near-wrecked 2005 YZ250 and re-built it for the bush. You can read more in a future issue of DA, but here is the breakdown of costs.
Counting the cost
Bike: $500
Acerbis plastics: $459.60 (including head and tail light and handguards)
Tommi handlebars: $169.95
Domino grips: $29.95
Serco custom graphics kit: $215.50
Yamaha genuine parts: $1980.60 (including tank, seat, cables, levers and brake pads)
Preloved gearbox: $250
Dirt bike chain slide and guide kit: $289
V-Force reed block: $169
Steahly flywheel weight: $179
Funnelweb air filter: $49.95
Tyres and tubes: $265.00
Axel pulls: $79.90
AFAM sprockets and EK chain: $269.95
Footpegs: $69.95
Registration: $208.90
Total: $4686.25
Service Honda
Service Honda is a US-based company building new-age two-stroke machines. If you want a ball-tearing rocket ship 500cc engine inside a new-age four-stroke chassis, these guys are your go-to company. The best part? They are available in Australia from Jeffrey Honda in Victoria and Prestige Honda in Western Australia