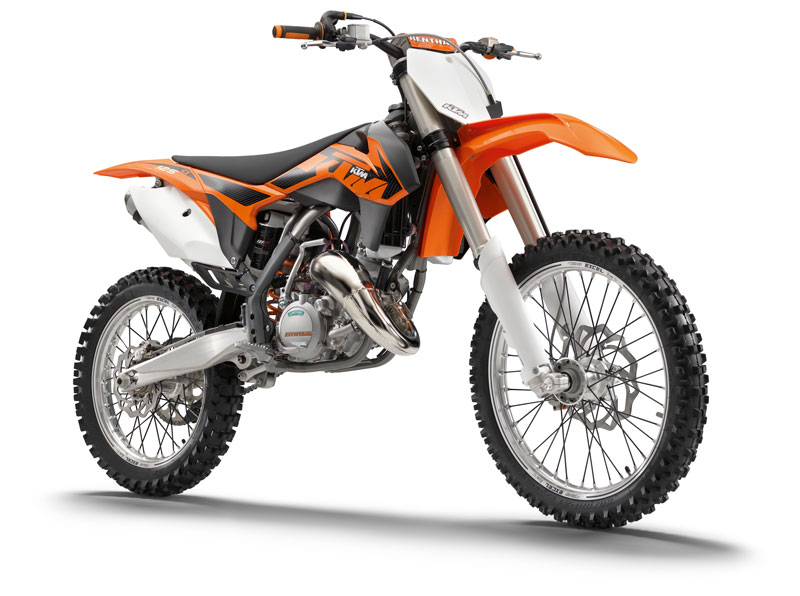 Double-Deuce: We spent some quality on-track time with these two and they were so much fun we had to be asked to give them back
Story Shane Booth | Photography KTM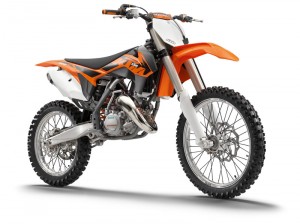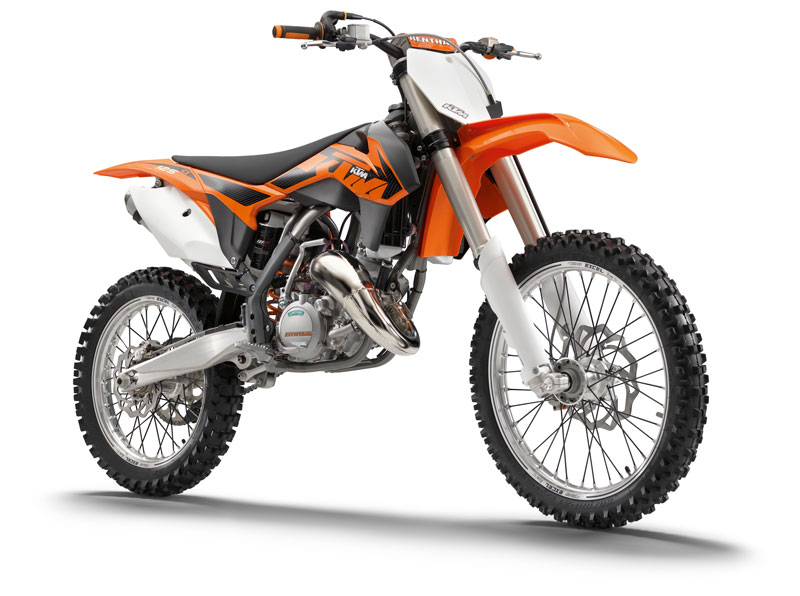 There's no doubt Australian motocross is in the middle of a two-stroke resurgence. The 250 is creeping into the U19s class while there are full grids of 125s at plenty of junior motocross races.
Over the past few years, they haven't been high on most racers' priority list; all the interest has been on four-stroke development. But it seems now people are looking back into two-strokes, asking about how they go, what jetting to run and the best mods to get that little bit extra out of them.
KTM is one of only a handful of manufacturers worldwide that continue to produce two-stroke motocross bikes — and probably the only one to continue any sort of development, even if it's a very small amount.
I had the opportunity to take the 2013 KTM 125 SX and 250 SX out on track at the recent KTM worldwide launch in Italy. I had spent a day and a half riding all the new four-strokes before I got to the two-strokes and it was the first time I'd really gone back to back from current four-strokes to two-strokes. It was interesting: it did take a few laps to get back in the groove of riding the two strokes, getting the right combo of throttle and clutch to keep the power in the sweet spot. But once I did, man, they were not only fun but impressive.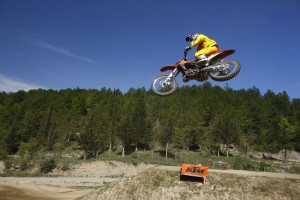 Quarter-litre
The 250 SX was up first. As soon I manoeuvred it off the stand and out of the tight lineup of bikes, I could feel how light it was even before I'd thrown a leg over it. I fired it up and headed out on the track with the familiar feel of a two-stroke engine tingling away underneath me.
I stopped at the track entry, put the bike in neutral and, after letting it warm up, gave it a few long revs. It blew some smoke to start with then cleared out to a crisp bark and I was good to go. A few corners in and the Città di Castello track turned hard left and straight up a hill. That's where I remembered how much power a 250 two-stroke had to unleash — so much more brutal than any of the four-strokes but, once you had the bike upright and pointed in a straight line, that didn't really matter.
There is more grunt right through the power delivery than most riders will ever need. The 250 two-stroke required some finesse and real throttle control to get the power to the ground on the hard, slick corner exits. If you were to get too excited on the throttle, make no mistake: a 250 two-stroke will reach up and bite you quicker than an angry brown snake. But ride with some respect and patience and you can stay just as smooth as on a four-stroke, even on hard pack.
As smooth, yes, but as fast? I'm not convinced. I didn't have a chance to compare any lap times between the 250 two-stroke and four-stroke — it's just a little tough at a launch — but there is no doubt the four-stroke can get power down more efficiently and quite a bit earlier in a turn than the two-stroke.
The 250 SX handled very well; the actual weight saving of a two-stroke combined with the lighter feel of a two-stroke engine makes a huge difference. The 250SX is actually 6.6kg lighter than the 250SXF. Combine it with the lighter feeling of the two-stroke engine and it probably feels more like 10 kilos lighter.
With bodywork updated in line with the four-strokes, KTM's two-strokes feel current — something they have over other brands, which can feel slightly dated and take a little longer to adapt to. It's a bike with a modern feel and exciting to ride. Though it doesn't have a proper home at the races any more, you can still be competitive on one at the right tracks in the Lites class.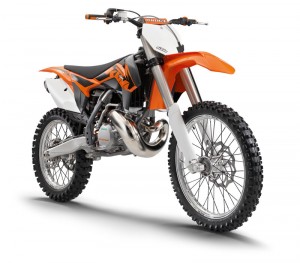 One Twenty-Five
The 125 weighs in at a lightweight 90.6kg so you can really have your way with this bike. I spent a lot of years racing 125s, but it had been a while since I'd ridden one for more than a couple of laps and I think I'd forgotten how much fun they actually are.
It's all about keeping the bike in the small window of usable power. Gear shifts are key and the correct gear selection will make or break you. I say a small window of usable power because, compared to four-strokes, that's what it is.
However, on this hilly, hard-pack track I had the 125 pulling gears on the way up hills and had no problem jumping everything on the track. For a 125, this engine has a wide power delivery: it's torquey enough to keep pulling up steep hills and it still revs hard enough to hold a gear if you have to.
Spending some time on one again made me realise you really require skills you don't learn if you've only raced four-strokes. I'm not saying you have to be a better rider to get the most out of a 125 but you do need particular skills. Clutch and throttle control will help you milk absolutely everything out of the small-capacity engine; it will also allow you to get away with carrying a higher gear in some places, which is an advantage.
Coming straight off the 250F and 250SX, it blew me away how light this bike is. I'd never ridden a 125 back to back with a four-stroke and there are definite advantages to the lighter weight. I could put this bike wherever I wanted, whenever I wanted. There was no real need to set up lines too early as you may have to on the heavier bikes. Breaking late is no problem because of the smaller mass that needs to be stopped. The clutch is feather light and, as it's hydraulic, you don't need to adjust it on the fly.
This thing is a great bike and it will leave you with an ear-to-ear grin when you take your helmet off. If I had my way, every junior rider would have to spend at least 12 months racing a 125 — there is so much you can learn from riding them. And this is proof KTM hasn't given up on that theory, either.
New For 2013
Bofy Work
KTM has updated bodywork in line with its four-stoke range, showing its commitment to the two-strokes.
Reed Block
A new V-Force 4-reed valve block improves throttle response and power delivery.
DDS Clutch
The 250 receives a new Damped Diaphragm Steel clutch which reduces the lever force required to activate the clutch. It's also thinner by 5mm and 250g lighter than the old version.
KTM125SX
Displacement: 124.8cc
Bore/stroke: 54×54.5mm
Transmission: 6-speed
Starter: Kick-start
Fuel system: Keihin PWK 38S AG
Final drive: 13:50
Handlebar: Renthal
Front suspension: WP-USD, closed cartridge 48mm
Rear suspension: WP monoshock with linkage
Fuel capacity: 7.5L
Weight: 90.8kg (without fuel)
KTM250SX
Displacement: 249cc
Bore/stroke: 66.4×72mm
Transmission: 5-speed
Starter: Kick-start
Fuel system: Keihin PWK 36S AG
Final drive: 13:48
Handlebar: Renthal
Front suspension: WP-USD, closed cartridge 48mm
Rear suspension: WP monoshock with linkage
Fuel capacity: 7.5L
Weight: 96.3kg (without fuel)