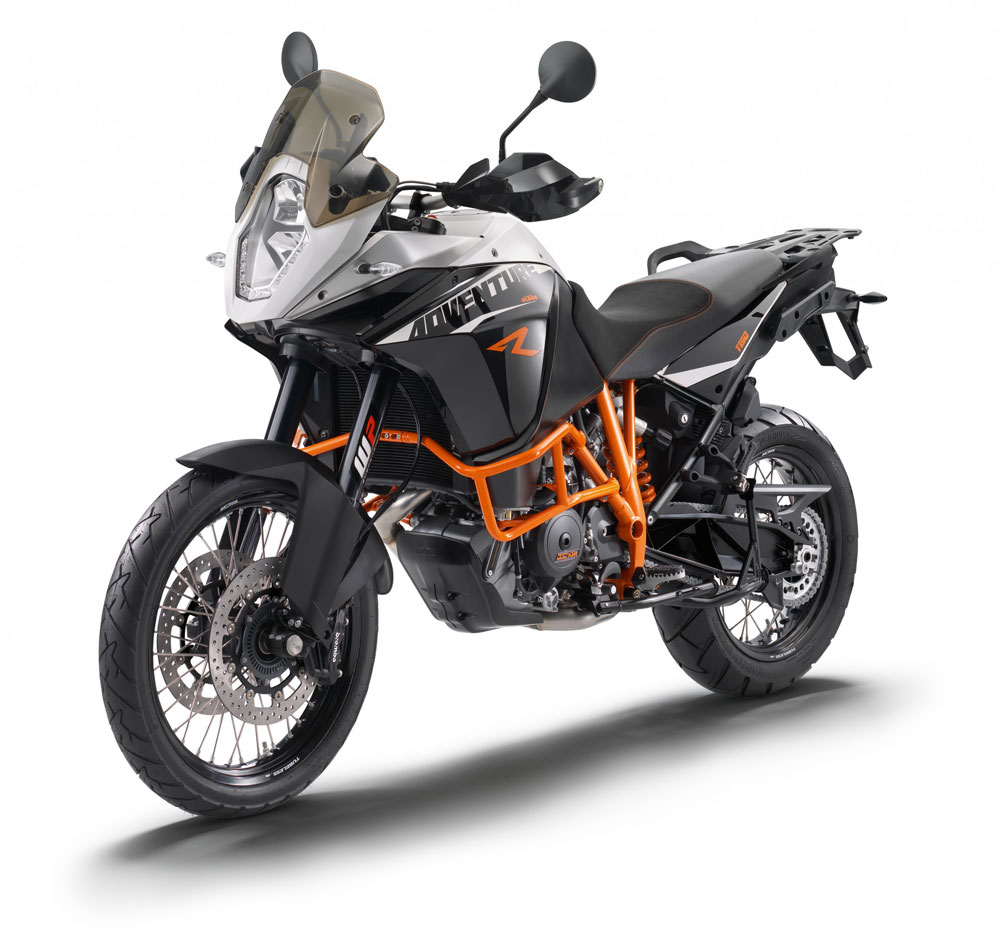 Choose Your Own Adventure: With the release of the all-new 1190 Adventure R, KTM has clearly stated its intentions in the Adventure bike market
Story by Shane Booth | Photography by iKapture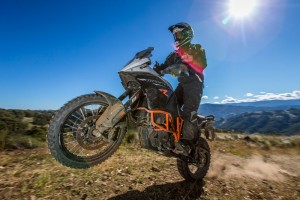 This really is an all-new beast. KTM speaks openly about the time invested in the development of the 1190 Adventure. The company's first-ever Adventure model was released over a decade ago and things have come a long way since then.
This bike features all of the latest electronic technology that's been popping up on current adventure bikes. Refinements in ABS and traction control have changed these rider-assistance functions from clunky gimmicks to a genuine helping hand, on and off road.
The ride-by-wire throttle feeds the input from the grip into a computer which processes it; then actuators control the throttle valves. No more throttle cable here.
Rather than develop a completely new engine, KTM chose to use the 1190cc engine out of its RC8 R sports bike and tweak it for adventure riding. The gear box has been developed specifically for adventure riding, including a very short first gear for slow-speed riding.
The clutch on this bike is extremely light, making it a pleasure to use. That nice, easy lever pull is thanks to a slipper clutch which increases pressure on the clutch discs as engine torque intensifies. This allows the use of lighter clutch springs, which in turn makes for a light clutch. The slipper also eliminates any rear-wheel hop on the tar and rear-wheel compression lock-ups on the dirt are a thing of the past.
There's an all-new trellis frame made from chrome moly and weighing in at 9.8kg. The swingarm is die-cast aluminium, which keeps weight down, but the lattice design ensures it's strong enough. It's a pretty crazy-looking bit of engineering, actually.
WP components handle the suspension duties while Brembo brakes are fitted to bring the 1190 to a stop. There's also a WP steering damper fitted to help stability at higher speeds.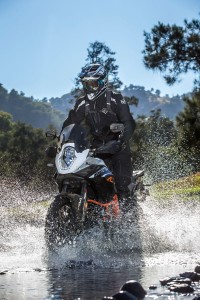 The Adventure
KTM's two-day launch for the bike left Wisemans Ferry and headed north to a little town called Moonan Flat where we stayed the night before returning to Wisemans Ferry the next day. This route gave us a solid 700-plus kilometres on the 1190 and included pretty much every terrain you'll cover on an adventure ride including smooth dirt roads, technical up-and-down hills, forestry roads, water bars, winding bitumen, water crossings and even some off-road night riding. We covered pretty much everything.
It didn't take too long to get comfortable; even though it's a big bike, everything is smooth and stable. The 150hp that the 1190cc engine produces was capped at 100hp for the first part of the ride due to having the motorcycle traction control (MTC) set to off-road. Even so, it didn't feel as though you needed more power, that's for sure.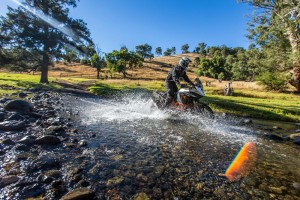 There's plenty of torque, as you'd expect from an engine of this capacity, and that's what you're after on an adventure bike. It allows you to ride a higher gear, which makes for smooth power delivery and fewer gear changes. On a dirt road you can easily bang it into third, fourth or even fifth gear if it's not too tight and leave it. It just depends on the type of response you want from the bike when you turn the throttle, but it will pull the higher gears no problem.
The ABS and traction control are impressive and work seamlessly with your control inputs. There's no clunky intervention from either system; it's actually quite difficult to know when it's helping, especially if you're trying to be smooth with your throttle control and braking. If you choose to go from zero to 100 per cent throttle out of a second-gear corner on gravel, you will feel it save you from yourself; but if you make an effort to be smooth it will reward you with assistance that remains almost undetected by the rider.
There are four ride modes: Street, Sport, Rain and Off-Road. Street and Sport modes both unleash the full 150hp on offer while the Rain and Off-Road modes are limited to 100hp. Within these ride modes there are four traction-control settings and three ABS settings. Traction control has Sport, Street, Off-Road and Off. Sport will offer minimal intervention allowing small power slides; Street intervenes a little more and Off-Road is a specific mode for on the dirt. The ABS settings are Street, Off-Road and Off. Street is for on the tar while Off-Road allows more front-wheel slippage before intervening and will also allow you to lock the rear wheel if needed. You can also switch off ABS completely.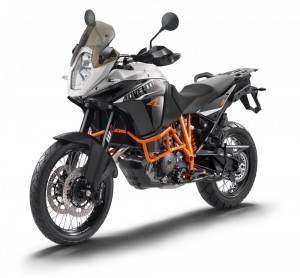 What's new?
Pistons
The forged piston structure borrowed from Formula 1 results in a high loading capacity despite an extremely short and lightweight design.
Ride-by-wire
No more throttle cable; the ride-by-wire throttle electronically controls the throttle valves.
Slipper Clutch
The new slipper clutch stops rear-wheel hop under deceleration and also makes for a very light lever pull.
Frame
Chrome-molybdenum steel tubular space frame made from chrome-molybdenum stainless steel. The frame contributes to an excellent chassis geometry; it's extremely stable and weighs only 9.8kg.
TPMS (Tyre Pressure Measurement System)
As its name imp, the standard TPMS monitors the tyre pressure, which is visible in the display and warns the rider in the event of pressure loss.
C-ABS (Combined ABS)
The combined anti-lock braking system (C-ABS) fitted to the 1190 Adventure has two mode options along with the ability to switch it off completely. In Street mode, a balanced amount of rear brake will be applied when you use the front brake. In Off-Road mode it's possible to lock the rear wheel and the system will intervene slightly later on the front.
MTC (Motorcycle Traction Control)
The MTC helps you keep the 150hp under control via these four modes:
Sport Allows a respectable amount of rear-wheel spin using the full 150hp.
Street Smooth control for comfortable riding and access to the full 150hp.
Rain Early intervention and minimal wheel spin in the wet; limited to 100hp.
Off-Road- Up to 100% wheel spin which means the rear wheel can spin twice as fast as the front; 100hp available.
Off If you choose you can switch it off completely.
KTM Hard Parts
Deck out your 1190 with some of these genuine KTM Hard Parts accessories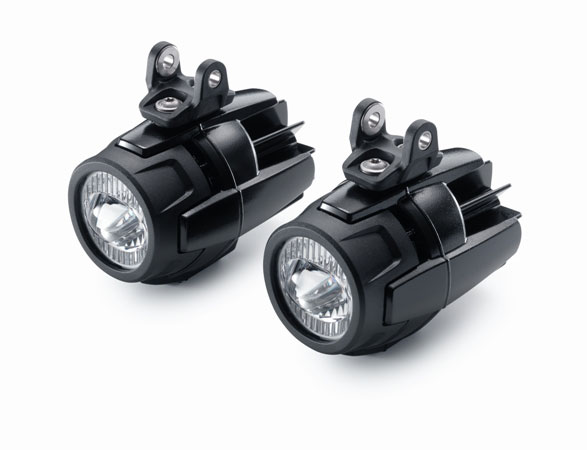 Auxiliary lamp kit: $799.95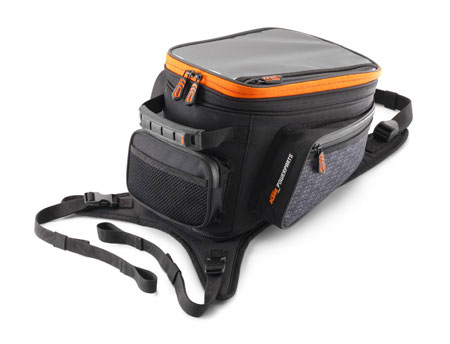 Tank bag: $229.95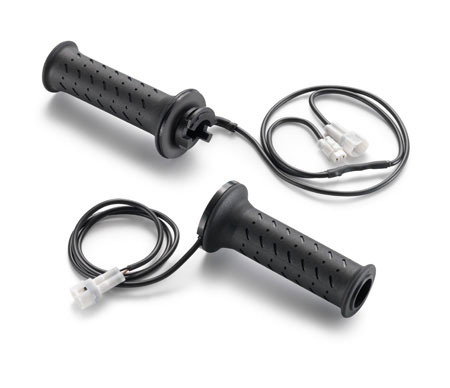 Heated grips: $254.95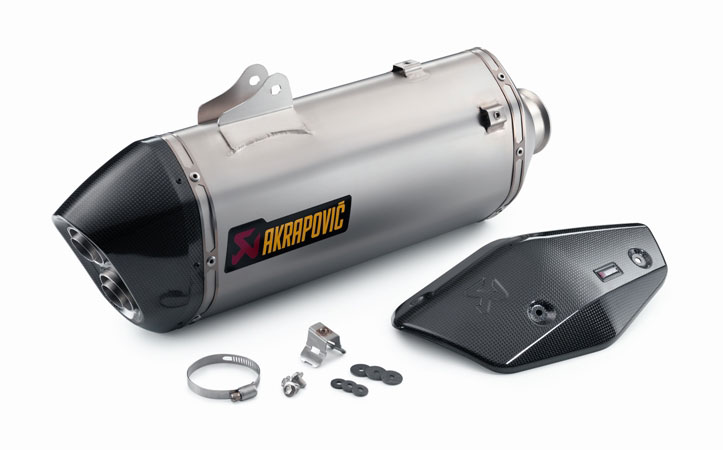 Akropovic slip on: $1599.95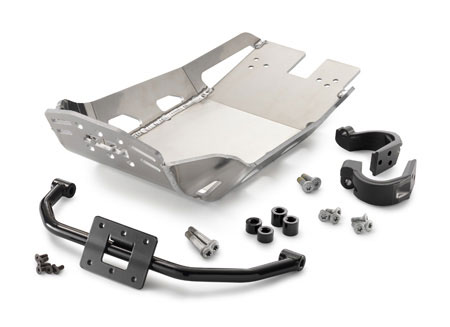 Aluminium skid plate: $399.95
Aluminium case left: $699.95
Aluminium case right: $699.95
Aluminium top box: $719.95
Case carrier for aluminium cases: (included as standard)
Case plate for top box: (included as standard)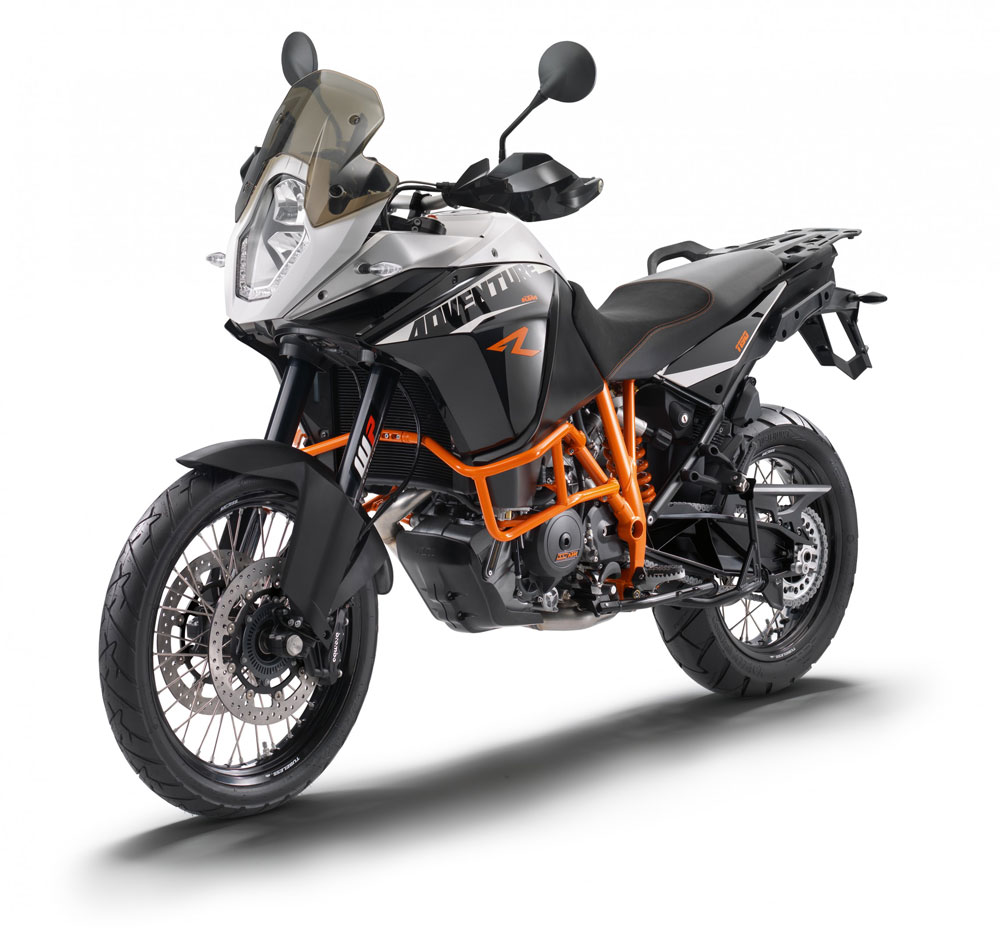 2013 KTM 1190 Adventure R Specs
Engine type: 2-cylinder, 4-stroke, spark-ignition engine, 75° V arrangement, liquid-cooled
Displacement: 1195 cc
Bore/stroke: 105×69mm
Power: 110kW (150hp) @ 9500rpm
Torque: 125Nm @ 7500rpm
Compression ratio: 12.5:1
Starter/battery: Electric starter/12V, 11.2Ah
Transmission: 6-speed
Fuel management: Keihin EFI (52mm throttle body)
Lubrication: Pressure lubrication with 3 Eaton pumps
Primary drive: 40:76
Final drive: 17:42
Cooling: Liquid cooling
Clutch: PASC™ slipper clutch/ hydraulically operated
Traction control: MTC (4-mode, disengageable)
Engine management/ignition: Keihin EMS with DBW, double ignition
Frame: Tubular space frame made from chrome molybdenum steel, powder-coated
Subframe: Aluminium
Handlebar: Aluminium tapered
Front suspension: WP suspension upside down
Rear suspension: WP suspension monoshock
Suspension travel: Front 220mm/rear 220mm
Front brake: 2 Brembo radially mounted 4-piston calipers
Rear brake: Brembo fixed mounted 2-piston calipers
ABS Bosch 9ME combined ABS (incl. Off-Road mode, disengageable)
Front rim: 2.50×21″
Rear rim: 4.50×18″
Front tyre: 90/90 ZR 21″
Rear tyre 150/70 ZR 18″
Chain: 5/8×5/16″ X-ring
Steering head angle: 64°
Wheel base: 1580mm
Ground clearance: 250mm
Seat height: 890mm
Tank capacity: Approx 23L/3.5L reserve
Weight: Approx 217kg (without fuel)
2013 1190 Adventure R price: $21,995 + on-road costs